Local fiddlers group now one of largest in state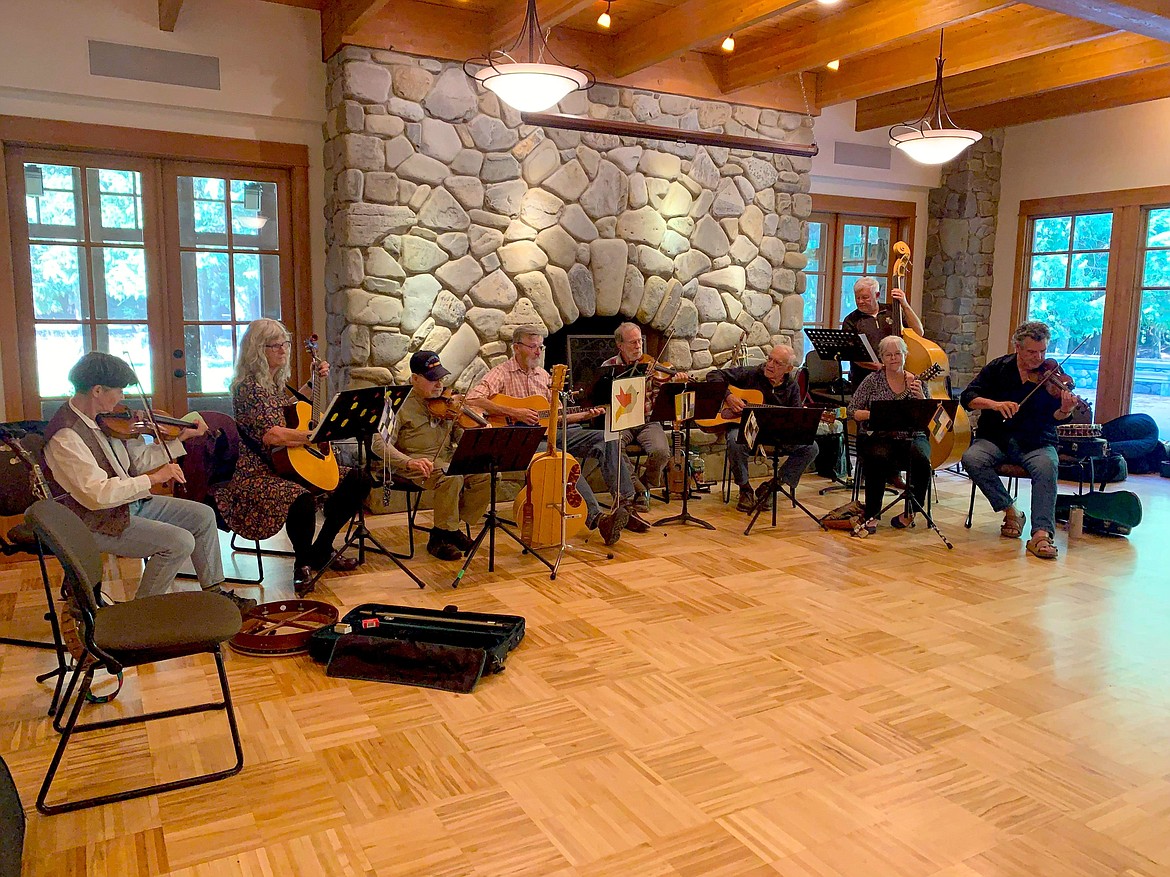 The local Idaho Old-Time Fiddlers Association performing group plays a POAC-sponsored event earlier this month as part of the Dist. 1A music outreach program. From left: Desiree Aguirre, Joanne Pos Cottrell, Les Tucker, Don Davis, Mark Weber, Dave Immel, Mike Boeck, Laurie Bethke, Dave Gunter.
(Courtesy photo)
|
October 28, 2022 1:00 AM
SANDPOINT - Judging by the turnout of both musicians and listeners, the revival of the local old-time fiddlers group has released a wave of pent-up interest in this unique brand of music.
The group, which meets the last Saturday of every month and has a jam session scheduled for this Saturday afternoon, was re-established in May after nearly 20 years of inactivity in the two northernmost counties of Idaho. According to Gary Potratz, state president of the Idaho Old-Time Fiddlers Association, it quickly has become one of the largest districts in the Gem State.
Dist. 1A/Idaho Old-Time Fiddlers Association serves Bonner and Boundary counties and is the newest of eight active districts in Idaho. Statewide, the group not only caters to acoustic musicians who love the old-time sound, but also to the community, through performances for schools, assisted living facilities, nursing homes and other events.
"Our performance group has already played for the Sandpoint High School 50th reunion and a POAC-sponsored quilt show opening by the Bosom Buddies quilting group," said Mike Boeck, Dist. 1A vice-chair. "We plan to branch out by sharing old-time music throughout the community going into next year."
Despite the "old-time fiddlers" name, the group currently includes guitars, banjos, mandolins, ukuleles, harmonicas, bones, bodhran, singers and a string bass player. At any given jam session, as many as 15-20 players will show up, as well as up to 25 folks who come to listen and, sometimes, dance a tune or two.
"Since the district was re-established about six months ago, many of our members are running into locals who say things like, 'I have a fiddle in my closet I haven't touched in years,' or 'there's a mandolin under my bed I need to pick up again,'" Boeck shared. "Well, you couldn't find a nicer, more encouraging group of people than the folks in the old-time music world, so consider yourself invited to come and join us in making music."
The next jam session will take place this Sat., Oct. 29, from 3-5 p.m., at the Sandpoint Senior Center, 820 Main. St.
Information: 208-263-7234
Recent Headlines
---