September sparks new fires, growth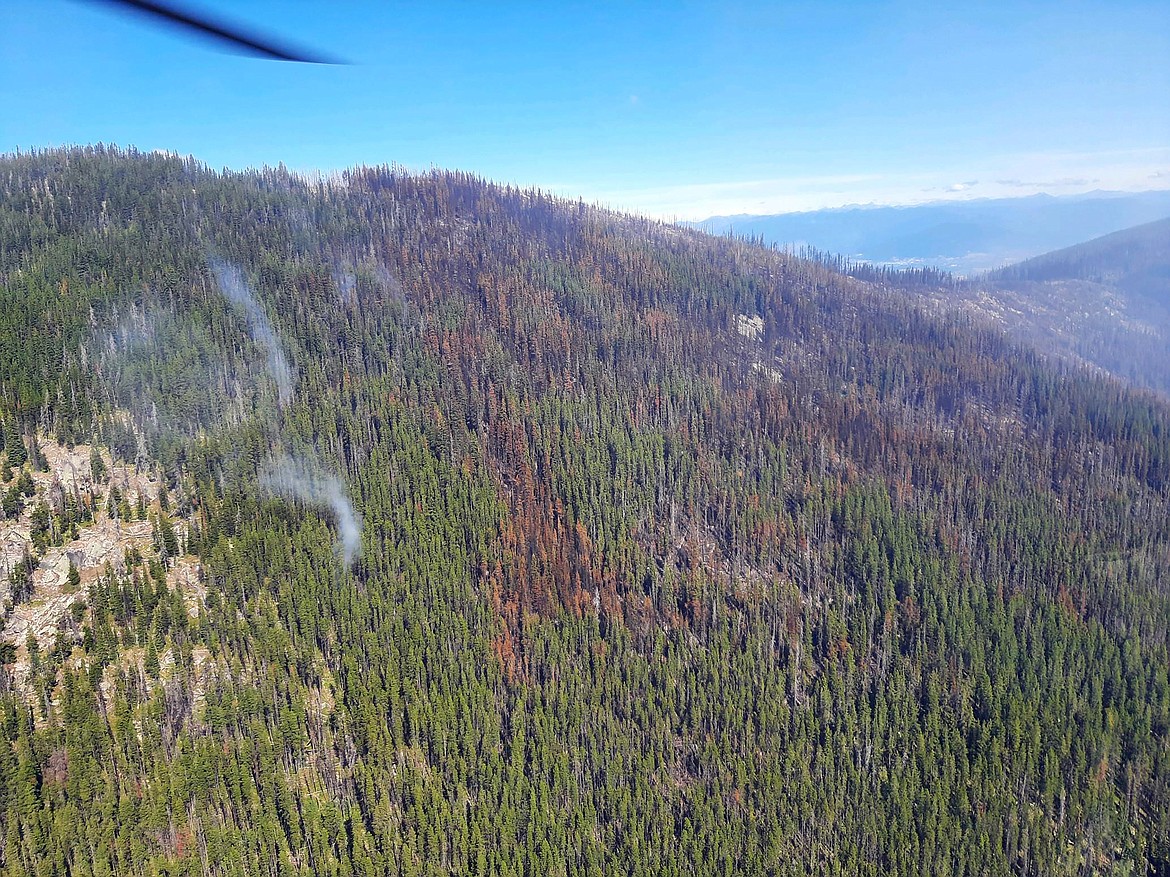 A photo of the Eneas Peak Fire taken during an Aug. 28 reconnaissance flight.
(Photo courtesy W. KUCERA/U.S. FOREST SERVICE)
by
DANIEL RADFORD
Staff Writer
|
September 2, 2022 1:00 AM
BONNERS FERRY — Lightning is being blamed for two new fires reported in Boundary County Thursday.
The 35-acre Katka Fire and the 45-acre Scotch Fire were confirmed by U.S. Forest Service officials and both are listed at 0% containment.
No homes are immediately threatened by either of the new fires, but Boundary County Emergency Management is working with the [Boundary County] Sheriff's Office to provide pre-evacuation notifications to around a dozen homes on Katka Road in the event fire conditions change, Andrew O'Neel, Boundary County emergency management director, said in a press release. The homes are located from the overlook area up to the top of the road as well as on Two-Tail Road"
About a dozen homes on Westside Road from Ball Creek south to Burton Creek are also being notified to be in "ready" status in case conditions change on the Scotch Fire, O'Neel said.
The "ready" stage of the 'Ready, Set, Go' evacuation planning stages advises residents to plan where they will go for a few days if evacuated, to be packed and ready, to think about what evacuation route they will take, make sure their vehicles are fueled, and to have a plan for pets and livestock, O'Neel said.
"Set" means be ready to leave immediately and "go" means to leave immediately "due to an imminent life threat in the area."
The Katka Fire is burning between the headwaters of Dobson and John Crown creeks on the north ridge of the Clifty Mountains and the Scotch Fire is just south of Russell Ridge, due west of the Kootenai River. Lightning is the reported cause of both fires.
Lightning is also blamed for the Eneas Peak, Russell Mountain, Trout, Thor, and Diamond Watch fires.
The Russell Mountain Fire, located due west of the Scotch Fire, has burned 123 acres with 0% containment. The Trout Fire, located southwest of Farnham Ridge, has burned 21 acres and is 0% contained.
The Eneas Peak Fire is burning north of Farnham Ridge and southwest of the Kootenai River. It is currently 816 acres and is 0% contained. The fire is on terrain with slopes of 60-80 percent and numerous dead and downed trees. No structures are threatened at this time, Forest Service officials said.
For the Eneas Peak and Trout fires, residents are asked to avoid Trout Creek Road (Forest Service Road 634) as well as nearby trails to allow for fire suppression efforts in the vicinity. Trails included are Fisher Peak (No. 27), Pyramid Lake (No. 13), Pyramid Peak (No. 7), Trout Lake (No. 41) and Ball and Pyramid Lakes Trail (No 43).
The Thor Fire is burning in Pend Oreille County, Wash., just south of the headwater for Thor Creek, about five miles east of Sullivan Lake. It is 190 acres and 0%. FSR 2200300 is closed to public use. All methods of travel are prohibited (foot, mechanized, motorized and stock) on the closed roads and area.
The Diamond Watch Fire, which is burning right next to the Washington-Idaho border, due north of Kalispell Creek, is 835 acres and 44% contained.
Closure orders are in effect for Forest Service roads 311, 308, and 1362H in the vicinity of the fire. However, FSR 1362 remains open. Petit Lake and its associated campsites are within the closure area. USFS officials are reminding residents that all methods of travel are prohibited (foot, mechanized, motorized and stock) on the closed roads and area.
For help planning for an evacuation, go to ready.gov/evacuation.
Recent Headlines
---