Crews battle to bring fires under control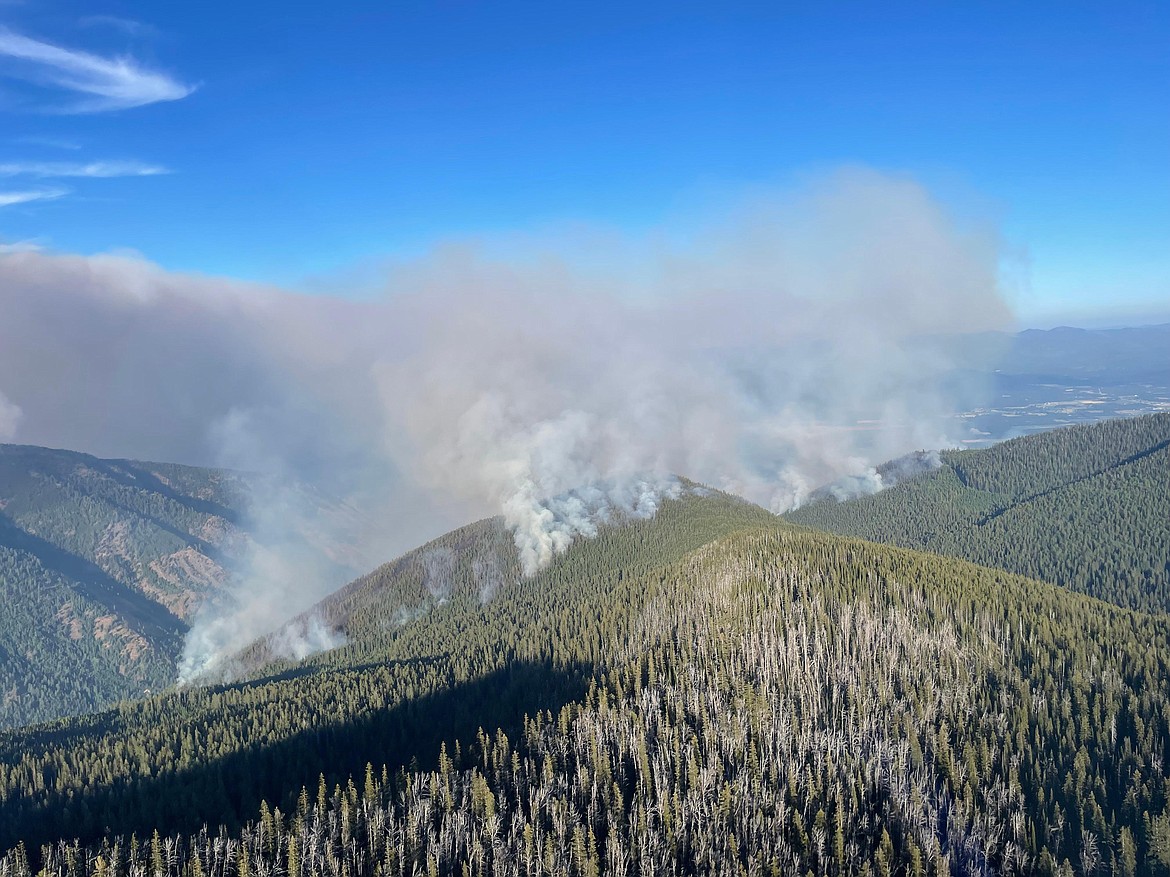 An aerial view of the Scotch Creek on Sunday. The fire is among those combined into the Kootenai River Complex, which has burned an 10,780 acres in Boundary County.
(Photo courtesy U.S. FOREST SERVICE)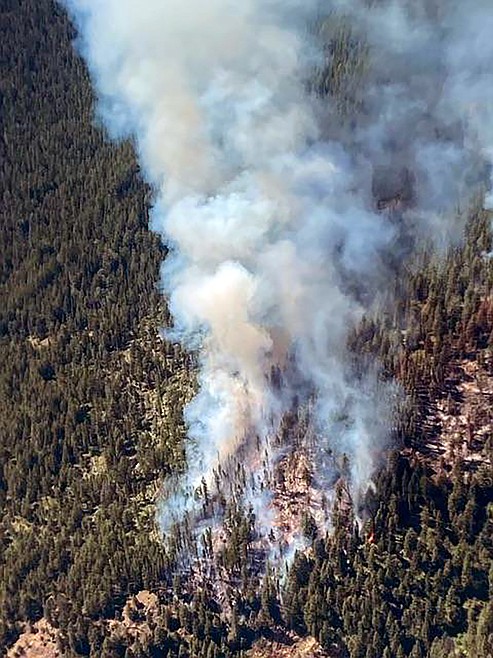 An aerial view of the Eneas Peak Fire in Boundary County taken early on in the fire. The fire is now classified as part of the Kootenai River Complex.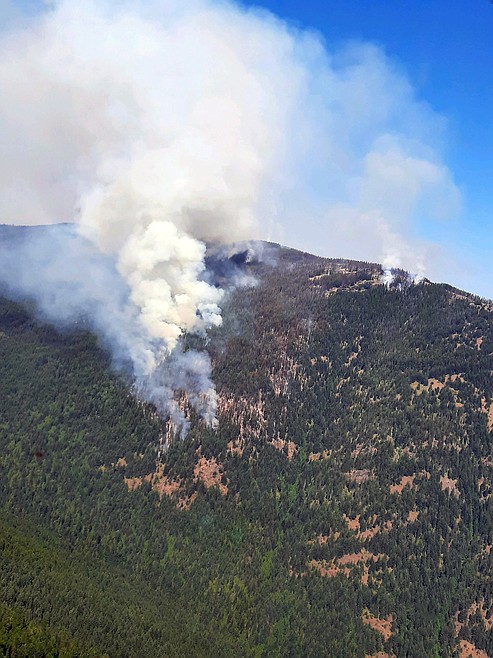 An aerial view of the Eneas Peak Fire taken on Aug. 19. The fire is now considered part of the Kootenai River Complex, which has burned just under 11,000 acres in Boundary County.
Firefighters are dropped off on Eneas Peak on Aug. 20. The fire is now part of the Kootenai River Complex, which has burned just under 11,000 acres.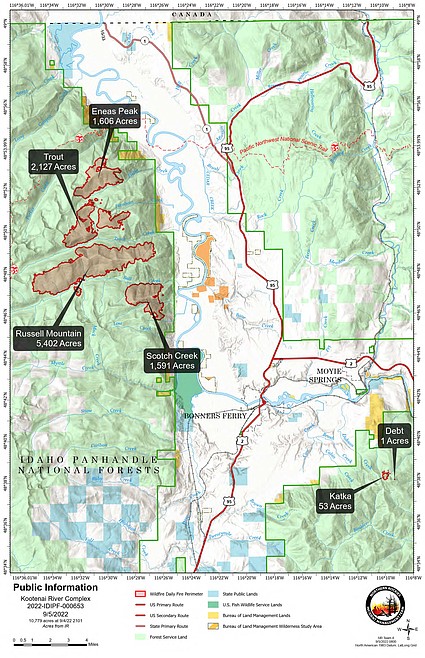 A map showing the Kootenai River Complex in Boundary County.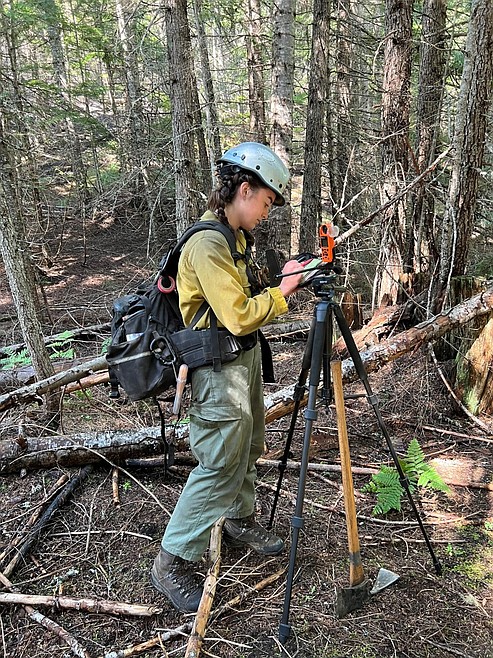 A Forest Service firefighter works on the Diamond Watch Fire in Pend Oreille County, Wash. The fire is located 5.5 miles due west of Nordman.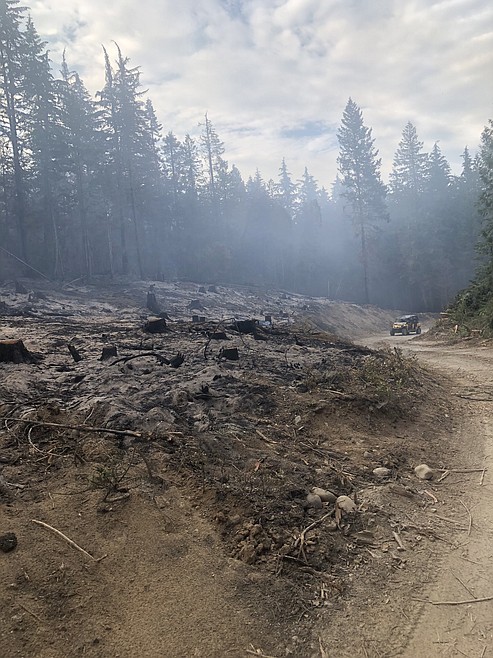 An area burned by the Diamond Watch Fire in Pend Oreille County, Wash.
Previous
Next
by
CAROLINE LOBSINGER
Staff Writer
|
September 6, 2022 1:00 AM
▶️ Listen to this article now.
SANDPOINT — Despite helicopters making water drops, which helped slow the spread on Kootenai River Complex, associated fires have burned almost 11,000 acres.
Crews are conducing structure assessments to reinforce protection on private property on the Westside Road. In addition, Work has also begun to prepare old forest rounds to prepare a check line to slow the fire's spread.
Water drops were made on the eastern flanks of the Scotch and Russell Mountain fires. And, on the Katka Fire, crews are working on direct perimeter control lines to control and suppress the fire, U.S. Forest Service officials aid.
A infrared detection flight on Sunday found the complex fires increased by 1,357 acres, with most of the growth occurring on the Russell Mountain and Trout fires.
On the complex, the Eneas Peak Fire has burned an estimated 1,606 acres, the Trout Fire has burned 2,127 acres, the Russell Mountain Fire has burned 5,402 acres, and the Scotch Fire has burned 1,591 acres. The complex has now burned an estimated 10,780 acres and is zero percent contained.
Forest Service officials said the fire, which is under the command of Type 2 Northern Rockies Incident Management Team 4, is being fought by 204 firefighters. A Hotshot crew has joined the Type 2 crews to help construct the direct perimeter control line, officials said.
Pending smoke and wind conditions, Forest Service officials said additional air support would be conducted on the Scotch Creek, Russell Mountain, Eneas Peak, and Trout fires. Crews are monitoring structure protection and fire activity overnight and work to prepare the check line using old road west of Westside Road is continuing.
Forest Service officials said it could take two or three days to complete the line preparation work.
Diamond Watch Fire
All planned containment lines have built on the east, west and south sides of the Diamond Watch Fire, located on Diamond Peak in Pend Oreille County, Wash.
The fire, which is located 5.5 miles due west of Nordman, Idaho, is being managed with a contain/confine strategy due to the area's rugged, steep and dangerous terrain, Forest Service officials said.
"Firefighters are using a combination of natural barriers, like Diamond Creek, and constructed fireline to stop the fires spread beyond the defined areas," officials said in a press release. "After almost a week of warm and dry conditions, the fire has slowly moved down the southern ridge and become a bit more active in the interior where it's burning jackstraw piles of naturally dead and down trees."
Firefighters are patrolling nearly seven miles of containment lines and heavy equipment crews are working to improve Forest Service roads near the fire. A shaded fuel break built along FSR 308 and containment lines with hoselays on the west and east have created areas where firefighters can safely take direct action, officials said.
Thor Fire
Red flag weather conditions — a combination of warm temperatures, low humidities, and stronger winds — increased activity on the Thor Fire, located east of Sullivan Lake in Pend Oreille County.
The higher temperatures and increased winds contributed to fire growth inside containment lines, Forest Service officials said. Located on the Colville National Forest, the Thor Fire has burned roughly 800 acres since it was sparked by lightning in mid-August.
Due to the steep and rugged terrain as well as large amounts of dead trees and "timber litter" — leaves, needles, and twigs on the forest floor — officials said that a direct attack on the fire would be unsafe. Instead, an "indirect line is being utilized toward the objective of full suppression," they said in a press release.
The nearby Slate Fire, which has burned roughly 100 acres, officials said there is minimal threat to recreation areas, infrastructure and private property.
Boulder Mountain Fire
Detected on Aug. 31, the Boulder Mountain Fire is located nine miles northwest of Cusick, Wash. The cause of the fire, which has burned an estimated 1,210 acres is under investigation.
The fire is being fought by Great Basin Type 2 Management Team No. 7 with 191 fire personnel assigned to it. A mix of state, federal and private lands are impacted.
Teams spent Sunday scouting opportunities to engage the fire and draft ways to minimize its growth. Aircraft played a major role in slowing the fire's growth with air tankers dropping fire retardant and "scoopers" and helicopters dropped water until they were diverted to another incident late in the day, officials said.
Heavy brush and dead and down timber continue to drive the fire's growth, which officials said is moderate with some group tree torching resulting in small spot fires.
Coeur d'Alene River Ranger District
USFS crews are managing the Columbus Fire and the Bear Gulch Fire with an indirect suppression strategy.
The Columbus Fire, approximately 6 miles northeast of Murray, has been estimated at 300 acres. A few miles to the south is the Bear Gulch Fire, which has burned an estimated 60 acres.
Both fires are steep terrain with limited access opportunities for direct attack by firefighters.
St. Joe Ranger District
The largest fire on the district is the Blackburn Fire at 225 acres. Discovered in mid-August, the fire is located just north of the Heller Creek Campground near the headwaters of the St. Joe River.
Sparked by lightning, the fire is listed at 3% containment.
Closure, evacuations and information
• On the Kootenai River Complex, residents are asked to avoid Trout Creek Road (Forest Service Road 634) as well as nearby trails to allow for fire suppression efforts in the vicinity. Trails included are Fisher Peak (No. 27), Pyramid Lake (No. 13), Pyramid Peak (No. 7), Trout Lake (No. 41) and Ball and Pyramid Lakes Trail (No 43).
While there are no evacuations in place, those living on West Side Road closest to Ball, Burton and Clark creeks have been upgraded to "set" status under the Ready-Set-Go evacuation procedure.
Under ready, residents are advised to have a plan to evacuate if necessary, while set status asks residents to begin putting their plan into place. Under go status, residents are told to leave immediately due to an imminent threat.
• On the Diamond Watch Fire, closure orders are in effect for Forest Service roads 311, 308, and 1362H in the vicinity of the fire. However, FSR 1362 remains open. Petit Lake and is associated campsites are within the closure area.
Some camping areas along the southwest portion of Sullivan Creek Road have been notified that they are on a "set" be ready evacuation status and should be ready to leave if asked by local authorities.
• On the Thor Fire, roads connecting to the Idaho Panhandle National Forest are closed starting at the junction of FSR 302 and FSR 1013.
• On the Coeur d'Alene Ranger District, closures include Trail 148 along Casper Creek, Trail 7 from the intersection with Trail 774 to Thompson Pass, Trail 1107 near the state line, Trail 763 near the state line, Forest Service Road 938, FSR 430 and FSR 604CZ.
• All methods of travel are prohibited (foot, mechanized, motorized and stock) on the closed roads and area.
• As a reminder, civilian drones are not allowed around active fires. Flying drones near an emergency scene is against the law and will interfere with firefighting aircraft, working against the firefighters on scene.
• A fire watch is in effect Tuesday through Wednesday evenings, with dry and unstable weather conditions predicted. In addition, gusty winds and dry conditions are predicted for Wednesday.
• Area residents can go online to visit nixle.com or text home zip code to 888777 to sign up for emergency alerts.
Information: InciWeb.nwcg.gov
Recent Headlines
---