Luther Park celebrated by Best voters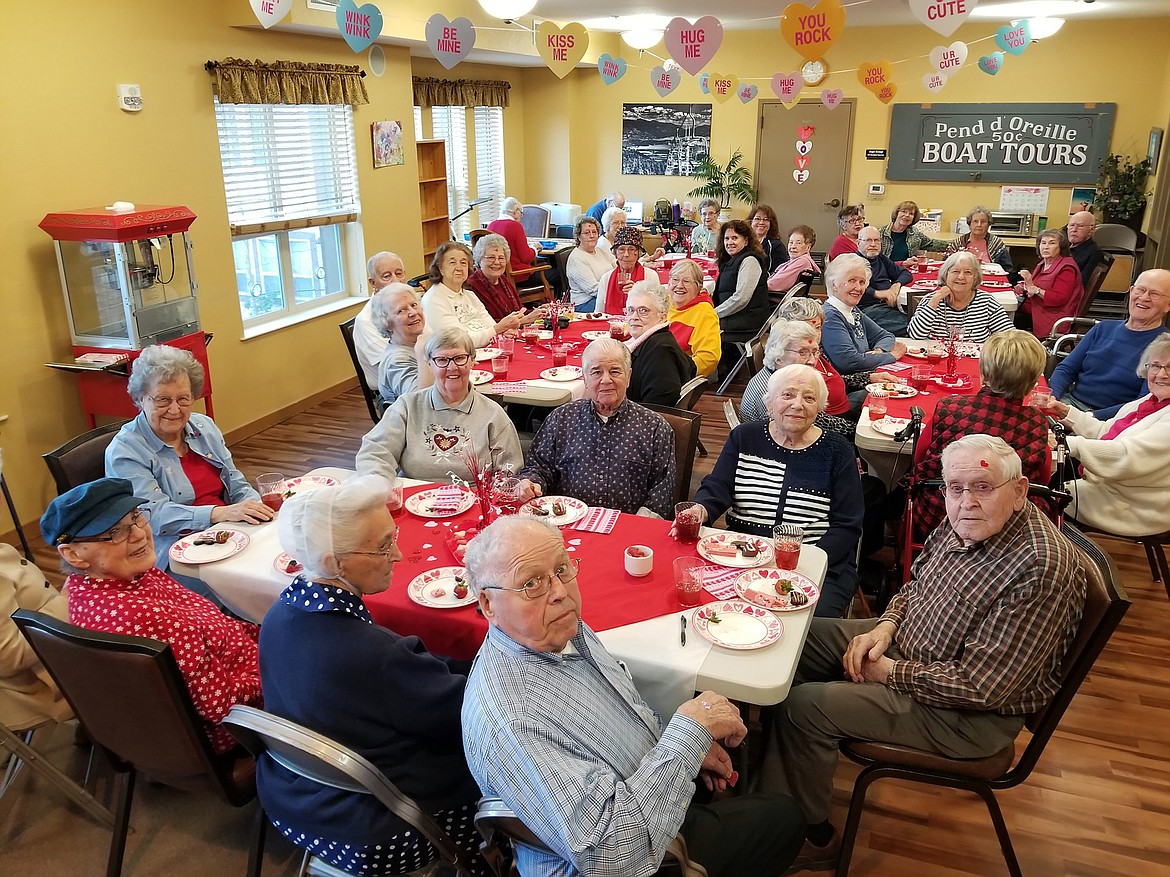 Residents at Luther Park smile for the camera during a Valentine's Day celebration.
(Photo courtesy LUTHER PARK)
by
KATHY HUBBARD Contributing Writer
|
September 10, 2022 1:00 AM
There comes a time when you (or your children) will think a senior living facility offers the best of all worlds: assistance when and where needed and the ease of apartment living. But how do you know when the time is right?
That's a tough question because everyone is different.
Perhaps you're unable to shovel the walk in the winter or keep up your garden in the spring; perhaps you need help sorting out your medications, perhaps you no longer want to cook for yourself. When that's the case, you'll want to look into Luther Park at Sandpoint, which was once again voted as best senior living facility.
Luther Park's nine different apartment styles are suitable for independent living as they have full kitchens and washers and dryers. The facility has a fitness room equipped with a NuStep recumbent cross trainer and treadmills and an outdoor patio with a walking path. There's an indoor link to First Lutheran Church next door, and a full-service hair salon.
Three meals a day are included in your rent, and the in-house chef is known for the homemade soups and fresh salad bar at lunch and dinner.
One of the unique dining experiences offered at Luther Park is "open dining," which allows allows residents to attend a meal at any time during the meal service time. Additionally, Luther Park offers open seating rather than "assigned" seating – which allows residents to sit wherever they choose from day to day or meal to meal. This gives a great chance three times a day to meet new people and make new friends.
Also included in your rent are cable television, internet and a landline phone and all utilities minus housekeeping services.
If you're in need of some assistance dressing, bathing, or taking medicines, services are offered. The facility has 24-hour on-site staff for emergency response. A registered nurse oversees and coordinates outside health services and performs 90-day assessment reviews.
Socializing activities are held regularly. From bingo to mini-concerts, there is something to do every day. Whether it's attending book club, quilting, playing Mah Jongg, Scrabble, or Rummikub there's an activity for everyone's interests.
Apart, but connected to the independent/assisted living quarters is Luther Park's Memory Care. Here those who suffer from dementia are welcome and well-cared for. Studios and one-bedroom floor plans are available.
From family to the residents who live there, the words most commonly used to describe Luther Park are "home" and "family."
"I have been living here four years now and like it immensely. You get close to people and build great friendships. You can't help but get close to everyone. The food is great and staff do everything they can to help. We can go to staff anytime, about anything. We are family here," said Phyllis.
Luther Park is located at 510 S. Olive Avenue, Sandpoint. Call Dawn Keene at 208-265-3557 for an appointment to visit the facility. Or, go online to lutherparksandpoint.org for more information.
Recent Headlines
---