Area fires continue slow growth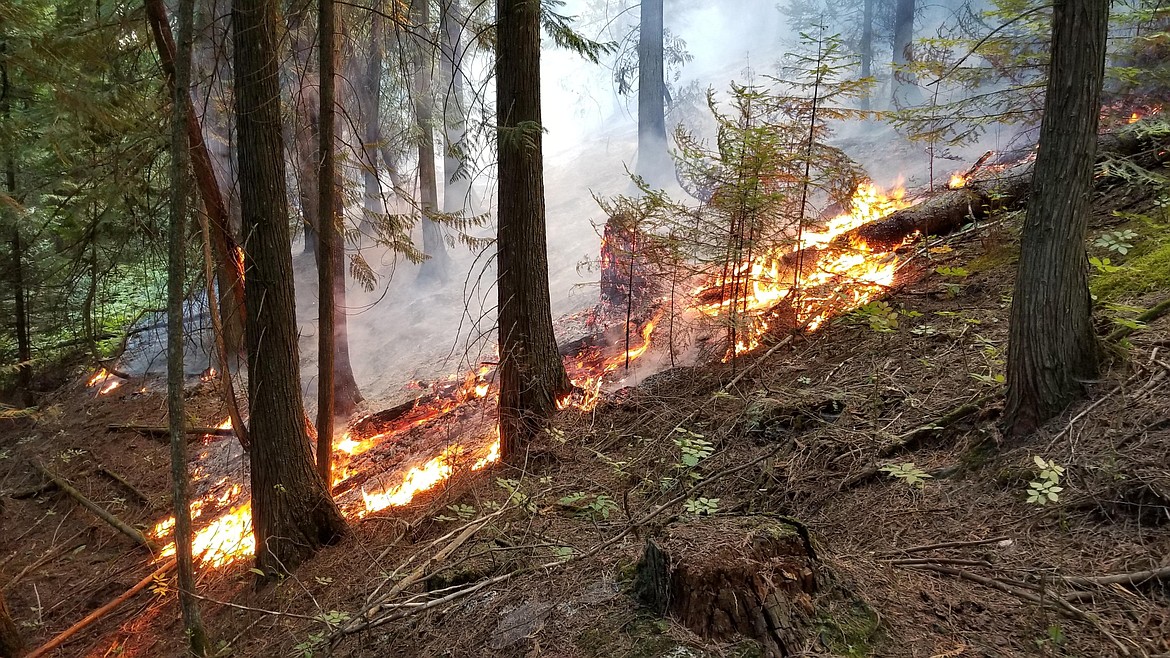 A backing fire is pictured in the Ball Creek area on Sept. 9. A backing fire is a lower intensity surface fire that burns through forest vegetation litter and understory brush. Fire is creeping/smoldering and moving slowly downhill, exactly what firefighters want.
(Photo courtesy TODD ERDODY/U.S. FOREST SERVICE)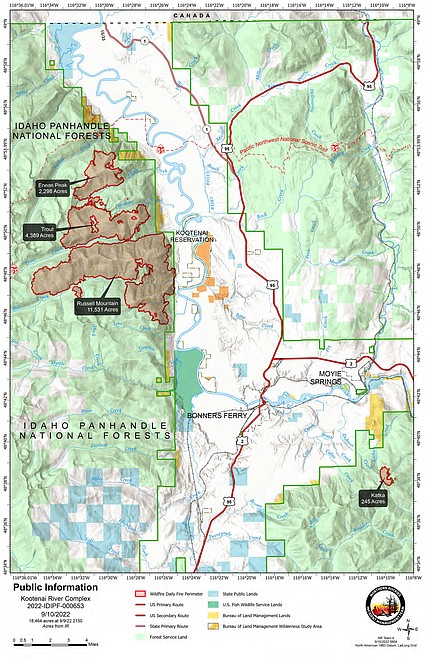 A map showing the Kootenai River Complex Fires.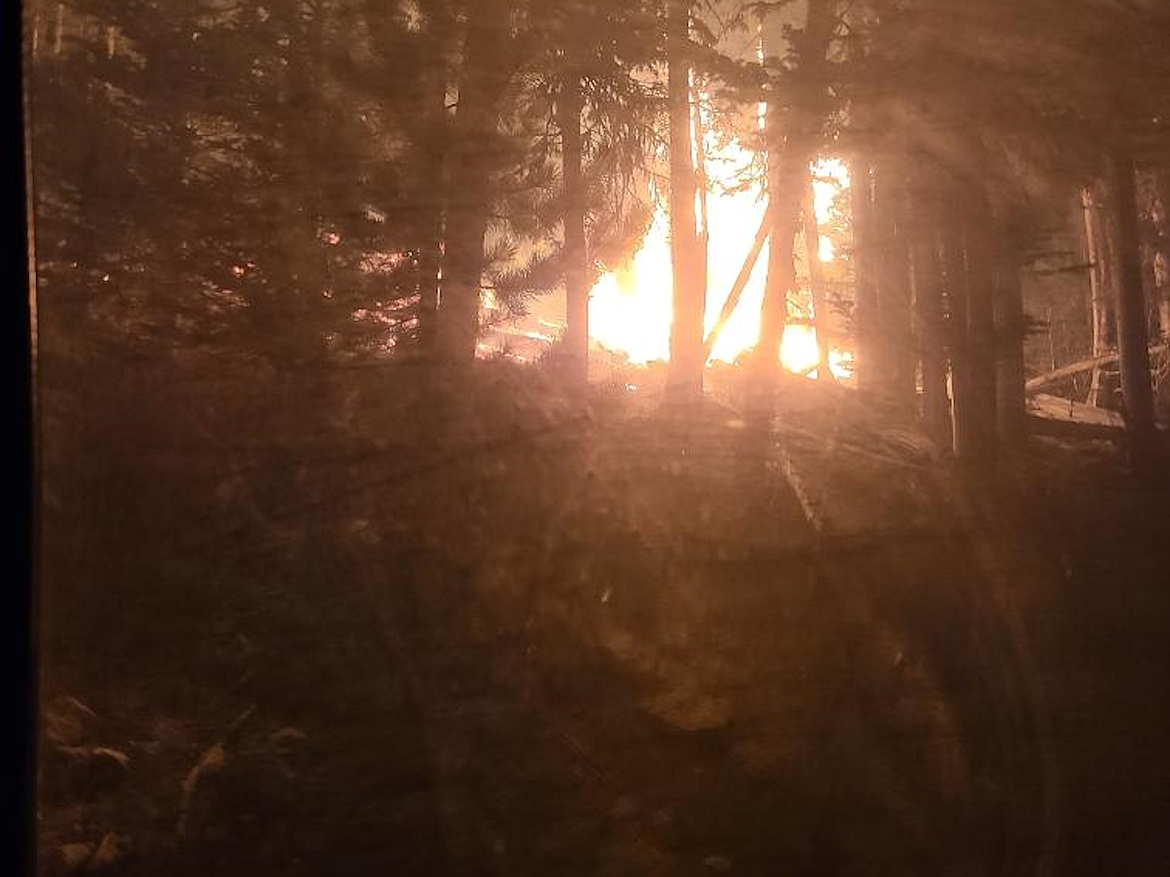 A photo of the Boulder Mountain Fire in Pend Oreille County, Wash.
Previous
Next
by
CAROLINE LOBSINGER
Staff Writer
|
September 11, 2022 1:00 AM
BONNERS FERRY — There may have been a lot of smoke, but fire activity on the Kootenai River Complex was lower on the intensity scale, U.S. Forest Service officials said Saturday morning.
Fires on the complex include the Eneas Peak fire, 2,298 acres; Trout Fire, 4,339 acres; and the Russell Mountain Fire, $11,531 acres.
A total of 18,464 acres — an increase of 1,088 in the past 24 hours — have been burned in the wildfire since it was sparked by lightning in mid-August.
Much of the smoke was generated by the Russell Mountain Fire, which officials said was slowly backing down the slopes west of Westside Road.
"Light white smoke is an indicator of a low intensity ground fire burning through light fuels," Forest Service officials said in a press release.
They described fire activity as "low intensity" and as being a backing ground fire slowly moving downhill. The Russell Mountain Fire, part of the Kootenai Fire Complex, reached the fireline near Trout Creek and Westside roads near Ball Creek on Friday evening.
"Fire crews and engines continue to be in place all day and night to hold the fire at these lines," officials said.
Fire activity on the Katka Fire continues to be low to moderate with the wildfire only growing by 26 acres overnight. Elsewhere on the complex, officials said the Eneas Peak and Trout fires have grown together in the drainage between Fisher and Farnham Peaks.
Crews are continuing to work on fireline construction west of the Eneas Peak Fire using heavy equipment to cut and remove vegetation as well as set up hoses for water delivery, officials said.
"The fire is expected to continue to slowly back downhill and reach the constructed firelines west of the Westside Road in several locations," they added. "Crews have spent a week preparing these firelines, the roads, and structure protection in anticipation of the fire moving downslope. The current conditions with light winds are ideal for holding and securing these lines."
In addition, helicopters to the complex firefighters for water delivery as needed and as weather conditions allow.
Diamond Watch Fire
Smoke from the Diamond Watch Fire, burning in northern Pend Oreille County, Wash., continues to be seen from the Priest Lake area in Idaho.
Containment of the Diamond Watch Fire, located 5.5 miles due west of Nordman, remains 49%. Due to the area's rugged, steep and dangerous terrain, the fire is being fought using a contained/confined strategy.
"A combination of natural barriers and constructed fireline is being utilized to stop the fires spread beyond the defined areas," officials said. "Diamond Creek continues to act as a natural barrier keeping the fire confined on the northern edge."
Containment lines have been completed on the west, east and southern edges of the fire and Diamond Creek is acting as a natural barrier on the fire's northern edge.
The fire has burned a total of 957 acres since it was sparked by a lightning strike in mid-July.
Priest Lake Ranger District engine crews are helping assigned firefighters patrol the almost 7 miles of containment lines.
Boulder Mountain Fire
Friday was a busy and productive day on the Boulder Mountain Fire, Forest Service officials said. Located on the Colville National Forest, the fire is now listed at 8% containment.
The fire, which is being fought by Great Basin Type 2 Management Team No. 7, has burned 1,900 acres.
"The terrain is difficult, and the fire is burning in heavy timber, slash, and beetle infested trees," officials said in a press release. "The cause of the fire remains under investigation."
A total 496 personnel assigned to the fire, which is impacting a mix of state, federal and private lands.
Thor Fire
Now a mix of four fires — Thor, Slate, Salmo and Gypsy Ridge — the fires have burned a combined 2,210 acres with 50 personnel assigned to the fire.
The largest of the fires, the Thor Fire, has burned 1,276 acres; the Slate Fire, 597; Salmo, 320; and Gypsy Ridge, 17.
"The fires are not threatening critical infrastructure, wildlife habitat, nor watershed integrity," Forest Service officials said. "Further trail closures, however, are planned as public safety remains the highest priority."
Columbus and Bear Gulch Fires
Sparked by lightning in late August, little has changed on the Columbus and Bear Gulch Fires in recent days.
The Columbus Fire, located on the Coeur d'Alene River Ranger District has now burned an estimated 1,000 acres. Six miles northwest of Murray, the fire is being managed under a "confine and contain strategy" due to its steep and rugged terrain, Forest Service officials said.
The nearby Bear Gulch Fire has burned an estimated 144 acres. Also caused by lightning, the fire is located 6 miles east of Murray.
Closure, evacuations and information
• On the Kootenai River Complex, the following Forest Service trails and roads are closed: Ball Creek Road (FR 432), Trout Creek Road (FR 634), Russell Mountain (No. 12), Russell Ridge (No. 92), Ball and Pyramid Lakes (No. 43), Pyramid Pass (No. 13), Pyramid Peak (No. 7), Fisher Peak (No. 27), Trout Lake (No. 41), McGinty Ridge (No. 143), Clifty Mountain and Clifty/Burrow (No. 182), Myrtle Peak Trail (No. 286), and Burton Peak Trail (No. 9).
Westside Road is limited to residents only. While there are no evacuations in place, those living on Westside Road closest to Ball, Burton and Clark creeks have been upgraded to "set" status under the Ready-Set-Go evacuation procedure.
Under ready, residents are advised to have a plan to evacuate if necessary, while set status asks residents to begin putting their plan into place. Under go status, residents are told to leave immediately due to an imminent threat.
• On the Diamond Watch Fire, closure orders are in effect for Forest Service roads 311, 308, and 1362H in the vicinity of the fire. However, FSR 1362 remains open. Petit Lake and is associated campsites are within the closure area.
Some camping areas along the southwest portion of Sullivan Creek Road have been notified that they are on a "set" be ready evacuation status and should be ready to leave if asked by local authorities.
• On the Thor Fire, roads connecting to the Idaho Panhandle National Forest are closed starting at the junction of FSR 302 and FSR 1013.
• On the Coeur d'Alene Ranger District, closures include Trail 148 along Casper Creek, Trail 7 from the intersection with Trail 774 to Thompson Pass, Trail 1107 near the state line, Trail 763 near the state line, Forest Service Road 938, FSR 430 and FSR 604CZ.
• All methods of travel are prohibited (foot, mechanized, motorized and stock) on the closed roads and area.
• A temporary flight restriction is in place on the Katka Fire as well as on Scotch Creek, Russell Mountain, Eneas Peak and Trout fires. As a reminder, civilian drones are not allowed around active fires. Flying drones near an emergency scene is against the law and forces fire crews to ground their flights.
• A fire watch is in effect Tuesday through Wednesday evenings, with dry and unstable weather conditions predicted. In addition, gusty winds and dry conditions are predicted for Wednesday.
• Current evacuation status information in Boundary County is available in a recorded message on the Boundary County Emergency Information Line at 208-696-BOCO (2626)
Information: InciWeb.nwcg.gov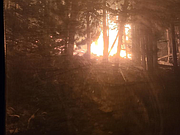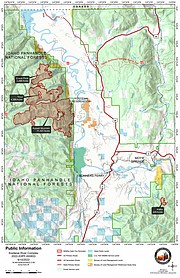 Recent Headlines
---