Land trust nets grant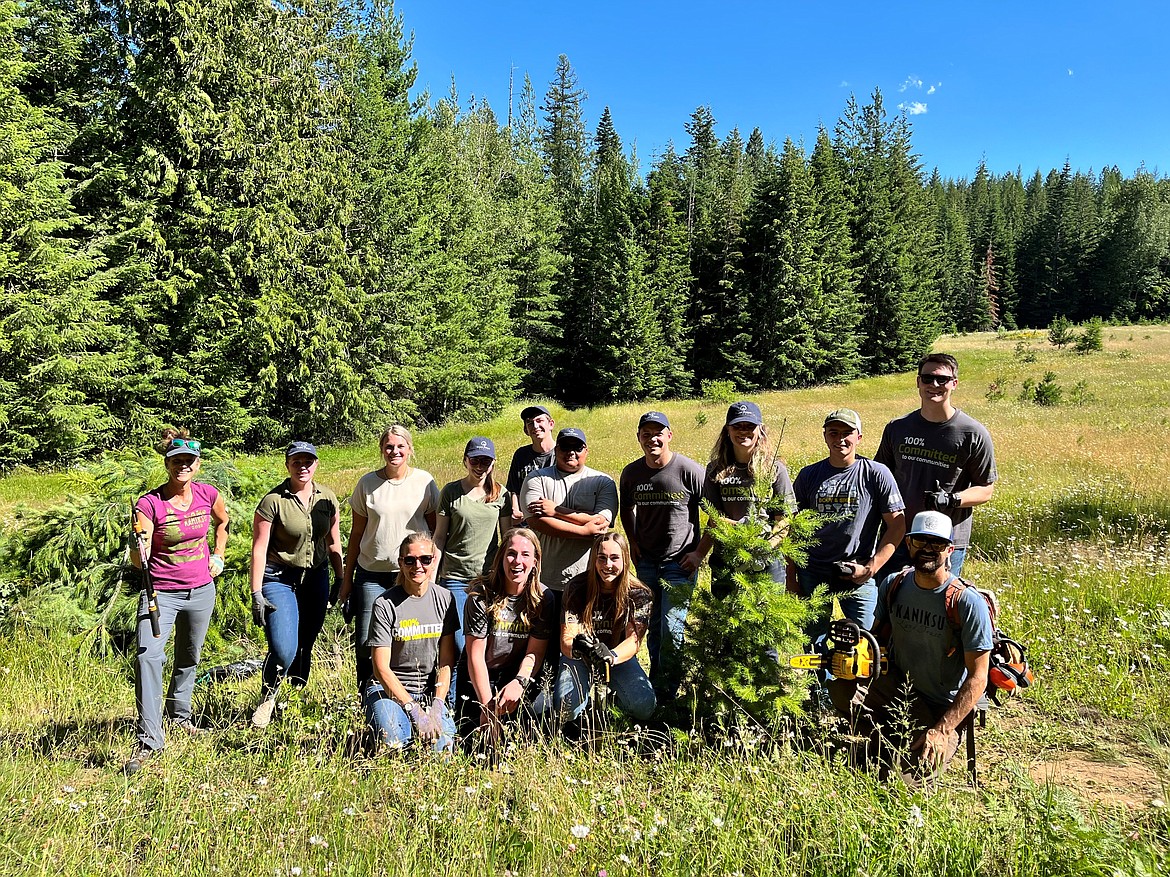 Kaniksu Land Trust recently received a $3,500 Rural Community Grant from Northwest Farm Credit Services. Pictured in the top row, from left, are Regan Plumb (Pine Street Woods), Irina Menuhov, McKenzie Ochoa, Martha Lum, Lucas Mantoani, Raul Gurrola, Jason Trieschman, Alli Schoultz, Regan Callahan, and Dylan Oja. Pictured in the bottom row, from left, are Jesika Harper, Ellie Hanson, Hannah Brock, Jeff Thompson.
(Courtesy photo)
|
September 13, 2022 1:00 AM
SANDPOINT — Kaniksu Land Trust has received a $3,500 Rural Community Grant from Northwest Farm Credit Services.
Kaniksu Land Trust is powered through impactful partnerships, with the RCG grant serving as a great example.
"Along with this award, Northwest Farm Credit Services also spent time with us this summer volunteering at Pine Street Woods," Katie Egland Cox, KLT executive director, said.
The group's support, which will help the land trust continue to grow its Kaniksu Lumber initiative. The initiative focuses on helping to sustainably manage our community forest and milling wood products that benefit the community, Egland Cox said.
"Kaniksu Land Trust is sincerely grateful to Northwest Farm Credit Services for this grant award to support our sustainable forestry initiative at Pine Street Woods Community Forest," said Regan Plumb, Conservation Director. "The funds will be put towards the purchase of a skid steer to service our portable sawmill and support forest management activities." 
Northwest FCS is committed to helping rural communities succeed. Since the program's inception in 2007, it has awarded 1,705 grants totaling more than $3.4 million. 
The Rural Community Grant Program provides funds to non-profit organizations for projects that improve a community's infrastructure, viability and/or prosperity. To learn more about the program, go online to northwestfcs.com/ruralgrants.
for more details and the online application. 
Northwest FCS is a $15 billion financial cooperative providing financing and related services to farmers, ranchers, agribusinesses, commercial fishing operations, timber producers, rural homeowners and crop insurance customers in
Montana, Idaho, Oregon, Washington and Alaska. Northwest FCS is a member of the nationwide Farm Credit System that supports agriculture and rural communities with reliable, consistent credit and financial services. For more information, go to northwestfcs.com.  
Pictured Left to Right: Top row: Regan Plumb (Pine Street Woods), Irina Menuhov, McKenzie Ochoa, Martha Lum, Lucas Mantoani, Raul Gurrola, Jason Trieschman, Alli Schoultz, Regan Callahan, Dylan Oja. Bottom row: Jesika Harper, Ellie Hanson, Hannah Brock, Jeff Thompson. 
Recent Headlines
---