One arrested after allegedly setting two fires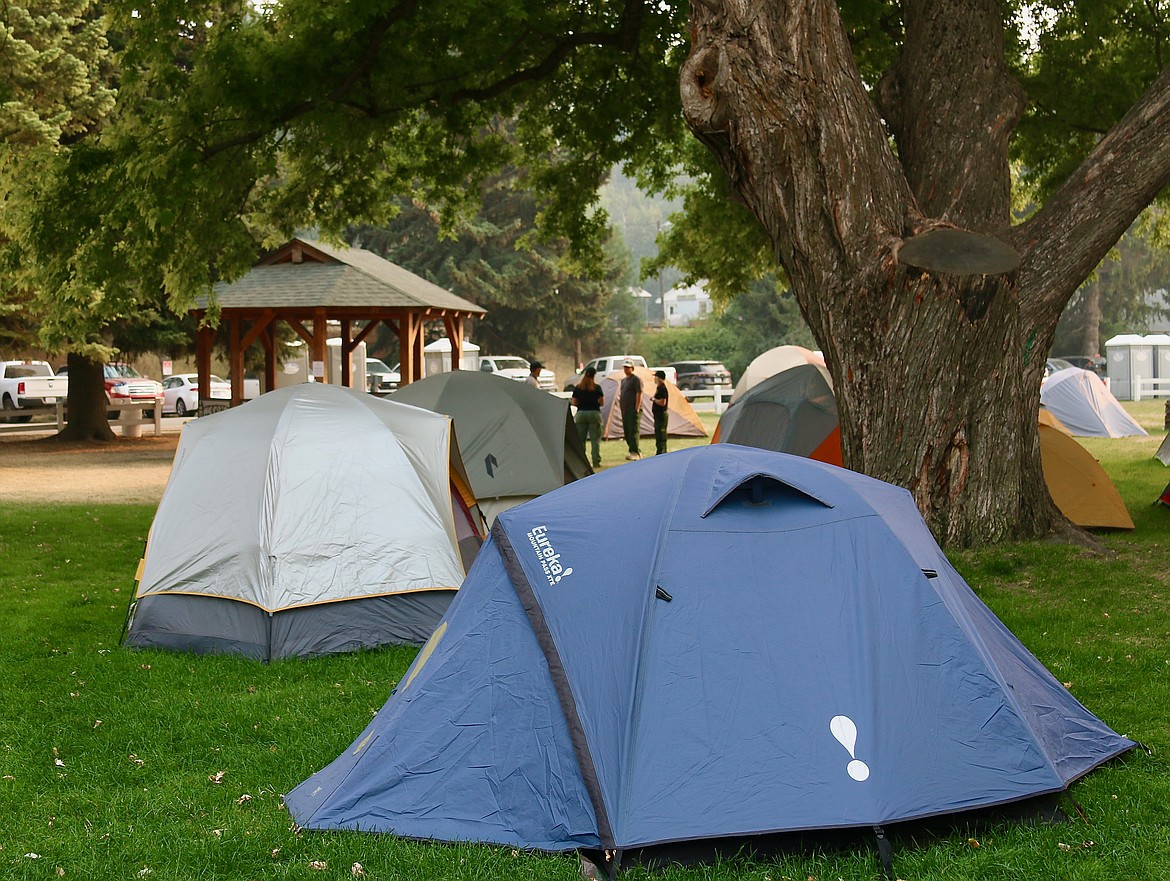 A man was arrested at the Bonner County Fairgrounds where he allegedly set fire to a yurt two firefighting personnel were staying in.
EMILY BONSANT/BONNERS FERRY HERALD
by
EMILY BONSANT
Hagadone News Network
|
September 16, 2022 4:29 PM
BONNERS FERRY —- Michael F. Mock, 30, is being charged with counts of arson in connection to a fire Monday night at Boundary County Fairgrounds and in connection to a structure fire last week.
Mock was arrested Monday after allegedly set fire to one of the Incident Command Team yurts at the Boundary County Fairgrounds, while two people were sleeping inside. It has not been reported if anyone was harmed in the fire.
In an affidavit by Deputy Jason Trujillo with the Boundary County Sheriff's Department, law enforcement arrived on the scene at approximately 3:44 a.m. on Monday. He wrote that on arrival several United States Forest Service fire fighting personnel were in a 10 to 20-foot vicinity of the yurt, which was used to house fire personnel supporting efforts to squash the ongoing Kootenai River Complex fires.
The southwest corner of the yurt was still smoldering after being put out with portable fire extinguishers by USFS personnel, court documents said. Two individuals were wrapped in blankets and still in their sleepwear. Trujillo wrote both had been sleeping in the north end of the yurt and were awakened by the smell of smoke.
Bonners Ferry Fire Department personnel arrived and verified the fire was extinguished. After an investigation of probable cause, Fire Chief David Winey brought to law enforcement's attention a pile of sticks and a handwritten note found adjacent to the front end of the yurt.
The note was somewhat incomprehensible and implied threats to kill a priest.
Trujillo wrote that while deciphering the note he noticed Mock standing southwest of the scene holding a notebook. Court documents said, Mock "condoned" showing the contents of the book and a personal search. The notes in the book matched the found note and a lighter was discovered on Mock's person.
Law enforcement records indicate Mock told law enforcement he had been heading towards the casino to buy a pack of cigarettes when he heard his children's voices coming from the yurt that had later caught fire. He said he knocked on the yurt door, but didn't light the fire. He said he smelled smoke and noticed a light as he walked away. He allegedly admitted to leaving the handwritten note by the door of the yurt for those that were inside with his children, court documents said.
Winey informed law enforcement it was determined the most likely cause of the fire was the ignition of small sticks that had been shoved under the wall of the yurt.
"Mock willfully damaged the yurt when he could not gain access to search for his children's voices, Mock said in his affidavit.
Mock has also been connected to a Sept. 10 structure fire on Birch Street in Bonners Ferry and is facing a second count of arson.
Bonners Ferry Police Officer Brandon Johnson questioned Mock regarding the Sept. 10 incident. In his affidavit, Johnson wrote that earlier in the week he had seen Mock around town knocking on strangers' doors because Mock thought he could hear people in the basements calling for help. Johnson wrote that he reminded Mock of this during questioning.
At the Birch street structure, Mock allegedly told Johnson that he had heard voices coming from the area saying "you don't have the audacity to do that."
Mock allegedly said he lit the fire and walked away from the structure, but he believed someone came and put the flames out because that structure should have been engulfed faster than it was.
Court documents said Mock stated he was at the location for almost an hour before it was totally engulfed.
Johnson said Mock confessed to lighting the Birch street blaze so nobody would be held captive there and hoped no one was in the structure. Mock allegedly told law enforcement that four years ago he looked at the structure and thought it looked like the "worst nightmare of a place where somebody would be kept captive."
Mock faces two felony charges for arson in the first and second degree. Arson in the first degree pertains to a dwelling or structure normally occupied and has a maximum sentence of 25 years per Idaho State Code.
Court documents said Mock did not appear at his initial hearing in front of Magistrate Judge Justin. W. Julian due to refusing to leave his cell. The court decided Mock may not post bond and has requested he undergo psychological tests.
Recent Headlines
---