Fire activity slows in region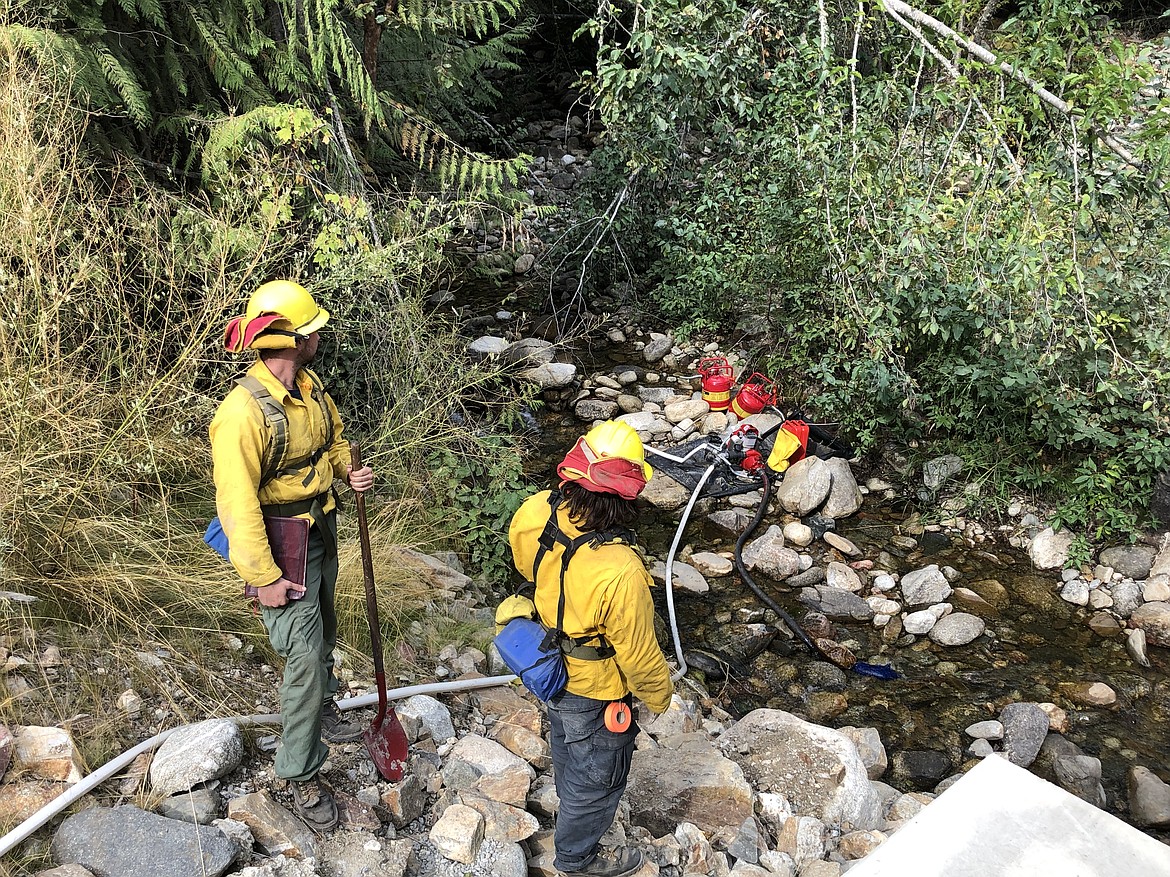 Fire crews testing pumps hoses at the Kootenai River Complex.
(Photo courtesy U.S. FOREST SERVICE)
by
CAROLINE LOBSINGER
Staff Writer
|
September 21, 2022 1:00 AM
BONNERS FERRY — It was another day of slow fire movement on the Kootenai River Complex, U.S. Forest Service officials said Tuesday.
Fire officials said they are seeing mostly smoldering and creeping behavior on the complex as the fire was backing down areas in steep terrain.
"Firefighters control a fire's spread or 'put it out' by removing one of the three ingredients fire needs to burn: heat, oxygen, or fuel," officials said. "They remove heat by applying dirt, water or fire retardant on the ground using handtools, pumps on engines and from aircraft. A wildfire is deemed 'out' when firefighters examine the burned area for any potential of the embers or smoldering materials to escape control lines."
To date, the fire has burned roughly 20,908 acres. Because mapping flights have taken place for several days, the reported size of the fire has not changed. Located 7 miles northwest of Bonners Ferry, the fire is being fought by 253 fire personnel led by the Type 2 Eastern Area Incident Management Team Gold.
A recent lightning strike near Long Canyon prompted a small fire — estimated at .10 acres. A helicopter made several water drops to attack the fire.
Completion of tasks to bring the wildfire under containment is at 79%, Forest Service officials said.
Among them, the majority of the vegetative removal and chipping work along the Westside Road has been completed north of Ball Creek Road and crews are continuing to strengthen dozer and handlines and test structure protection equipment near adjacent homes.
Discussions on long-term strategic planning for suppression repair and public access are being held as well, they said.
Forest Service officials said while minimal fire activity was observed over the Katka Fire, night crews reported a slight increase in fire behavior due to recent gusty winds.
Forest Service officials said area residents can expect to see interior smoke from heavier timber and possible tree torching with breezy conditions on exposed ridges.
Diamond Watch Fire
Crews continue to battle the Diamond Watch fire, located 5.5 miles due west of Nordman. The fire, which is at 49% containment, is being fought using a contained/confined strategy.
Almost 7 miles of containment lines have been completed and are holding the fire in place as it reaches the perimeter, Forest Service officials said.
Engine crews from Priest Lake Ranger District continue to patrol and suppress the fire where they can safely access the fire's edge. In addition, firefighters continue to use heavy equipment to improve forest roads in the area.
The fire has burned a total of 1,035 acres since it was sparked by a lightning strike in mid-July.
Boulder Mountain Fire
With higher winds expected in the region, fire managers are prepared to contain increased fire activity with direct attack utilizing hand tools, heavy equipment and aviation support as needed.
"Fire managers are mitigating fire growth potential by removing fuel from roadways which creates a buffer area, these are referred to as alternate containment lines," USFS officials said. "Alternate containment lines are only utilized if primary lines are no longer viable to provide containment."
The fire is located east of Little Pend Oreille Wildlife Refuge, and north of Calispell Peak and North Fork Tacoma Creek.
On the north end of the perimeter, pockets of fire activity remain in areas of heavy fuel and rugged terrain. Firefighters are focusing their efforts on these areas as other flanks of the fire are put into control status and crews continue to pull hose off the line where there is perimeter containment.
The fire is listed as 74% contained and has burned 2,310 acres. A total of 414 personnel are assigned to the fire, which is impacting a mix of state, federal and private lands.
Thor Fire
Now a mix of four fires — Thor, Slate, Salmo and Gypsy Ridge — the fires have burned a combined 2,257 acres with 50 personnel assigned to the fire.
The largest of the fires, the Thor Fire, has burned 1,300 acres; the Slate Fire, 620; Salmo, 320; and Gypsy Ridge, 17.
A Type 3 Incident Management Team is managing four fires in the same general area. Each fire is burning in remote and rugged terrain with poor access. The fires are not threatening critical infrastructure, wildlife habitat, nor watershed integrity.
Closure, evacuations and information
• On the Kootenai River Complex, the following Forest Service trails and roads are closed: Ball Creek Road (FR 432), Trout Creek Road (FR 634), Russell Mountain (No. 12), Russell Ridge (No. 92), Ball and Pyramid Lakes (No. 43), Pyramid Pass (No. 13), Pyramid Peak (No. 7), Fisher Peak (No. 27), Trout Lake (No. 41), McGinty Ridge (No. 143), Clifty Mountain and Clifty/Burrow (No. 182), Myrtle Peak Trail (No. 286), and Burton Peak Trail (No. 9). Westside Road is limited to residents only.
• On the Diamond Watch Fire, closure orders are in effect for Forest Service roads 311, 308, and 1362H in the vicinity of the fire. However, FSR 1362 remains open. Petit Lake and is associated campsites are within the closure area.
Some camping areas along the southwest portion of Sullivan Creek Road have been notified that they are on a "set" be ready evacuation status and should be ready to leave if asked by local authorities.
• On the Thor Fire, roads connecting to the Idaho Panhandle National Forest are closed starting at the junction of FSR 302 and FSR 1013.
• On the Coeur d'Alene Ranger District, closures include Trail 148 along Casper Creek, Trail 7 from the intersection with Trail 774 to Thompson Pass, Trail 1107 near the state line, Trail 763 near the state line, Forest Service Road 938, FSR 430 and FSR 604CZ.
• All methods of travel are prohibited (foot, mechanized, motorized and stock) on the closed roads and area.
• A temporary flight restriction is in place on the Katka Fire as well as on Scotch Creek, Russell Mountain, Eneas Peak and Trout fires. As a reminder, civilian drones are not allowed around active fires. Flying drones near an emergency scene is against the law and forces fire crews to ground their flights.
• A fire watch is in effect Tuesday through Wednesday evenings, with dry and unstable weather conditions predicted. In addition, gusty winds and dry conditions are predicted for Wednesday.
• Current evacuation status information in Boundary County is available in a recorded message on the Boundary County Emergency Information Line at 208-696-BOCO (2626)
Information: InciWeb.nwcg.gov
Recent Headlines
---