Officer's actions help save suicidal man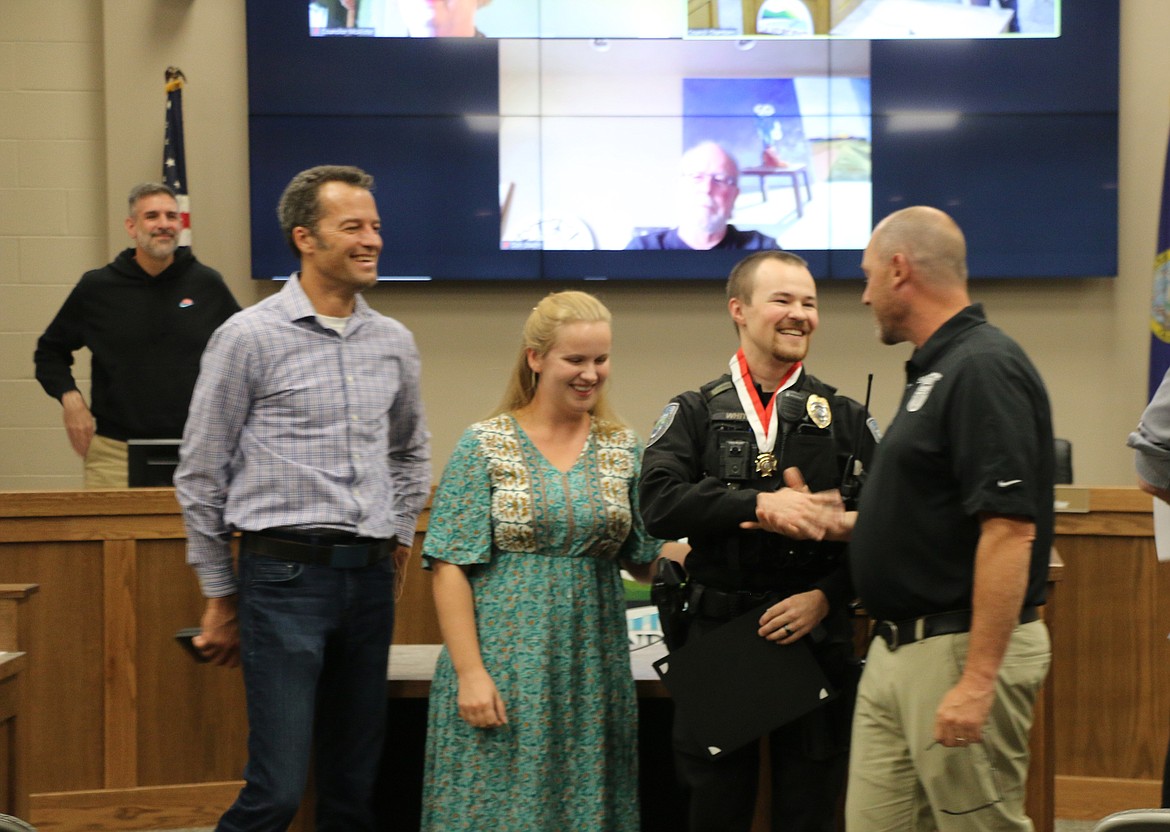 Sandpoint Police Officer Kale White, second from right, was honored Wednesday for his actions in helping save the life of a suicidal man recently. Pictured from left are Sandpoint Mayor Shelby Rognstad, Cassidy White, Officer Kale White and Sandpoint Police Chief Corey Coon.
(Photo by DANIEL RADFORD)
by
BEAUX WHITE EAGLE
Staff Writer
|
September 23, 2022 1:00 AM
SANDPOINT — As the man held onto the pier, a makeshift noose around his neck, Sandpoint Police Officer Kale White approached and began talking to the distraught man.
For over 30 minutes, White talked to the man, working to build a rapport to try and coax him off the pillar behind the Panida Theater and onto a nearby dock lining Sand Creek.
The man kept asking White and other first responders to leave so he could "kill himself in peace." However, while White was unable to convince him to remove the neck, he was able to persuade him to sit on the dock.
White didn't give up, continuing to talk with the man and building enough of a connection that he was able to get close enough to grab the man's legs and support his weight, preventing him from jumping and hanging himself. White continued to hold the man up while other officers were able to cut the noose away.
Wednesday, the Sandpoint City Council honored White for his actions and presented him two awards for his role in helping save the man's life. The first award comes as an achievement of hard work, training hours, and meeting specific requirements. The second award comes from the council for his courageous actions.
For his completion of 800 training hours, his bachelor's degree, and his tenure of six years active and time in reserves with the department, White received an Advanced Post Certificate. Presented by Lt. Stephen Chamberlain, the award is one of four that a patrol officer can achieve and is the highest.
"[White] has shown that it's not just a piece of paper. He's done more; he's taken on leadership roles as a field training officer. He also is a breath testing specialist," Chamberlain said.
In addition, White received a commendation and award of honor from the Sandpoint City Council for his actions in the early morning hours on Sept. 16 that led to the man's rescue.
Sandpoint Police Chief Corey Coon said he appreciated White's actions and noted that everyone in his department would do the exact same thing.
"I truly appreciate Officer White," Coon said. "But we have 25 other guys in the same situation, I know that he would say the same thing. Anybody else, any one of our officers in that same situation would have on that same mantle and done those exact same things."
However, in this instance, it was White called upon to act, Coon said.
"So this time, it was his calling," Coon told the council. "It was his time to act and I appreciate his willingness to put himself in harm's way and respond to those calls."
Recent Headlines
---