Strong showing for SHS swim at Lake City Invitational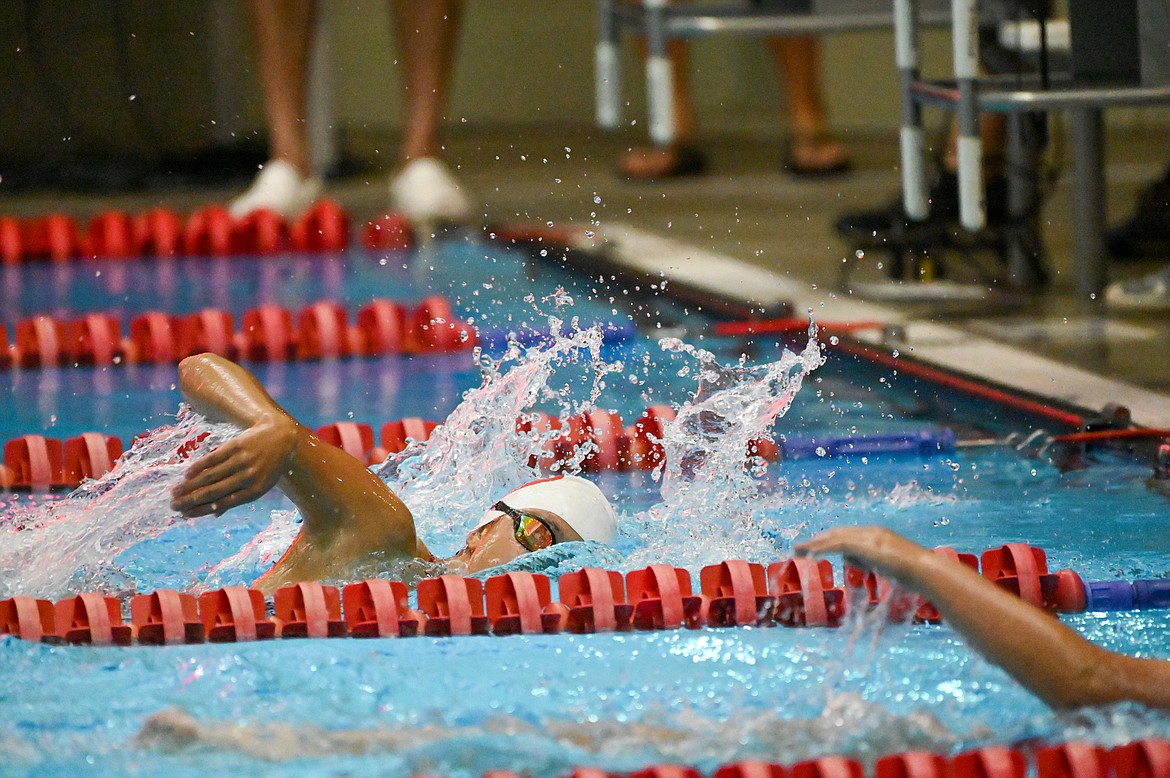 Georgia Gedde competes in the 100m freestyle for the Bulldogs at a swim meet at the Kroc Center on Sept. 17.
(Photo courtesy MAX ZUBERBUHLER)
by
DANIEL RADFORD
Staff Writer
|
September 29, 2022 1:00 AM
COEUR d'ALENE — The Bulldogs delivered at the Kroc Center at a Sept. 17 meet, with both Sandpoint teams getting second.
The boys team finished just behind the Lakeland Hawks and the girls team finished behind Lake City High.
Freshman McCoy Jensen won the 200-yard freestyle and was second in the 100-yard freestyle. Senior Caleb Norling won the 200-yard individual medley and the 500-yard freestyle. Junior Lon LeBlanc was third in the 100-yard backstroke.
Norling, Jensen, Lon LeBlanc, and sophomore Max Zuberbuhler won the 200-yard relay for the Bulldogs. Freshman Kale Wright was third in the 100-yard butterfly and the 100-yard breaststroke.
For the girls, sophomore Ava de Leeuw was second in the 200-yard freestyle. Senior Emily Ballard was third in both the 50-yard and the 100-yard freestyle. Senior Ayiana Prevost got third in the 500-yard freestyle.
The girls also had strong showings in every relay, getting second place in the 200-yard medley and the 400-yard freestyle and third in the 200-yard freestyle.
Jensen, Ballard, and sophomore Ryleigh Bamer and freshman Mia Driggs were the 200-yard medley team. Ballard, Bamer, de Leeuw, and Driggs were the 400-yard freestyle team.
De Leeuw, Prevost, and junior Sara Hogue and sophomore Maren Davidson made up the 200-yard freestyle teams.
According to coach Greg Jackson, SHS will host the next meet at the Kroc Center in Coeur d'Alene on Oct. 8 at 11:10 a.m.
Recent Headlines
---