Oldtown man arrested on drug charges
by
DANIEL RADFORD
Staff Writer
|
September 30, 2022 1:00 AM
OLDTOWN — An Oldtown man has been arrested on a variety of drug charges after hundreds of pills, multiple drugs, and drug paraphernalia were found by Bonner County deputies Wednesday.
Because the investigation is ongoing, sheriff's office officials said they are not releasing any additional information at this time.
Erik D. Lara, 34, was arrested on charges of possession of fentanyl with intent to deliver, possession of methamphetamine, marijuana, & drug paraphernalia. In a press release posted to the Bonner County Sheriff's Office Facebook page, officials said they found 300 fake pills of Oxycodone, 30 pills of prepackaged fentanyl, marijuana, possibly meth, and "assorted drug paraphernalia."
The fentanyl pills alone are estimated to have a street value worth about $3,000.
Deputies arrested Lara at his residence and detectives obtained a search warrant for the premises.
Lara was held without bail before he appeared in court for an initial appearance Thursday afternoon. His preliminary hearing will be Oct. 12.
Fentanyl overdose is the leading cause of death for Americans under 50, beating out heart disease, cancer, and all other accidents, Bonner County Sheriff Daryl Wheeler said in the online press release.
"Practically all the pills seized by law enforcement are fake, and 40% contain a potentially lethal amount of fentanyl," Wheeler said.
Fentanyl is involved in more American youth drug deaths than heroin, meth, cocaine, benzos and Rx drugs combined, Wheeler said.
Since fentanyl is cheap, potent, and profitable dealers often use it to make fake pills and the drug can even be found in "party drugs" like cocaine and MDMA, he added.
Illegally made fentanyl is the primary driver of the recent increase in all U.S. overdose deaths and fentanyl-involved deaths are fastest growing among 14-23 year olds, the press release stated.
"Our deputies and detectives will continue to put pressure on drug traffickers in Bonner County in an effort to keep our communities, our visitors, and our kids safe," Wheeler said.
Lara is currently charged with both felony and misdemeanor possession of a controlled substance, felony delivery of a controlled substance, and misdemeanor possession of drug paraphernalia and could face tens of thousands of dollars in fines and life in prison if convicted.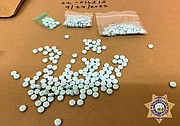 Recent Headlines
---