Moving down the block — and giving back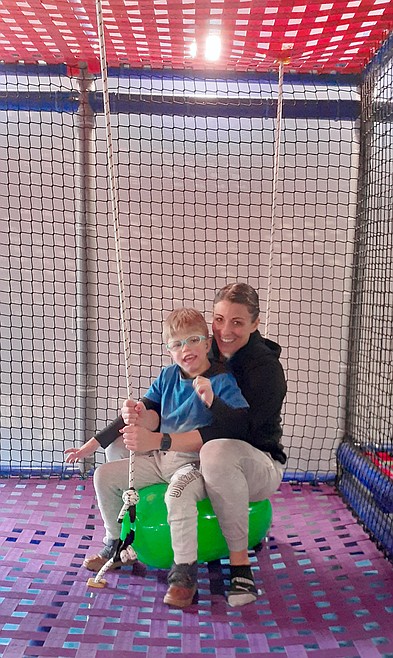 Kelli Bult, owner of UCAN, or Unique Center for Athletes of All Needs, and son, Caleb, play on one of many pieces of equipment available to special needs individuals.
(Photo courtesy MARY BERRYHILL)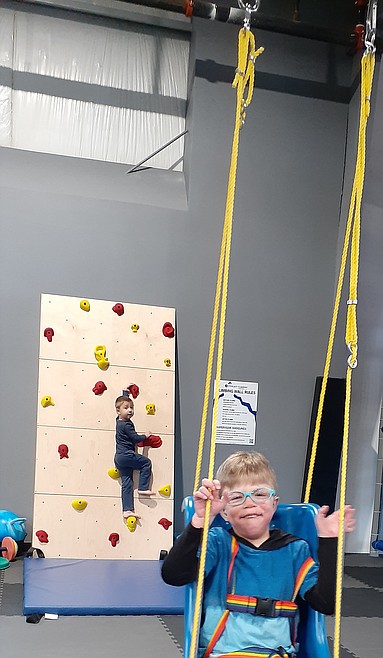 Caleb Bult, pictured in the front, and his brother, Owen, pictured on climbing wall have fun at UCAN (Unique Center for Athletes of All Needs).
Previous
Next
by
BEAUX WHITE EAGLE
|
April 2, 2023 1:00 AM
SANDPOINT — While Leadership Sandpoint's annual Cinco de Mayo block party is being held in a new location, the event is continuing its tradition of giving back to the community.
This year, the fundraiser benefits the Unique Center for Athletes of All Needs.
Each year, Leadership Sandpoint hosts the annual Cinco de Mayo block party. The event came with many traditions including being held at Trinity at City Beach. The 2022 event was moved to 113 Main, a new restaurant located in the historic Truby building. This year, the event is staging another change, hosting the event in a new location.
Leadership Sandpoint is a Greater Sandpoint Chamber of Commerce program that gives members an opportunity to learn leadership skills through educational sessions and more. The program also gives back to the community each year by selecting a nonprofit organization to raise funds for with the block party event. In 2022, the event raised money for Kaniksu Land Trust and celebrated its move to a new location for the first time.
This year, Leadership Sandpoint is taking the Cinco de Mayo block party on the move again as it is supporting the nonprofit UCAN.
Owners Kelli and Jacob Bult opened UCAN as a fitness center where those special needs individuals could go to feel comfortable and safe, and have an opportunity to learn about functional fitness and nutrition.
The couple had the idea for the fitness center after their first son, Caleb, was born with a genetic micro-deletion resulting in the absence of 79 genes. No other child has this same deletion making his health journey truly unique, and so Caleb has experienced a number of early intervention therapies through a team of therapists, teachers, and doctors.
"As Caleb got older, my husband and I realized that there weren't a lot of opportunities in the area for local special needs," Kelli Bult previously told the Daily Bee.
The area lacked places where children, teens, and adults having special needs could go to recreate, interact with each other, socialize, and learn skills to improve their health.
"We thought it would be a cool space where Caleb could be with his friends and not be judged," Kelli But said. "We saw this as an opportunity to help our son and the area's special needs community. The timing was right for us to open the gym."
UCAN's equipment includes an adaptive children's rock wall, a wheelchair-accessible arm/leg powered stationary bicycle, an adaptive harness for use of the treadmill, a full support children's swing, a wheelchair swing, an adaptive play structure, and much more.
The facility, located at 1007 W. Superior, provides adaptive exercise equipment for physical therapy sessions, special needs group workout classes and adaptive PE visits from the local public schools, and includes access to indoor adaptive playground equipment.
Leadership Sandpoint member Gavin Butterfield said the group is looking forward to the Cinco de Mayo block party, particularly because of what the fundraiser does for the community at large — and because it allows them to help organizations like UCAN.
"Leadership Sandpoint looks forward to this event each and every year as an opportunity to bring the local and business community together as a sign of solidarity to support our nonprofits," Butterfield said. "The goal is to provide donors and attendees an opportunity to support local nonprofits identified by the current Leadership Sandpoint class. We look forward to continuing that tradition and shedding light on the incredible organization that is UCAN."
Another benefit to the event is that it kicks off the event season for local vendors, Butterfield said. With 10 local food and beverage vendors the fundraising party will also include music, activities for kids like face painting and folk school activities, a silent auction and raffle which includes a wheelbarrow full of booze and a season pass to Schweitzer, and much more.
Held Friday, May 5, from 4 to 8 p.m. the new location will be the block of Main Street between First and Second avenues in downtown Sandpoint. Tickets will be sold at the gate and members of the 2022-2024 Sandpoint Leadership Class will sell tickets in advance.
For information on Leadership Sandpoint class members, contact the Greater Sandpoint Chamber of Commerce at 208-263-2161.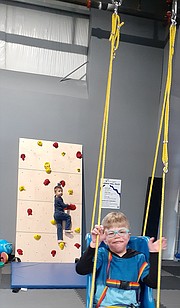 Recent Headlines
---