Annual walleye netting set to start soon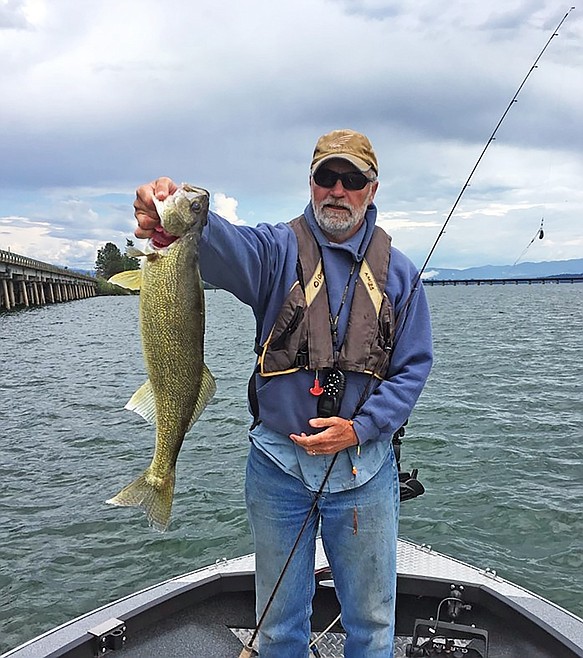 An angler with a walleye from Lake Pend Oreille in this stock image shared by Idaho Department of Fish & Game.
(Photo courtesy CALEB WILSON)
Walleye aren't welcome in Lake Pend Oreille.
This spring marks the sixth year of netting operations on the lake by the Idaho Department of Fish and Game to help keep the walleye population under control. IDFG officials said the netting operation will begin next week on Monday, April 10, and run through April 28.
Walleye gill netting operations take place on weekdays only over a three-week period each spring. Fish and Game officials said crews target walleye grouping up to spawn in the shallow, northern sections of the lake. Among the sites identified for netting are portions of the Clark Fork Delta near Sheepherder Point, the Pack River Delta, Sunnyside area, Oden Bay, Kootenai Point and in the vicinity of the railroad bridge near Sandpoint.
"While netting is occurring, anglers and boaters are advised to watch out for buoys on the water's surface and recognize that each buoy is attached to approximately 1,000 feet of net under the surface," T.J. Ross, regional communications manager for Fish and Game's Panhandle Region. "Needless to say, hooks and nets don't make the best pair, so it's best to avoid fishing in these areas."
While the operation does net other fish species, Ross said the survival rate of the non-target fish is high and that most are released in good condition.
"This is primarily because of the numerous preventative measures that are taken to minimize catch rates and mortality of these other fish species," he added.
Illegally introduced into the Noxon Reservoir in the early 1990s, walleye eventually made their way downstream, becoming a new top-tier predator in Lake Pend Oreille.
Five years ago, Fish and Game took steps to put the brakes on the walleye in order to protect the lake's kokanee population. Fish and Game officials said the kokanee supports a popular fishery and is a critical food source for many fish species in the lake.
"This benefits a wide variety of species such as rainbow trout, bull trout, cutthroat trout and smallmouth bass that are all susceptible to negative impacts from walleye," Ross said.
Biologists use two techniques to manage walleye populations in Lake Pend Oreille — gillnetting and incentivizing anglers to catch and keep walleye.
"Suppression efforts will not eliminate walleye from the lake; the species is here to stay," Ross said. "Instead, the goal is to keep their population at a low density to reduce their effect on other fish species that support the tremendously popular Lake Pend Oreille fishery."
In addition to the netting operation, Fish and Game encourages anglers to fish for walleye. There are no seasons or bag limits and the walleye incentive program is continuing for its fifth year, Ross said.
"Here is a fun fact," he said. "Walleye cruising the waters of Lake Pend Oreille are carrying about $100,000 in rewards. Always dream of getting paid to fish? Well, here's your chance."
Biologists mark walleye from different size classes with a microscopic tag in the head as well as from various locations in order to distribute the chances of winning across the basin. Eligible walleye can be caught anywhere in the Pend Oreille system in Idaho, including tributaries like Priest River.
A $1,000 reward is issued for each tagged walleye head that an angler harvests and submits to the program. In addition, a random drawing is held each month for 10 $100 rewards. Each walleye head submitted by anglers provides one chance in the drawing.
The walleye lottery is designed to encourage angler harvest of walleye in Lake Pend Oreille. In addition, it helps fisheries managers understand what role anglers play in controlling this non-native population. The walleye lottery is funded by Avista through the Clark Fork Settlement Agreement.
Information about the walleye incentive program can be found on the Fish and Game website at bit.ly/3zve0sU.
Recent Headlines
---