Vehicle strikes BCSD district office
BONNERS FERRY — Boundary County School District Superintendent Jan Bayer was working late on Tuesday night when a vehicle struck the district building — right by her office.
Still shaking, Bayer told the Herald she was at her desk when there was a large crash at about 7:10 p.m. and books came flying off the wall behind her. Bayer exited the Arizona Street building and saw a woman in a minivan.
She said the vehicle was not running and the airbag was deployed and she saw a woman trying to restart the car.
Eyewitnesses and hotel guests from the Kootenai River Inn and Casino, located across the street from the district office, said they heard a large crash and also saw a woman in the vehicle.
At 7:14 p.m., Bayer called BCSD Trustee President Ron McDonald. Bonners Ferry Police Department, Boundary County Sheriff's Office, ambulance district, fire department and Border Patrol responded.
The fire department checked the building and gave the all-clear.
BCSD maintenance staff along with McDonald checked the building after concerns that its structural integrity was compromised since the vehicle hit one of the office's steel support beams.
BFPD Corporal Willie Cowell told the Herald he expects that the woman will be charged with driving under the influence. There was only one occupant in the vehicle and no injuries were sustained. The woman is not being named since charges have not yet been filed.
Due to no law enforcement official witnessing the incident, Bayer had to fill out a citizen's arrest form, since she was the witness. While a magistrate judge will have to find probable cause for the arrest, Cowell said that at this time it appears that there is probable cause for charges.
A full police report is forthcoming after the investigation is complete.
Bayer said the school's insurance ICRMP has been notified and will investigate on Wednesday.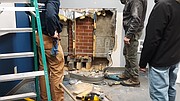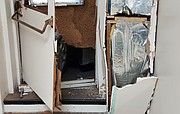 Recent Headlines
---