Winter wrap
Those who stuck around Sandpoint during the winter months know what a magical season it was. From November to April the mountain accumulated 292 inches of snowfall—The depth of four cars parked side by side. Thanks to this, Schweitzer opened up early for the first time since the 2017-18 season.
As a new resident of the Sandpoint community, I was eager to lap up as many days on the mountain as possible. With 2,900 acres of skiable terrain that features incredible tree skiing, I couldn't wait to see what the upper left had to offer.
Every day on the mountain was different and as the winter systems ebbed and flowed I began getting more greedy with the conditions. Little did I know, my final day on the mountain would be one to remember forever.
Earlier in the season while shadowing an all-women's ski camp, I met Jill Fried, a cat-ski operator for Selkirk Powder. Fried has been working with the company for the last two years as the only female operator—We hit it off immediately. I had seen the information desk for Selkirk Powder in Schweitzer's main lodge many times but still didn't know much about them. Before their final day of operation, Fried had reached out to me and convincingly asked if I'd like to join.
Waking up the morning of the excursion, I felt more nerves than anticipated. As an avid winter recreational goer, I had done my fair share of reading about avalanche safety and sorrow. I was in the midst of reading "Dragons in the Snow" by Edward Powers, a book about the science and research behind avalanche forecasting and rescue, and was well aware of all that could go wrong in the backcountry.
We met Fried in the main lodge at Schweitzer before heading up to start our day. While in the lodge, she handed out avalanche beacons to each person in our small group of five—Things were getting real. Our crew headed up Basin Express to the Selkirk Powder hut where we met our main guide, Ken Barrett.
Barrett started Selkirk Powder in 2003 with the late Chip Kamin. The friends and business partners took a few seasons in the backcountry to survey for terrain, note potential hazards, and map and record machinery timing.
"We dreamt it up and proved the concept worked," Barrett said. "Since then, we've turned millions of vert with thousands of happy clients."

This year alone the company has taken 1,300 people into the backcountry.
We learned that the company had 4,350 acres of terrain behind Schweitzer Basin with an amphitheater-like layout of three distinct bowls divided into eight riding zones and 78 runs. To get to those runs, the cat-ski would drive us along a 6.5-mile summit ridge road where we would eventually drop off into the most beautiful powder I've ever ridden.
"The first seasons were extremely rough as we employed an uncovered sleigh and an Italian double-tracked snowmobile called a Sherpa. That made us and our guests the toughest guide/client crew in the backcountry business," Barrett said. "Now, with our heated and comfy snowcats, we feel pampered."
Barrett took us through a handful of safety measures and made sure that we were well-acquainted with our avalanche devices. We sat in a circle and did a test to show how the number on the beacon would lower as we got closer to the victim. He made it clear that if an avalanche were to occur, time was of the essence. He also noted that the forecast for the day showed minimal danger and that in the twenty years his company has been running, they've never had a fatality.
"Between thousands of clients and our staff, we haven't had a serious injury or accident in 20 years. We've drilled safety into our guides, tail guides, and machinery operators," Barrett said. "One nasty accident can turn a season upside down and that can cause spillover to other facets of the operation, especially repetitional harm."
We strapped into our snowboards and clipped into our skis for a traverse that would lead us into our first run. My worries subsided—This was amazing. It was evident how much care and planning went into making us feel safe. Barrett, Fried, and our operator for the day Tim Reed, had an uncanny ability for putting us at ease while encouraging our limits.
At the bottom of each run our group handed our gear off to Reed, piled into the snowcat, put on some tunes, and gushed about how incredible our runs were. We skied off of 10-foot cornices and perfectly spaced trees in snow quality that was out of this world.
Barrett later told me that in 2014, after the worst snow season they'd seen, the company adopted a five-year guarantee program allowing their clients four seasons between returning from a canceled trip.
"This allowed us to cancel when conditions are marginal to unsafe and allowed the clients flexibility in making return trip plans," Barrett said. "People sometimes get pissed that we don't ride in uncertain conditions but they usually change their tune when they ride and the day is successful."
It was then I realized just how lucky we were. We got to experience the final day, in prime conditions, with a great group of people. Not much more you could ask for.

Unfortunately, this has ruined my perception of good snow along with my future bank account. In the years to come, there's a question of whether Schweitzer and Selkirk Powder will continue to operate with one another. After 20 years of guiding trips, Selkirk Powders' lease is up. Whether or not the company continues its pursuit I can tell you one thing: There's nothing like painting a fresh powder line with a group of people in the safety of professionals.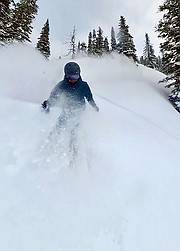 Recent Headlines
---