New county reporter and her pup join the Daily Bee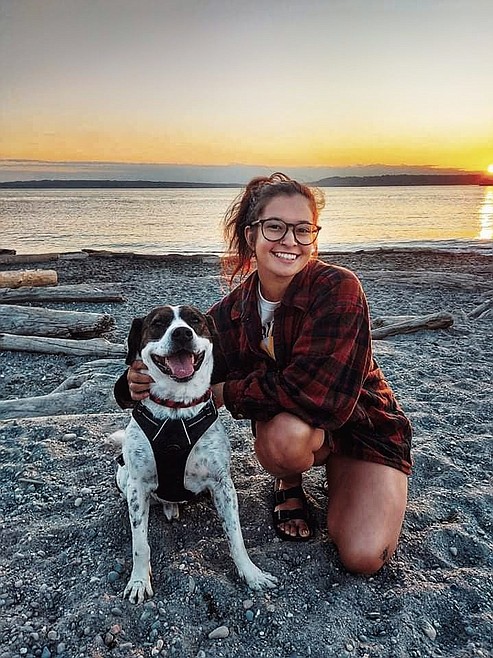 Bonner County Daily Bee's new county reporter, Lauren, and her dog Kodak at the ocean.
Photo by ZACH HASSON
Hi, my name is Lauren Reichenbach and I'm the new county/court/general assignment reporter for the Bonner County Daily Bee.
I've spent most of my life in Northeastern Washington and graduated from Eastern Washington University in 2021. After that, I spent roughly two years working for a small online newspaper in North Seattle before realizing big city living wasn't for me. Me and my pup, Kodak, packed our things and said "See ya!" to the West Coast and headed east, where we eventually landed in Sandpoint, Idaho.
I've always loved writing — research papers were actually my favorite part of school — and I excelled in all my English classes. However, I went into college having no idea what I wanted to do. My freshman guidance counselor suggested an English degree, but I was adamant that I did not want to spend four years of my life reading Shakespeare plays. Because of that, she put me in an intro to journalism class on a whim and after the first week, I was instantly hooked.
When I'm not writing, you can find me spending time exercising and taking photos. I ran two half marathons in high school and after spending the past few years recovering from various injuries, I'm hoping to complete my first full marathon by the end of the year.
Photography has been a passion of mine since elementary school and it has been fun finding new ways to combine that hobby with my love of nature. I've also photographed multiple weddings and love the fast-paced nature of shooting sporting events as well.
I also love any outdoor activity, none of which would be complete without my dog. Kodak and I love going for walks and hikes, and I can't wait to try to convince him to get in my kayak and spend the hot months of the year on Lake Pend Oreille. While he's not a fan of baths, he sure does love chasing the ducks.
Feel free to contact me about potential leads or stories that deserve to be told in Bonner County at lreichenbach@bonnercountydailybee.com.
Recent Headlines
---