Spring is in the air at Clark Fork High School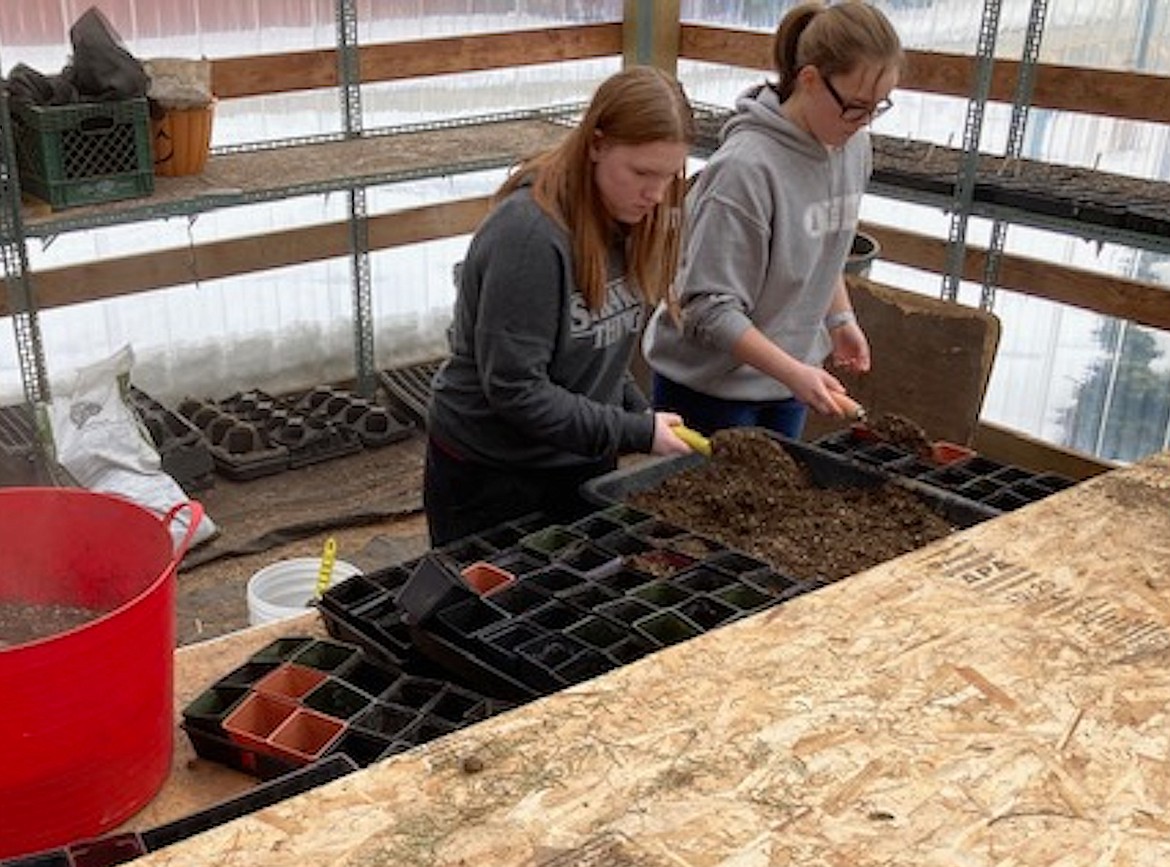 A pair of Clark Fork High School students fill pots with the soil starter soil blend during a recent "Introduction to Agriculture" class.
(PHoto courtesy BEAU KILCHENSTEIN)
by
DYAN SCHECTERSON / Contributing Writer
|
April 11, 2023 1:00 AM
Snow may be slowly disappearing from the region, but Clark Fork High School students in Brian Bell's "Introduction to Agriculture" class are already in spring planting mode.
This class is extensive and teaches students the basics of agriculture.
"Students first learned about the origins of agriculture; specifically, why humans transitioned from hunter-gatherer bands to more sedentary societies," said Bell, who is in his first year at CFHS.
Students are now focusing on the five most important soil-forming factors: climate, organisms (both above and below ground), relief/topography, parent material (aka geology) and time.
Bell has degrees in biology and ecology and students have the opportunity to learn a lot from him. Bell previously worked at the U.S. Forest Service, where he performed stream surveys, forest and plant inventories and soil surveys throughout the Intermountain West. In addition, he worked with farmers in a conservation district where he taught them best management practices and how to implement conservation projects on their land.
On this day, students were busy in the greenhouse. Clark Fork has a roomy, heated greenhouse with high counters on three sides and plenty of space to hang the baskets they retail every spring. 
Students were doing a variety of tasks. First, prepare the soil with a blend of topsoil, compost, and pre-made potting soil. Others fill containers, sort and plant seeds, and water and label.
So far, the class is planting cold-weather seeds of locally popular vegetables and a few flowers. As this year's season progresses, they will have a large assortment of veggies, grapes and a whole host of beneficial plants that will help those vegetables repel pests. Hopefully, there may be ornamental plants and indoor plants as well. 
The goal of this class is to learn about how and why the U.S. became an agricultural-based society and what are the ramifications of an agricultural-based society, including the different food production systems and their energetic footprint conventional, organic and permaculture.
The class serves as a foundation for students interested in pursuing careers in agriculture, horticulture or working within the U.S. Forest Service.
Recent Headlines
---