Sandpoint Soccer Association welcomes new director of soccer operations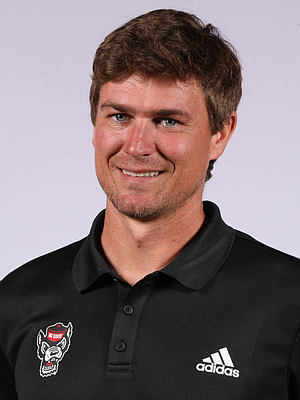 Brad Williams during his coaching stint with North Carolina State University.
(Courtesy photo)
SANDPOINT — The Sandpoint Soccer Association (SSA) is thrilled to announce that Brad Williams has joined the organization as director of soccer operations.
In this role, Williams will oversee both the Strikers competitive club and recreational soccer programs, developing coaches and ensuring that players at all age levels are being coached consistently and effectively, in line with SSA's overarching vision and philosophy.
"I'm delighted to join the Sandpoint Soccer Association. I'm passionate about developing young soccer players and ready to bring my coaching skills to the players and coaches of the Sandpoint community," said Williams. "I'm excited to implement a technical plan that will build confidence and consistency in our players, while providing an overall positive experience."
Most recently part of the coaching staff at North Carolina State University, Williams brings over 20 years of combined youth and college coaching experience to the Sandpoint community. Before joining NC State, Williams served as an NCAA and junior college head coach and held various youth coach positions. In addition, he previously led youth coaching courses for the NSCAA/United Soccer Coaches.
During his playing days, Williams was goalkeeper for the Team Bath Football Club in Bath, England, the San Francisco Seals, the San Jose Frogs of the USL, and Saint Francis University in Loretto, Pennsylvania. He earned a B.S. in marketing with a minor in psychology from Saint Francis University and an M.A. in coaching and athletic administration from Concordia University – Irvine.
"We couldn't be more excited for Brad to join the SSA team," said interim board president Adam Tajan. "His extensive coaching and playing experience, love of the game, and ability to connect with our kids and coaches will be invaluable for our community. We can't wait to see how Brad helps elevate our program within Idaho Youth Soccer."
Williams will be relocating to Sandpoint in late April with his wife, Kate, and five-year-old son, Rees.
About Sandpoint Soccer Association
From recreational to competitive club play, SSA is dedicated to providing quality youth soccer programs that facilitate personal and athletic development for all players of all skill levels in a safe, positive, and supportive environment. In everything we do, we aim to bring out the best in each other. We're headquartered in beautiful Sandpoint, Idaho, and welcome players from all over North Idaho.
Recent Headlines
---