Festival launches new music outreach program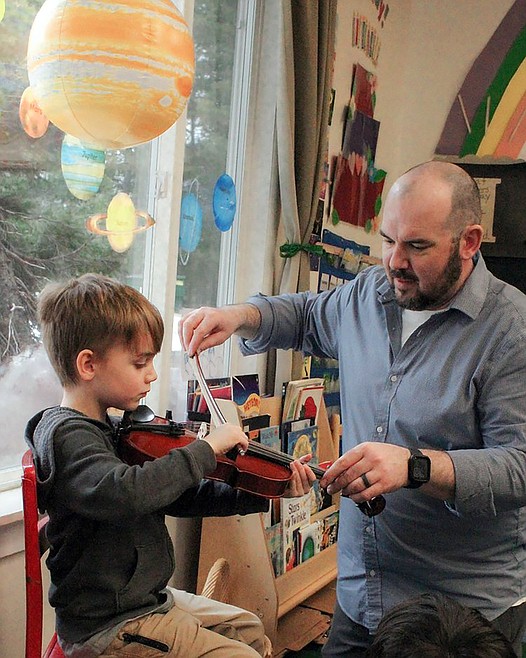 Festival at Sandpoint Production and Education Manager Paul Gunter, teaches a Selkirk School preschool student how to play the violin.
(Photo courtesy FESTIVAL AT SANDPOINT)
SANDPOINT — The Festival at Sandpoint is helping students make musical magic as part of its new Pre-K Outreach Program.
Since its launch last spring, more than 70 students at Selkirk School and Little Lambs Preschool have taken part in the program, which teaches them to play instruments. In the program, students learn how to play six different non-pitched percussion instruments, count and read rhythms, and play parts within a group.
The free classes are designed to engage students through rhythm, movement, and song, culminating with a live performance, Festival officials said. The curriculum is tailored each year to work with existing music requirements in the local schools and introduce students to a myriad of instruments and new genres of music.
"During each class, students focus on a specific rhythmic element while integrating new instruments," Paul Gunter, Festival at Sandpoint education manager, said. "After the final performance, the students can take home their self-designed set of rhythm sticks to keep the music going strong."
Each of the four 30-minute classes build up to a short performance following the final class. However, Festival officials said the class can either be part of the regular curriculum or presented as an after-school program.
Gunter works with numerous local instructors from a wide variety of musical backgrounds to provide the best teaching experience for each group.
Part of The Festival at Sandpoint's mission is to foster a love of music through ongoing youth education programs, and the organization is excited to offer free educational outreach programs to local schools within the community, Ali Baranski, Festival executive director, said.
Support from donors, volunteers, and the community make it possible for the Festival to offer musical education like the Pre-K Outreach Program, she said.
The Festival at Sandpoint is a nonprofit organization that hosts an annual summer concert series in Sandpoint, featuring a variety of genres. The Festival's 40th annual season will be held July 27-Aug. 6.
Information: festivalatsandpoint.com
Recent Headlines
---