Longtime postal worker set to retire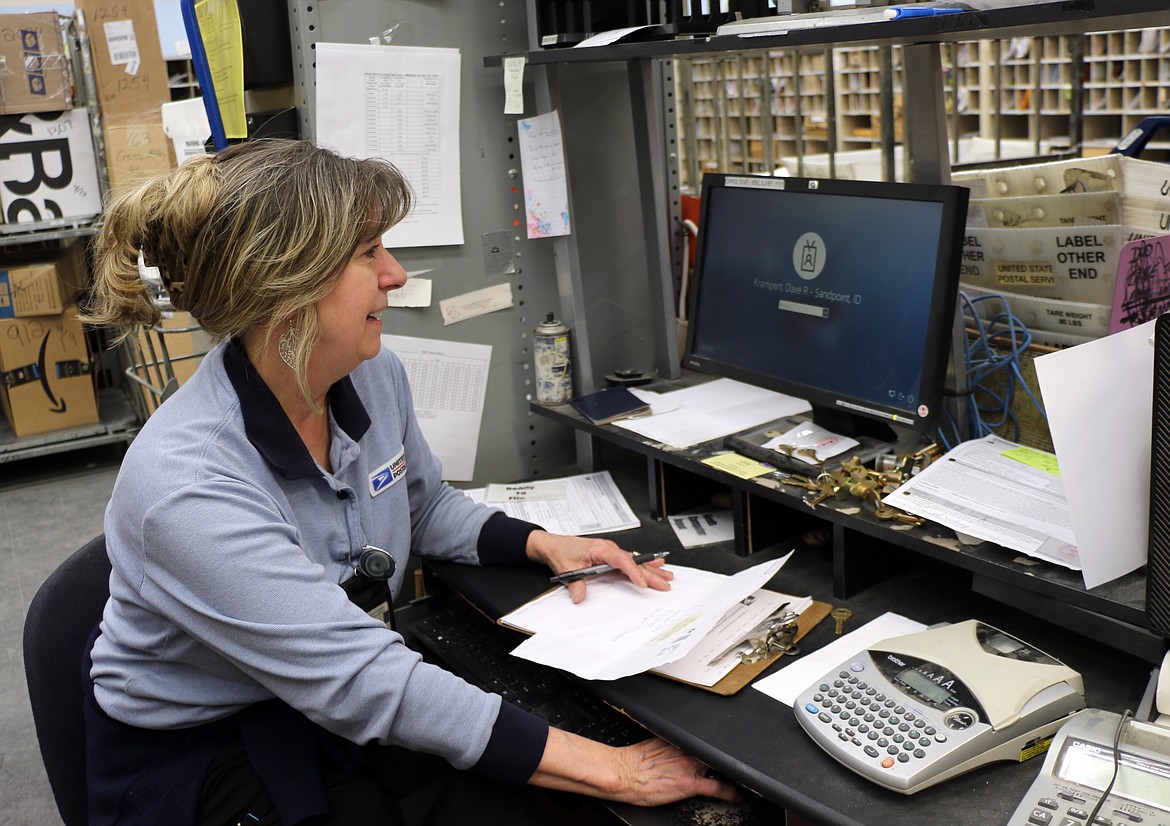 Carol Sue Hanson works at a desk at the Sandpoint post office on Thursday. Hanson retires Friday, April 28 after more than 37 years with the U.S. Postal Service.
(Photo by CAROLINE LOBSINGER)
SANDPOINT — She is not, Carol Sue Hanson freely admits, a morning person.
But, each morning at 5 a.m., Hanson is hard at work at the Sandpoint post office, sorting mail and ensuring packages get to where they are headed.
However, the longtime postal worker will soon be able to sleep in a little longer as she is set to retire Friday, April 28, after more than 37 years on the job.
"It's going to be a different life for me next week," Hanson said.
Hanson said she decided to retire after it dawned on her that she would rather spend time with her family. While he is doing well, Hanson said her husband Scott has health issues and said the physicality of the job is beginning to take its toll.
She wants to spend that time with her husband, Scott, and her daughter and stepchildren and their families. She and her husband enjoy NASCAR and stock car races and already are planning to attend several events.
Camping also is on the agenda and Hanson said the couple is already planning to head out in search of special spots.
"We just love it," she added. "We like to go to obscure places where there's not a lot of people and just enjoy it."
Hanson said she has already been advised that it will be an adjustment and said it will probably be hard for her to learn how to "actually relax and sit down, maybe read a book or do something."
She said she's told her co-workers that she still will be around and will likely see them more often than she — or they — think.
"I still have a post office box here. I have to come get my mail and stand in line and, you know, be an irritating customer," she joked.
Hanson started with the postal service in 1985 in Astoria, Ore., joining several family members. She worked as a rural route substitute driver for two years before taking a year off. When she came back, Hanson worked as a clerk at the Astoria post office.
When she made the move to North Idaho, Hanson said she first applied to work at the Coeur d'Alene office but quickly realized it wasn't for her.
"When I walked in that office and saw how huge it was, I said, 'No, this is too big for me,'" Hanson said. "So came up here and got on here at this office in 1990, moved here, and have been here ever since."
The job entails a lot of memory and good organization skills, Hanson said. Both help you keep track of the many addresses, street names and customers — all key to helping get the mail to where it needs to go, Hanson said.
That may mean deciphering unusual spellings of locations to determine the intended person and address; or when hearing a different pronunciation, figuring out the location.
While she worked at the front counter for many years, Hanson said loves working in the back on the production side of things.
"Other than having to get up at 3:30 in the morning, I like it back in the back," she said. "It's fast-paced. You have to move, you have to be very limber and be able to do a lot in a short amount of time."
As the town has grown, so has the amount of mail coming into the post office. Each morning, two trucks filled with mail pull into the loading dock for crews to sort in time for carriers to have when they head out of their routes. Even on a Sunday, a truck pulls into the dock loaded with mail.
In the holiday season, Hanson estimates the office receives 4,000 to 6,000 parcels — some of which weigh up to 70 pounds — each morning. And with the advent of Amazon, the number of packages received at the post office has increased as well.
"That's been huge," Hanson said of the company's impact on the post office. "That has impacted us greatly."
It takes being organized, an ability to work hard, and staying on top of all of the moving pieces, Hanson said. Being a part of the hustle is something she said she loves and thrives on.
"You have to really hustle," she added. "You have to be strong. You have to have a good memory and be able to switch gears quickly."
The only person who beats her to the office is longtime co-worker Dave Krampert, who starts at 4:30 p.m. The pair have worked together since 1995 and joke that it isn't uncommon for them to finish the other's sentences. Both said they enjoy working together through the "thick and the thin" of it all.
"It's been a pleasure," Krampert said. "We've been in this office together since 1995. How many people do you know that can spend 30 years together and still be really close at the end."
"And not want to have killed each other," Hanson said.
Perhaps his favorite memory of working with his longtime friend is the day a bat got into the post office and somehow ended up in the same area as Hanson.
"It chased me around the corner and I guess I looked like a fool running around, screaming and trying to get away from this bat," Hanson said, breaking off in laughter.
It's those light-hearted moments that relieve the hard work, Hanson said.
"Sometimes you have to be that focused sometimes, but you know, you have to cut up every now and then. You have to find …"
"… the humor in everything," Krampert said, finishing Hanson's sentence.
Hanson said she loves her post office family and appreciates the time she has spent at the Sandpoint facility, adding she will miss working with them. They have shared good times and the hard times and watched as their children grow and have their own children.
"There's just an aspect of family here," she said. "You don't even think about it because we are all here five, six days a week together. You become family."
"We have a great group here and when something goes wrong, or something is missing, we have a great group of people and everybody digs in and we do our very best to resolve issues every day, you know, I've got a great group of people that I work with, and we all melded together very well," Hanson said. "I'm going to miss them."
Recent Headlines
---