Sandpoint sweeps Lakeland; Zimmerman 'steals' the show in Game 2.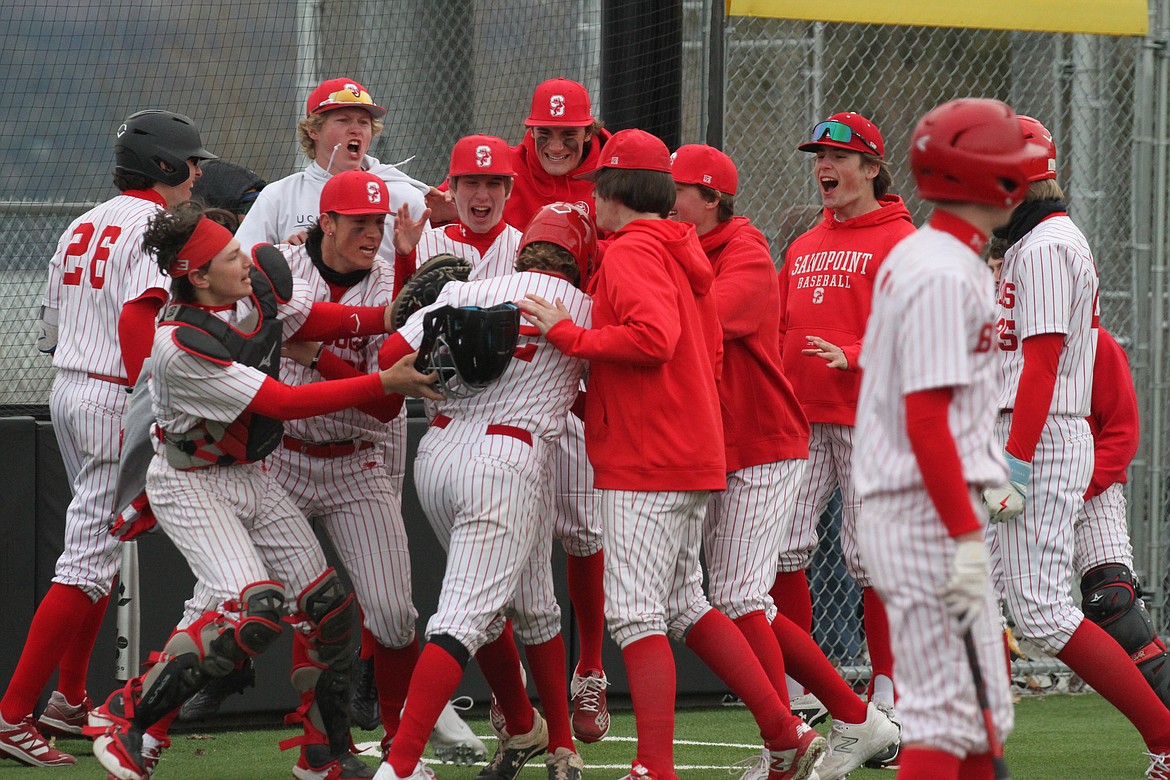 Jack Zimmerman celebrates with his team after stealing home in Game 2 to put the Bulldogs up 7-6 over Lakeland.
Photo by MAX OSWALD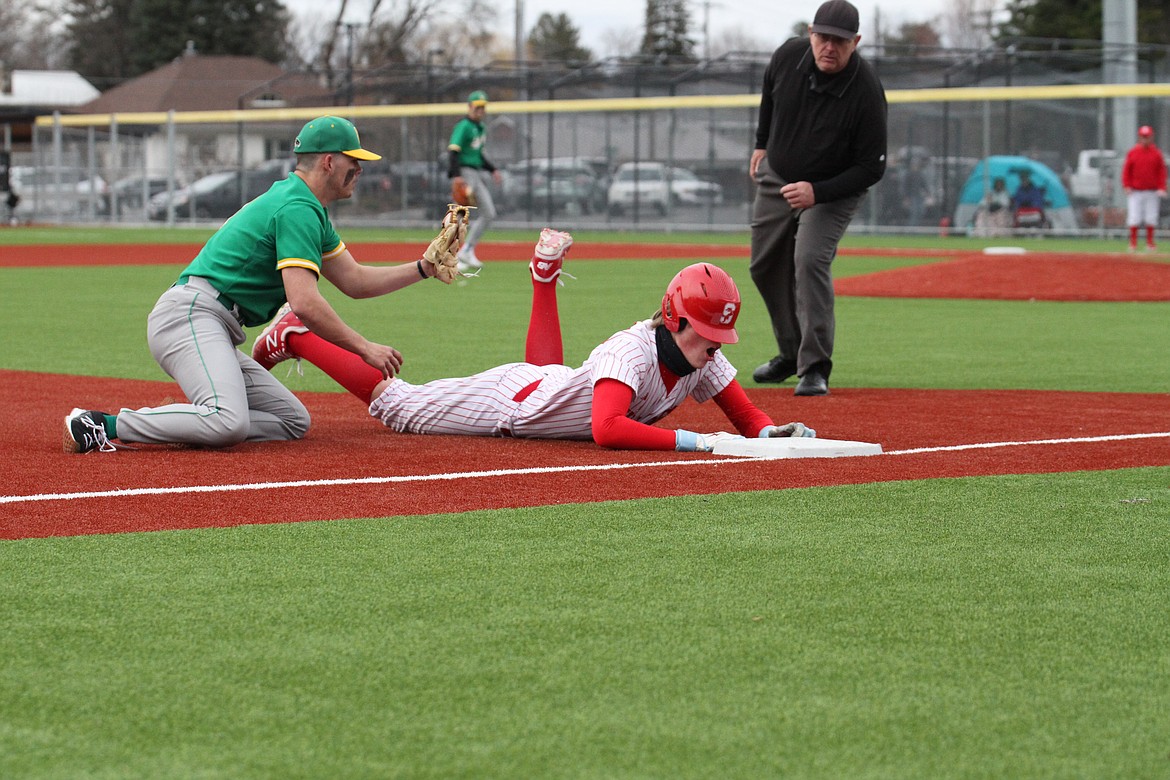 Finn Mellander is thrown out at third base after hitting an RBI double that scored two runs in Game 2.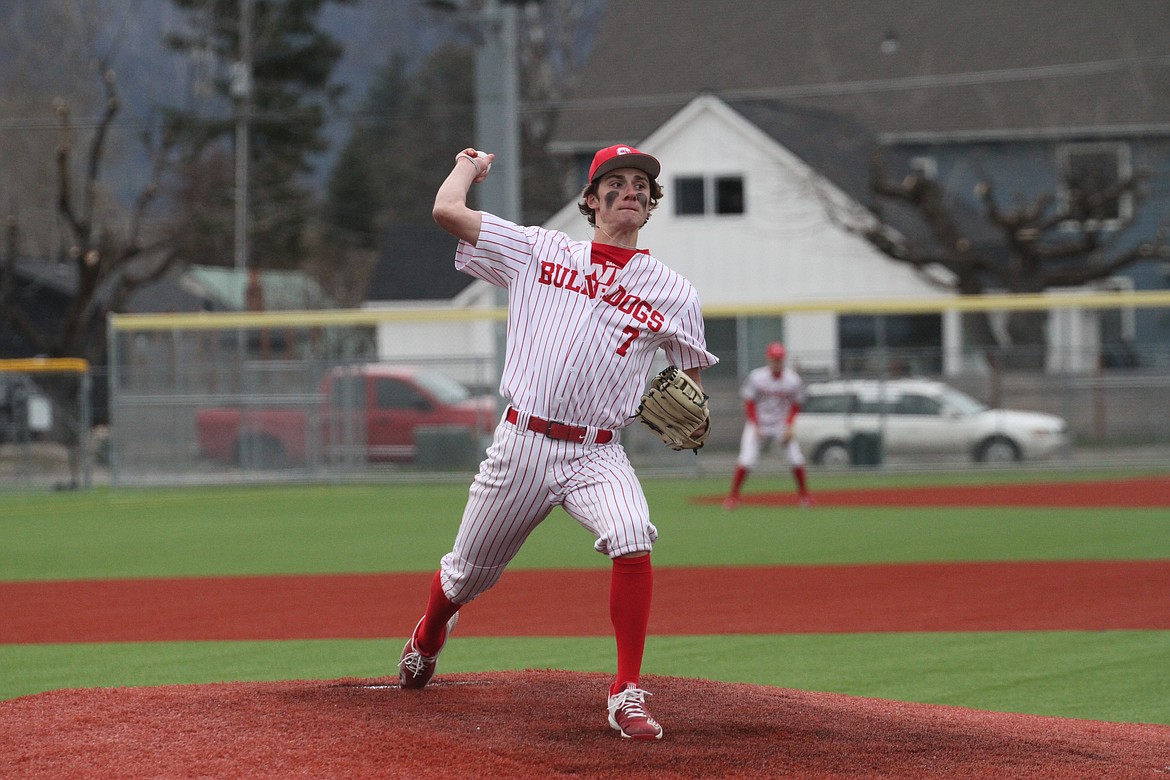 Dallen Williams threw a perfect one and two-thirds innings, recording two strikeouts, in Game 2.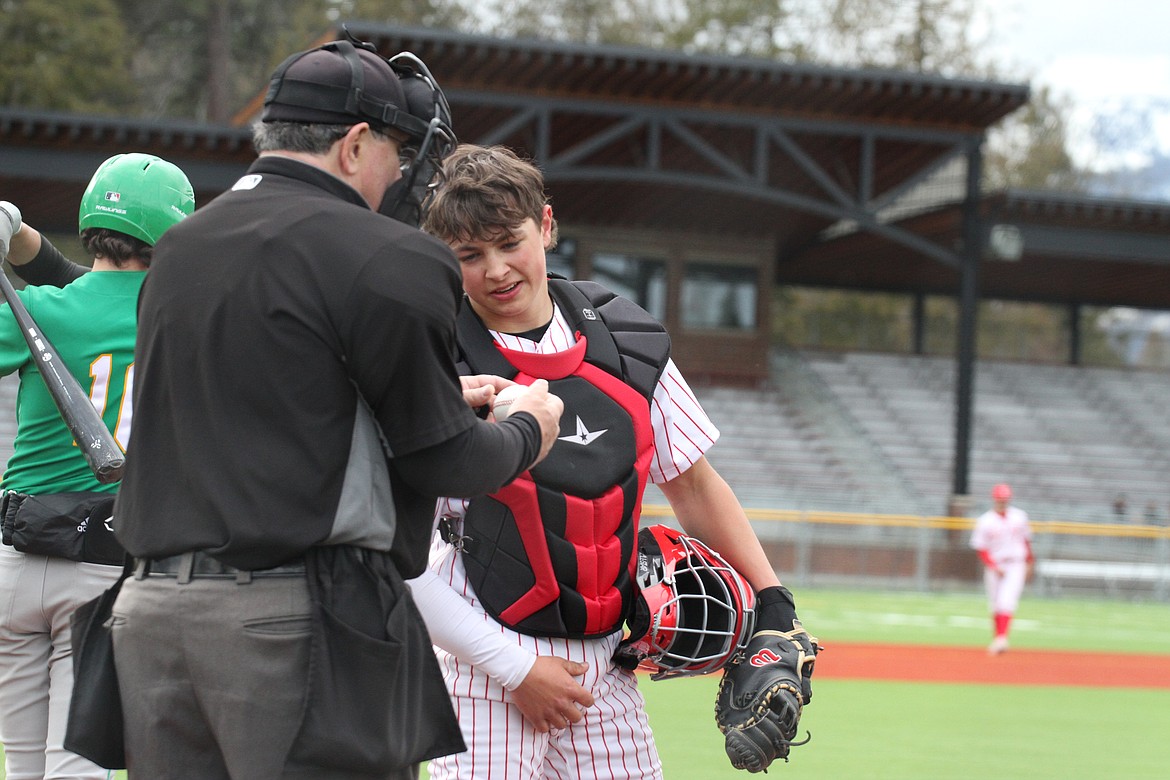 Gavin Day chats with the home plate umpire.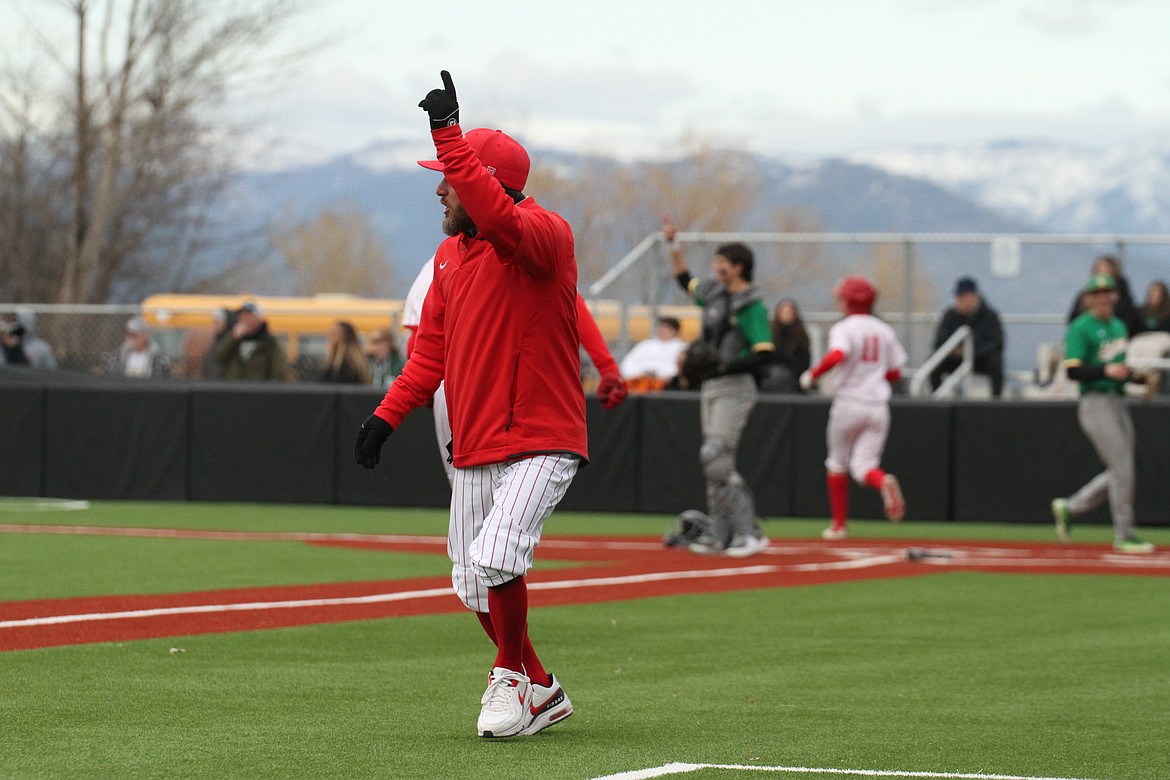 Head coach Ricky Klontz celebrates after an RBI double by Finn Mellander.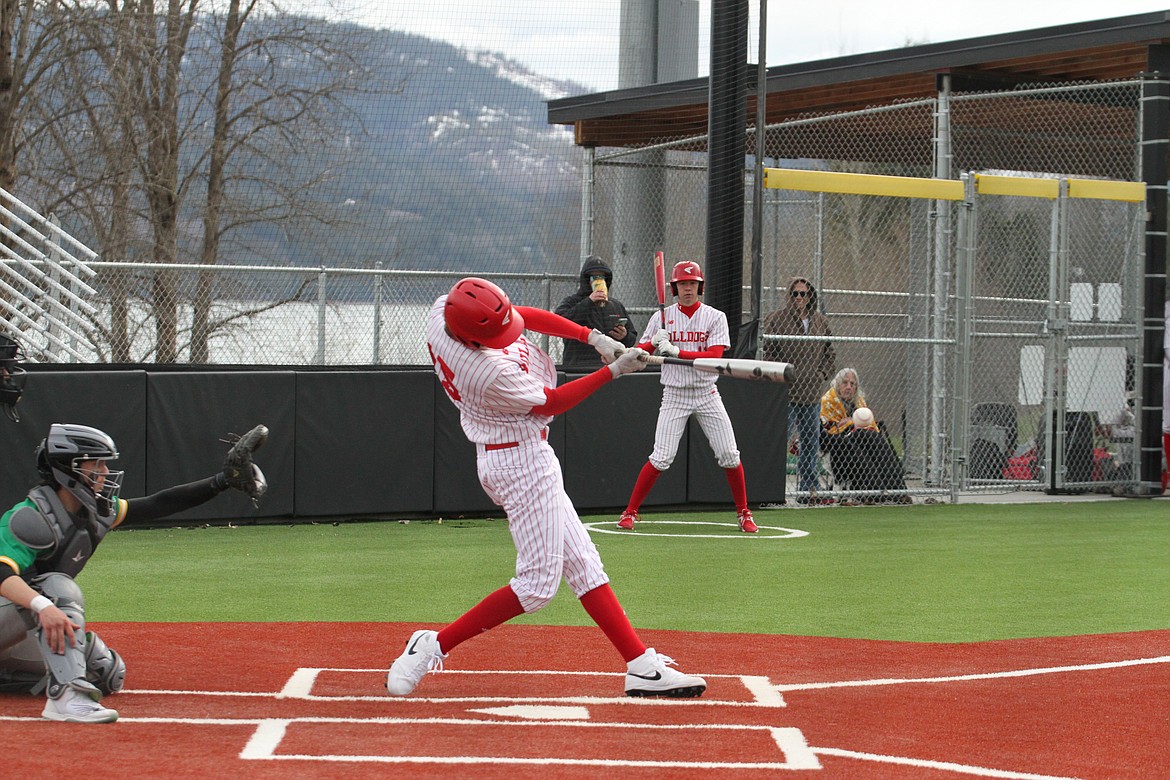 Kody MacDonald hits a single to left field in Game 1 versus Lakeland. MacDonald had five hits total between both games.
Previous
Next
by
MAX OSWALD
Sports Reporter
|
April 21, 2023 1:00 AM
SANDPOINT – The Bulldogs swept arch-rival Lakeland in thrilling fashion at War Memorial Field on Thursday, winning the first game 11-6 and the second, 8-6.
In Game 1, after a slow start, Kobe Barlow got the Bulldogs on the board with an RBI single in the second inning. Later on in the inning, Lucas Hansen knocked a single into right field that scored two more runs to give the Bulldogs a 3-2 lead.
After four innings, the score was tied at five, but that would soon change as four different Bulldogs hit RBI singles in the inning to give Sandpoint a 9-5 lead. Ultimately, the Bulldogs would add on a couple more insurance runs to secure an 11-6 victory.
Also aiding the Bulldogs was another spectacular outing by Jesse Turner on the mound. Turner pitched four complete shutout innings giving up just three hits and a walk while recording two strikeouts.
All 10 Bulldogs who took the field recorded at least one hit in Game 1. Kody MacDonald led the Bulldogs with a game high-three hits and three runs scored.
"I went into today with a clear head, relied on my team like usual, and everything happened to work out," MacDonald said.
Unlike Game 1, the Bulldogs were tasked with mounting a comeback in Game 2. Going into the bottom of the fifth inning, Sandpoint was trailing 6-3.
Finn Mellander hit an RBI double in the bottom of fifth; the Bulldogs narrowing Lakeland's lead to just one run. In the sixth, Kody MacDonald notched an RBI double of his own to tie the game at 6.
Still in the sixth inning, with two outs and one on, Jack Zimmerman got creative – really creative. In a move that nobody could have guessed, Zimmerman stole home plate while Lakeland's Roan Reilly was winding up to put the Bulldogs on top 7-6.
"I try to make things happen any way I can. My coach gave me the opportunity to steal home – so I took it," Zimmerman said.
Kobe Barlow added to the excitement by hitting an RBI single to left field on the very next pitch, to put the score at 8-6 Bulldogs.
Also contributing for the Bulldogs in a big way in Game 2 was Cody Newhart and Dallen Williams. The two pitched a combined, perfect two and two-thirds innings to end the game.
The Bulldogs will be back in action for a doubleheader against Lewiston on Saturday, April 22 at Lewiston High School.
GAME ONE
LAKELAND 6, SANDPOINT 11
LAKELAND 023 000 1 – 6 14 1
SANDPOINT 032 042 X – 11 15 0
HITS: SPT – MacDonald 3, Barlow 2, Dillon 2, Lehman 2, Zimmerman, C. Newhart, Mellander, Day, Hansen, Turner. LHS – R. Ellwood 3, Day 2, Reilly 2, Taylor, Wylie, Mason, T. Ellwood, Weil, Cooksey, Saxe.
2B – Lehman, Reilly. 3B – MacDonald, Newhart.
GAME TWO
LAKELAND 6, SANDPOINT 8
LAKELAND 211 020 0 – 6 9 2
SANDPOINT 020 033 X – 8 10 3
HITS: SPT – Mellander 2, Dillon 2, MacDonald 2, Zimmerman, C. Newhart, Barlow, Tyler. LHS – Day 2, Pluid 2, Mason, Reilly, Cooksey, T. Ellwood, Taylor.
2B – Reilly, Mellander, Barlow, MacDonald. 3B – Day, Cooksey.
Recent Headlines
---