NIC trustees hire new attorney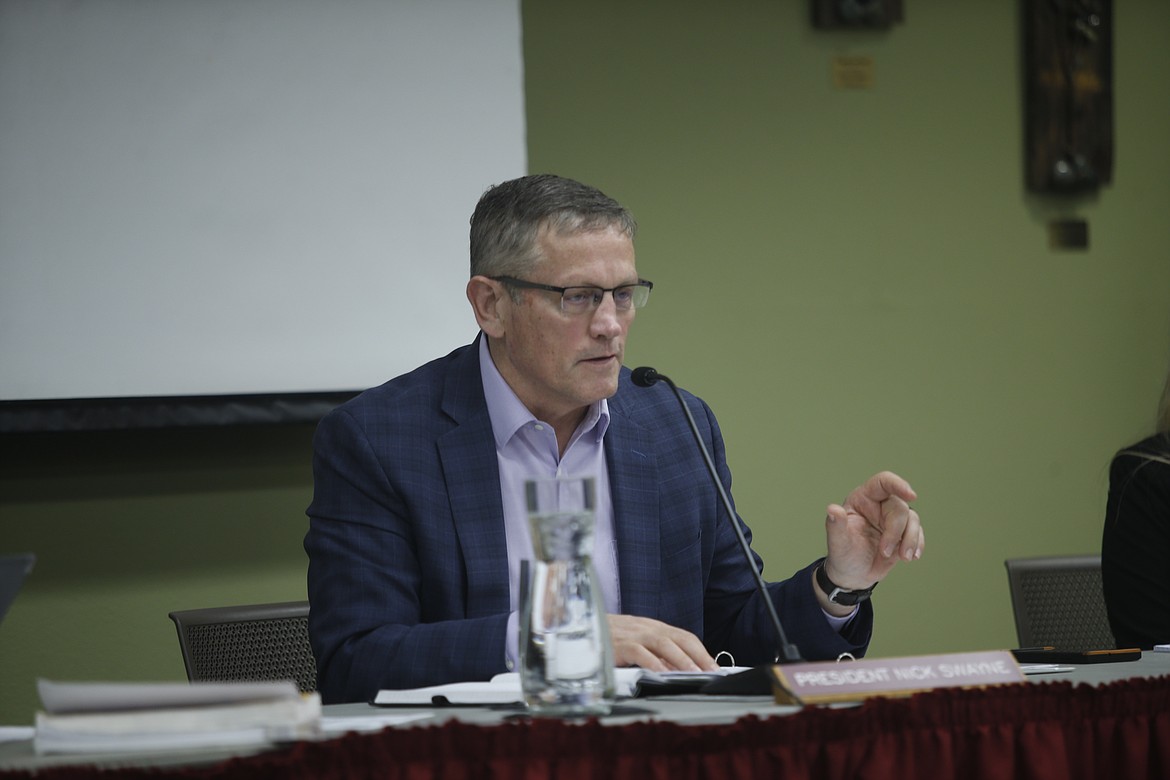 North Idaho College President Nick Swayne recommended new legal counsel to the board Monday night.
KAYE THORNBRUGH/Press
COEUR d'ALENE — North Idaho College trustees conducted business Wednesday night, hiring new legal counsel for the college, taking a first look at the proposed budget for fiscal year 2024 and approving tenure for faculty members.
The board voted 3-2 to hire Bob Faucher, a senior partner with Boise-based firm Holland and Hart who was recommended for hire by President Nick Swayne, as NIC's new attorney. Faucher is expected to begin work in June, following a transition facilitated by current college attorney Art Macomber.
Brad Corkill and Tarie Zimmerman voted in favor of hiring Faucher, while Todd Banducci and Mike Waggoner opposed. Greg McKenzie cast the deciding vote.
"It's hard to find a lawyer at the recommendation of an individual who is also suing you," McKenzie said, referring to Swayne's lawsuit seeking permanent reinstatement to his position. "But I'm going to extend trust that Dr. Swayne is doing the best for the college."
Banducci objected to the hiring, saying it was too sudden and he didn't know enough about Faucher to make a decision.
"I have nothing in front of me," he said. "I am not comfortable blindly just approving this."
Banducci faced criticism in December when he arrived at a special meeting with a resolution to hire Macomber in hand and moved to hire him on the spot. Emails later revealed that Banducci, Waggoner and McKenzie had secretly arranged Macomber's hiring weeks in advance.
Sarah Garcia, NIC's vice president of finance and business, presented the first proposed budget for fiscal year 2024. The $53.4 million budget does not include a property tax increase, nor does it include a hike in student tuition.
About $2.4 million is budgeted for changes in employee compensation, which includes some funds from the state and is the equivalent of an 8% compensation increase for full-time and part-time employees.
NIC's expected revenue is $51 million, nearly $2 million short of the proposed budget.
The shortfall is partly due to what Garcia called "one-time or temporary" increased expenses, which total a little more than $1 million. These include $425,000 for cybersecurity improvements, as well as a $165,000 increase to the legal services budget and an additional $500,000 to the insurance budget.
Garcia asked the board to consider using fund balance, which is unallocated funds that serve as a cushion for unexpected events, to cover the temporary expenses and to roll over unused funds from the current fiscal year.
The budget may continue to change before final approval.
The trustees also created a subcommittee consisting of Waggoner and Zimmerman who will work on updating NIC policies. They're expected to meet at least once a month.
Tenure was unanimously approved by the trustees for the following faculty members: Nicole Willms; John Reese; Ekaterina Miller; Kathleen Miller Green; Duane Sunwold; Travis Hagner; Brandy Fries; Sean Sater; Hillary Ginepra; Matthew Nolan; Sharon Funkhouser; Connie Clum; and Stephen Smith.
More than 100 community members gathered in the Lake Coeur d'Alene Room of the Edminister Student Union Building for the meeting.
During the public comment period, about 20 people spoke. Several criticized the actions of the board majority in recent months, while others showed support for the board. Many community members expressed overall support for NIC and its mission.
Nancy Jones said the young people in her life aren't enrolling at NIC because of leadership decisions made by the board that appear to have been made for political reasons. She urged trustees to focus on stabilizing the college and making an education there a good investment for the area's youth.
"This college can still have a bright future and continue on as the gem for the community that it has been for almost 100 years," she said.
Recent Headlines
---