Johnson Creek Bridge, road reopen
CLARK FORK — The Johnson Creek Bridge near Clark Fork has reopened, U.S. Forest Service officials said Thursday.
The site was targeted for bridge replacement after USFS officials identified structural deficiencies in the old bridge, a treated timber structure built in 1957. Located immediately south of the Clark Fork River delta, the bridge crosses Johnson Creek about three-quarters of mile from Johnson Creek Road.
Work to replace the bridge began in September as well as to improve Forest Service Road 278. The new concrete bridge has a longer span and will provide long-term access to the Monarch Mountains as well as public and private lands to the south.
The work was completed through a partnership with Idaho Department of Lands and the U.S. Forest Service using the Good Neighbor Authority. The Forest Service provided engineering and contract administration support to complete the complex project.
"This project is another example of the meaningful partnership the US Forest Service and Idaho Department of Lands have in completing projects for land and resource management," said Rick Driggs, USFS zone engineering staff officer.
The contractor for the project was CE Kramer.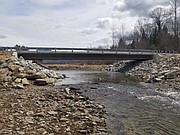 Recent Headlines
---