Council seeks fix to Pine Street truck traffic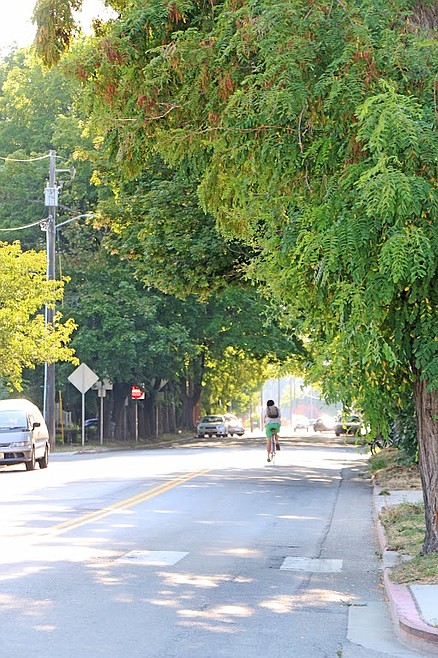 As the city weighs the move of a traffic light from Church Street to Pine Street, Sandpoint City Council discussed how to preserve the charm and character of the street.
(Photo by EVIE SEABERG)
by
EVIE SEABERG
Staff Writer
|
August 4, 2023 1:00 AM
SANDPOINT — The move of a traffic light from Church Street to Pine Street was a hot topic at Wednesday's City Council meeting. Specifically, how the project and other plans will affect truck traffic on Pine Street.
As the council prepared to vote on relocating the traffic light from Fifth and Church to Fifth and Pine, dialogue about the pros and cons continued. The discussion began with construction manager Holly Ellis offering some context for the project.
"This is an agreement with the Idaho Transportation Department, an MOU (memorandum of understanding) that would help us get into the design of Figure 22 in the Multimodal Transportation Plan, which is a short term East-West connector," Ellis said.
"We would pull out a phase of that where we do that traffic signal relocation. With that relocation, Pine Street would also be open to two-way traffic. Another improvement called out on that plan is partial closure to the Euclid access. So off of Pine it would be limited to right-in, right-out."
Councilor Jason Welker raised concerns about trucking traffic that might be caused by the changes planned for the traffic light.
"The fact that our multimodal plan currently and in the future envisions Pine as the primary truck route through town — I have serious concerns about that, especially since in the last two years we've seen some pretty exciting new commercial developments along Pine Street," Welker said.
"It's starting to look more like Cedar to the north. Once we put a stop light in there and remove the inconvenience that the right turn on Fourth and the left turn on Church currently creates for truckers, it's going to become even more popular for truckers."
Welker said he hopes to implement improvements to the plan that will help preserve the character of Pine Street.
"It's quaint, it's leafy, it's got big ol' trees," he said. "There are several new businesses that are planned to be opened along Pine Street that I know would suffer dramatically if that became the primary trucking route."
He said he has spoken with many business owners who share those concerns.
Councilor Andy Groat was also concerned that the change would encourage trucks to use Pine Street. But, he said he is hopeful that the council can maintain Pine Street's charm.
It's a beautiful chunk of Pine (Street) that can be maintained to a service level that is wonderful for the walkers and the bikers," Groat said.
"It will be one of those things that we can protect."
Councilor Justin Dick suggested signage from the Idaho Transportation Department directing trucks could help. Dick explained that many truck drivers use online navigation aids, such as Google Maps,, which means they will just take the quickest route provided.
"This is an enforcement issue that we are dealing with," Dick said.
While Mayor Shelby Rognstad said he was hesitant signage would help, Councilor Deb Ruehle believes the matter is one of enforcement.
"If you're heavily fining them, it will change their ways eventually, and the word will spread and maybe we'll get lucky and the map will change in Google for trucks," Ruehle said. "But maybe I'm just an optimist."
Two citizens offered their own solutions during the public comment segment. Dan Logan suggested implementing a stop sign instead of a stop light as an experiment. He believes this would cut traffic in other areas and save the city money.
"If the experiment doesn't work you can always move the Church Street light later," Logan said.
"It's not just feelings," said Kyle Schreiber, another commenter.
"The economic benefit that our community gets from businesses along Pine massively outweighs a three-minute shorter trip for a trucker driving 12 hours across the country," Schreiber said.
"There are some design features that we could incorporate into the construction that would make it less appealing for truckers."
Shreiber said he supports the light change, but believes synchronizing the stop lights is the key to its success.
Ellis confirmed that the lights at Boyer and Cedar will be synchronized when the project is finalized.
She, along with City Administrator Jeniffer Stapleton encouraged the council and public to wait on diving into solutions to truck traffic.
"You need to comprehensively look at all the routes," Stapleton said.
She stressed that getting the light moved first is the priority because that will change the data and offer an opportunity to analyze data.
"Let's get this project going, see what the impact is and then holistically look at our system and look at those intersections that are failing and make our improvements from there," Ellis added.
The council voted to move forward with the memorandum of understanding, with Ruehle dissenting.
Recent Headlines
---