Exotic animals keep PSW looking its best
by
LAUREN REICHENBACH
Staff Writer
|
August 4, 2023 1:00 AM
Camels and llamas and yaks – oh my!
Bears, cougars, skunks, raccoons – you name it, the region probably has a population of said critters. However, Sandpoint recently had some unusual furry visitors at the Pine Street Woods — ones that probably had visitors doing a double take when they pulled into the parking lot.
Camels, yaks, goats and llamas paid a visit to the woods last month as part of a weed management effort by Kaniksu Land Trust. For the past three summers, shepherd Chris Wujek has brought his herd of furry friends to the woods to chomp away at the noxious weeds that grow in the fields in the area.
"[Every year, the animals graze] on hawkweed, tansy and wild rose while leaving behind rich fertilizer in the meadow," Marcy Timlin, KLT director of communications, said. "Employing temporary electric fencing, Chris moves the herd each day to eventually graze the entire meadow."
Timblin said the land trust appreciates this form of weed mitigation because it is natural and doesn't involve any chemicals. In addition, rather than the weeds going to waste, they are being used as food for animals that in turn fertilize the soil.
"We're doing a really traditional way of weed mitigation," Timblin said. "We're not out there spraying any toxic or harsh chemicals or doing anything else because we have the animals out there."
Wujek's herd grazed at Pine Street Woods for roughly three weeks this year before moving on down the road to other weed-infested meadows.
"That's just what they do," Timblin said. "They walk around and the animals graze and he grazes and when he gets hungry, he can eat one of his animals if he needs to."
Timblin said Kaniksu would love to let the public know about Wujek's visits so people can go enjoy his animals as they munch, but it's hard to predict exactly when he'll arrive each year. Droughts or extreme wet seasons make grazing availability hard to schedule, which means Wujek could arrive earlier or later each year.
However, when Wujek is at Pine Street Woods, he is more than happy to talk to anyone who wants to learn more about his animals and his way of life.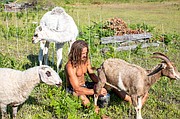 "Chris is so great," Timblin said. "He is eager to talk to anybody who comes out to see the animals and he'll let the kids ride the camels if they want to. He's so knowledgeable and eager to share with others."
Wujek uses a truck to transport his animals and Timblin said some Bonner County residents have voiced concerns about how many animals go in one truck. While it might seem unusual to many, Timblin said the more animals are in the truck, the safer they are.
"It might be a tight fit, but the tighter they're packed in there, the less likely they are to fall over when the truck is driving and there's less potential for them to get stepped on or hurt themselves," she said.
The communications director said Wujek loves his animals like his family members and always works hard to make sure they are safe, secure and as comfortable as possible.
"He really loves his animals," she said. "I mean, he sleeps out there with them. He does everything with them. He's always looking out for their health and safety."
Recent Headlines
---