From South Africa to Poland, 628 swimmers cross the Long Bridge Swim finish line on Saturday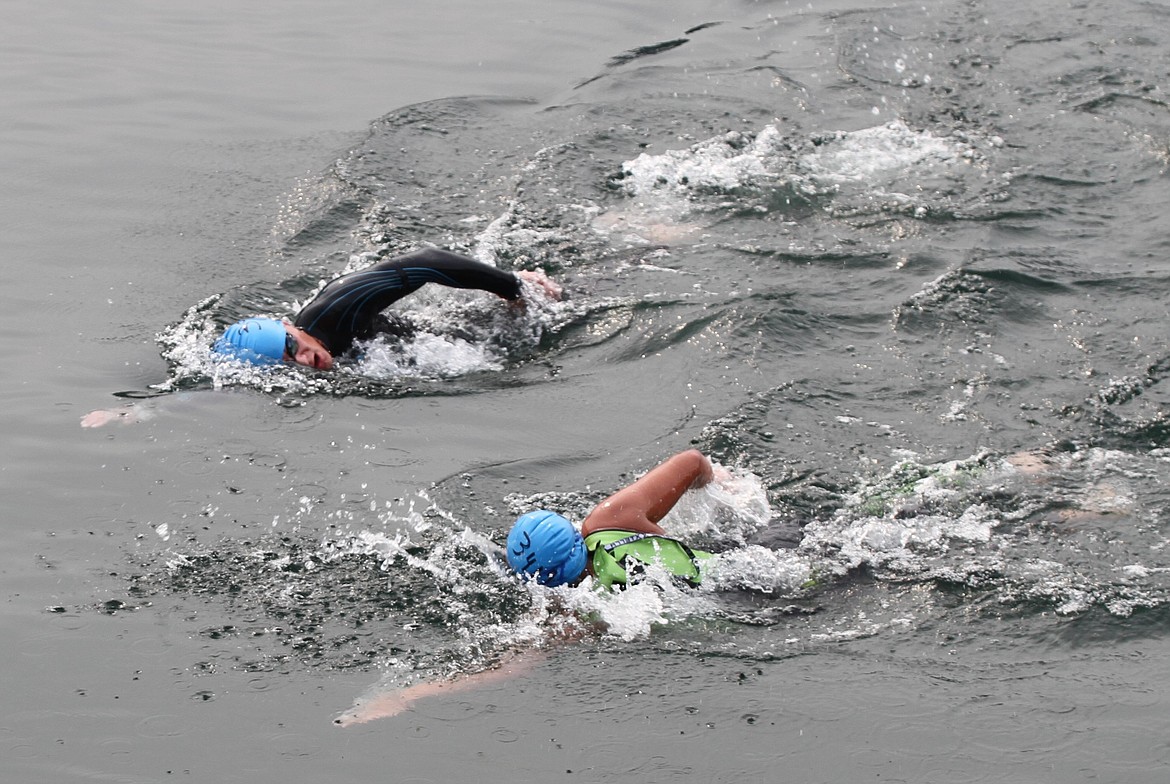 First and second place finishers Matthew Mantz and Andrew Davis swim neck-and-neck near the Long Bridge Swim finish line.
Photo by Max Oswald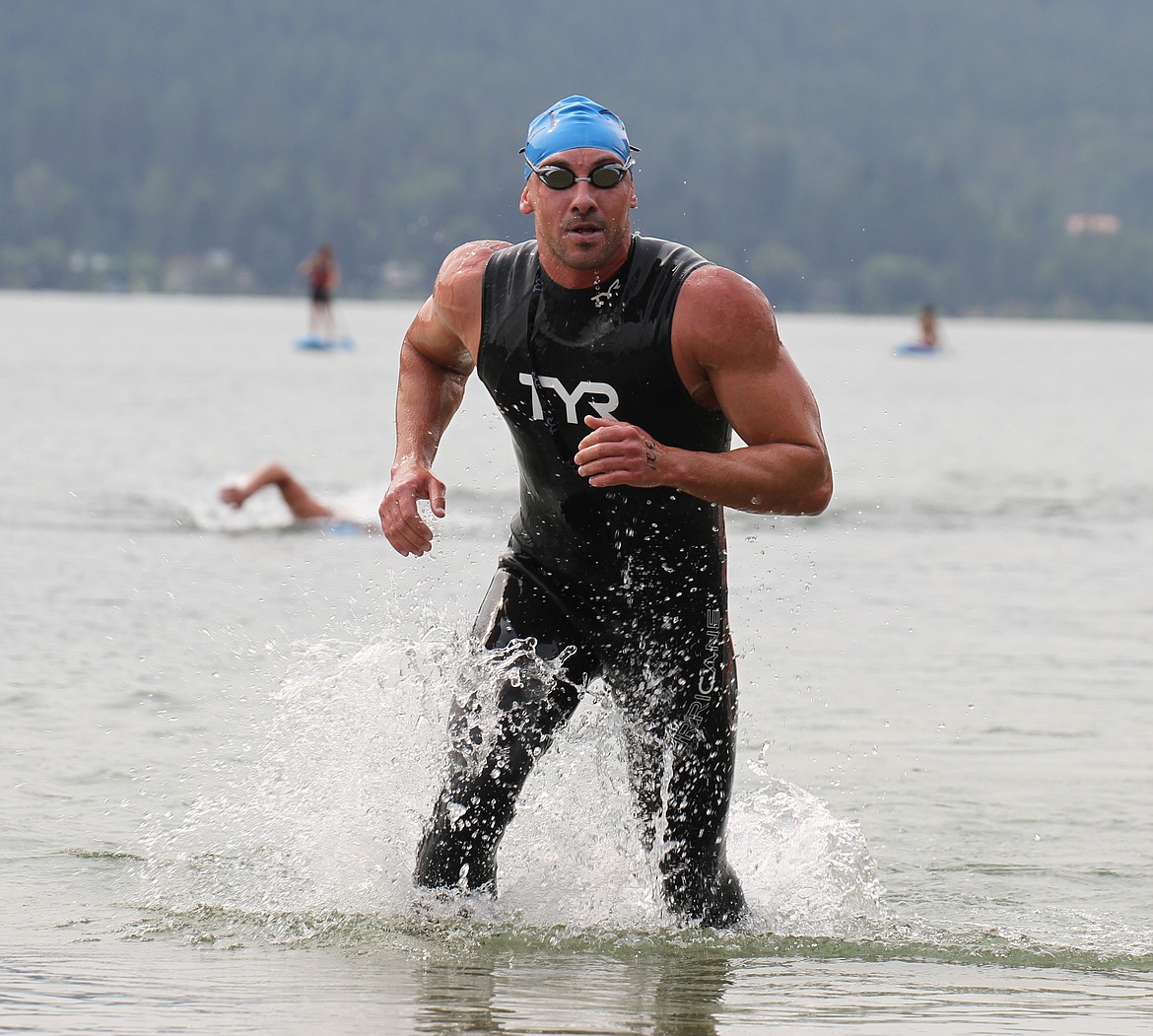 Third place finisher Adam Arzner makes his way to the finish line on Saturday.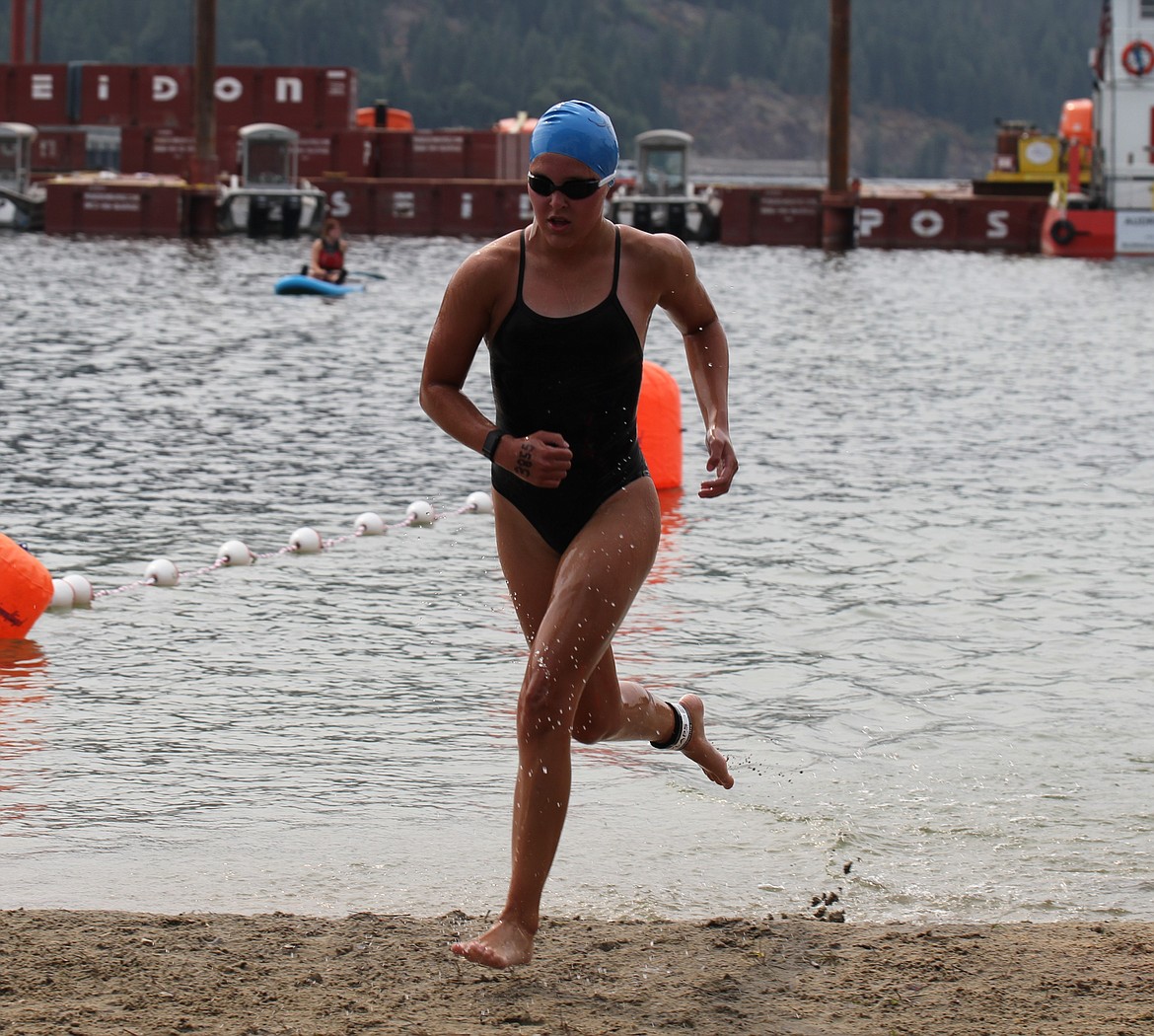 15-year-old Mckenna Wallace of Spokane crosses the finish line in 40th place on Saturday.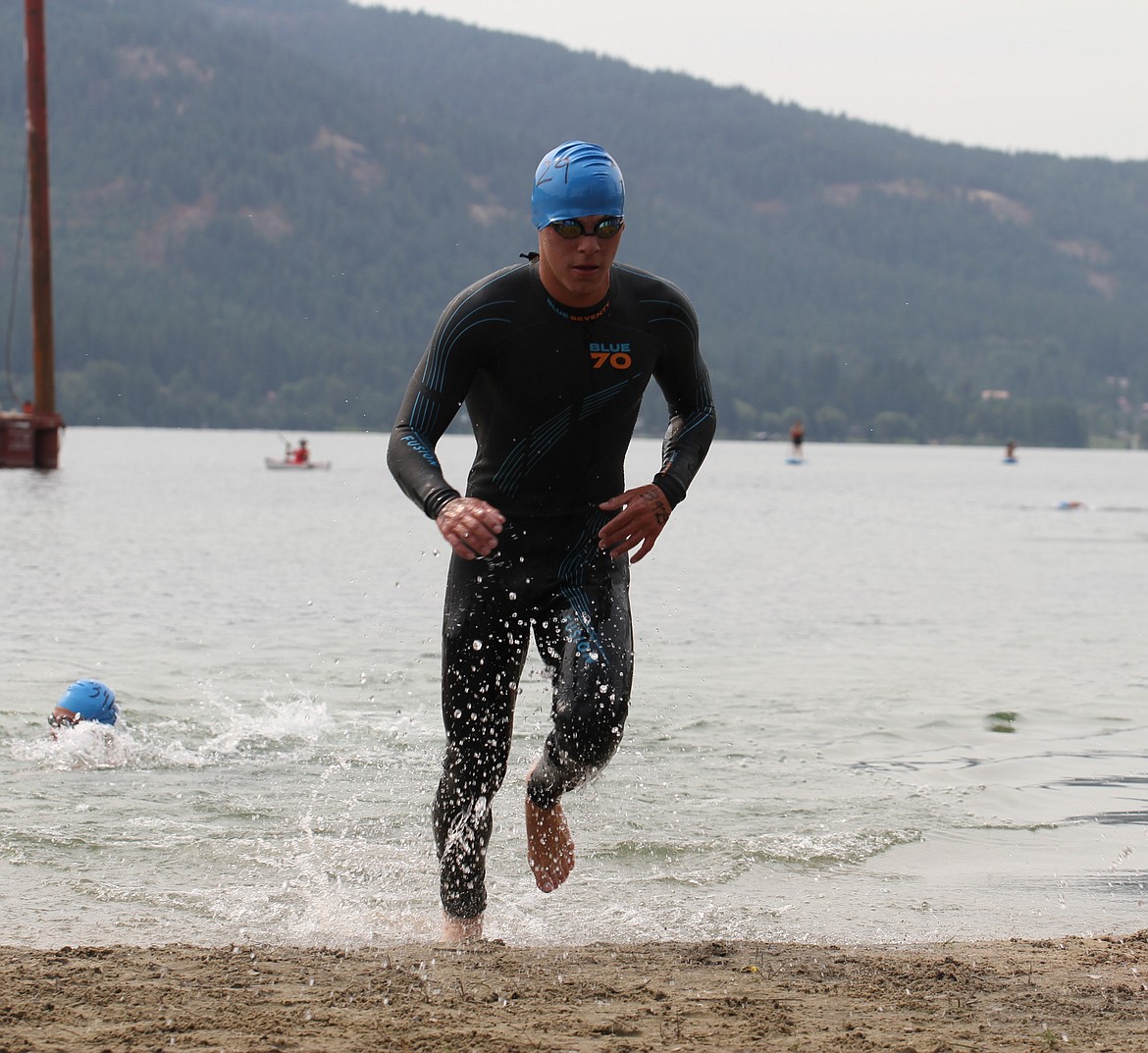 Matthew Mantz of Spokane, Wash. crosses the finish line on Saturday. Mantz has now won the Long Bridge Swim title for the second straight year.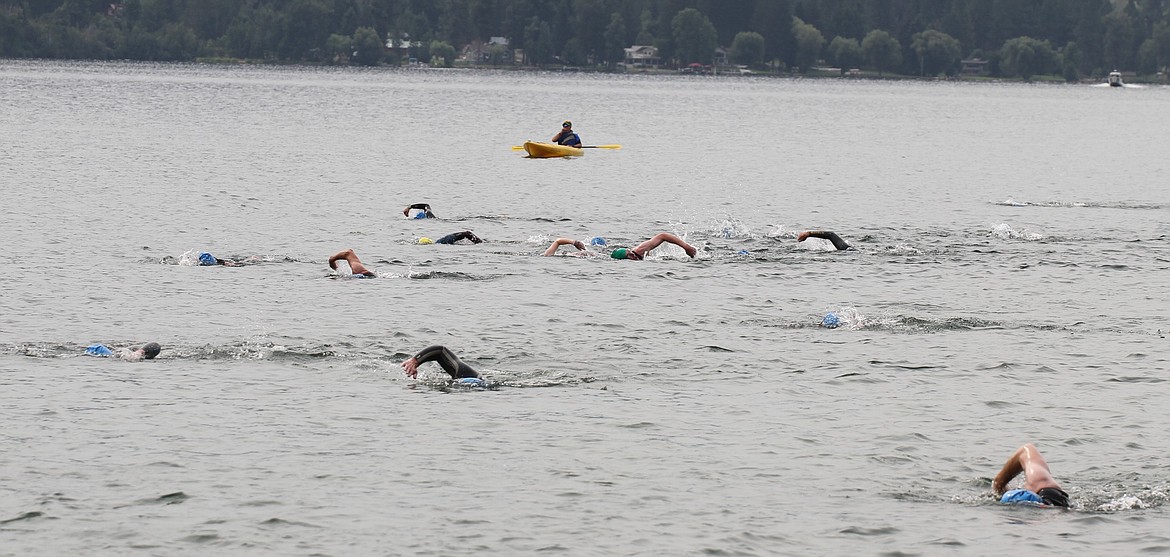 A large group of swimmers near the finish line on Saturday.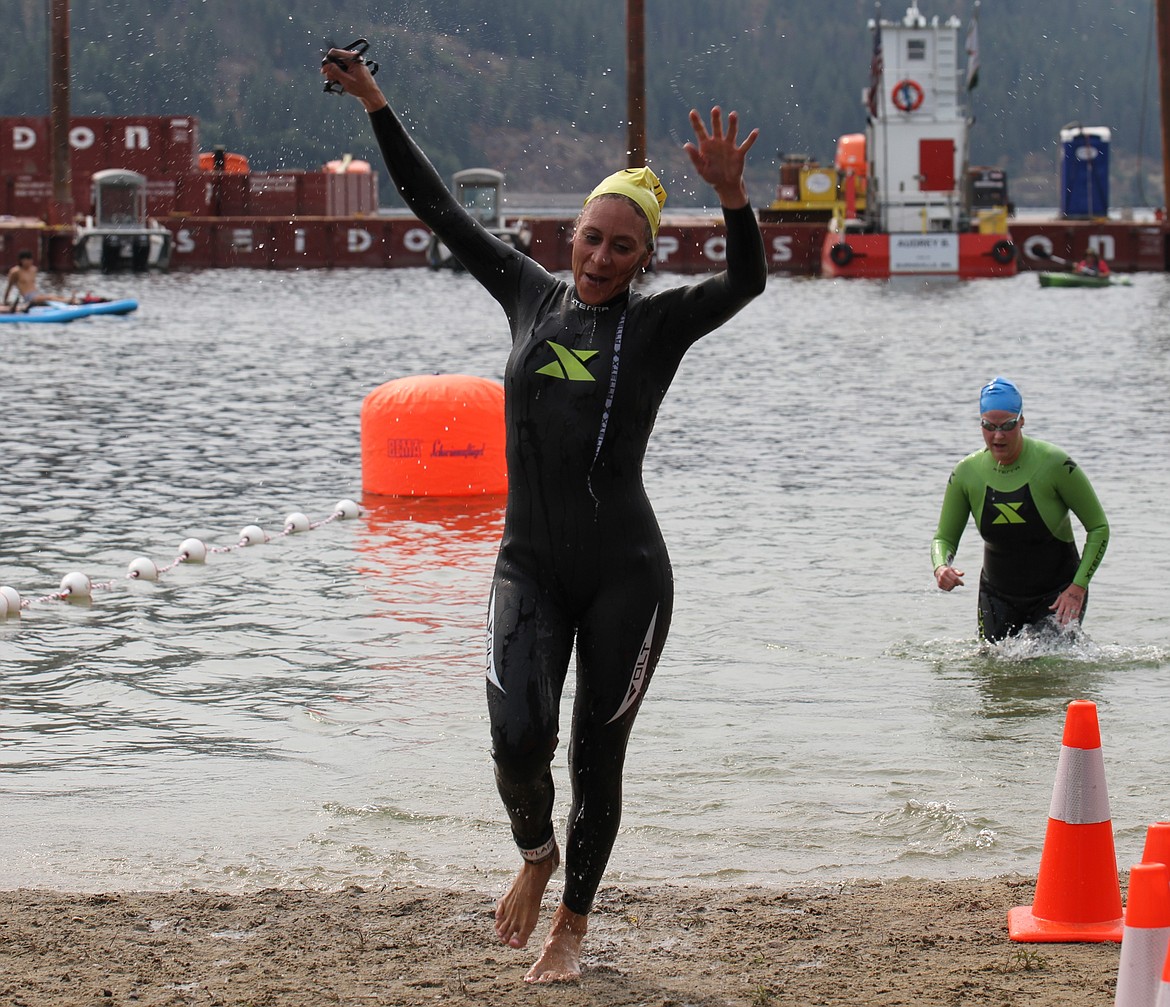 A woman celebrates as she reaches the finish line on Saturday.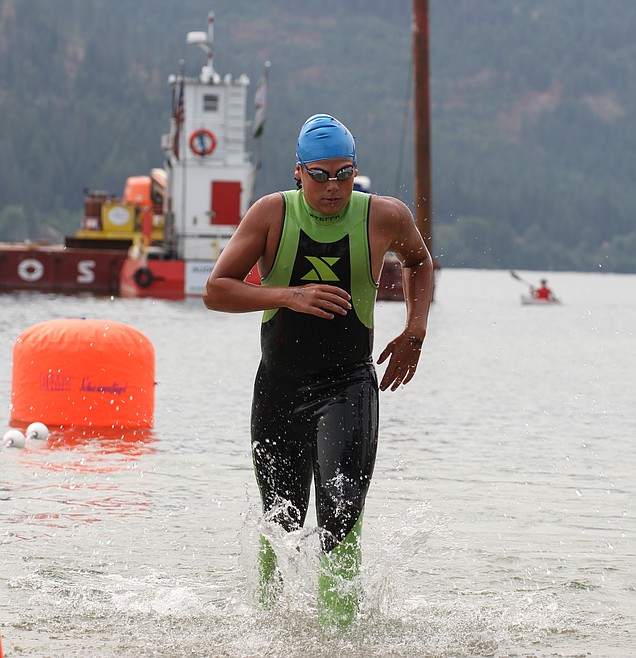 14-year-old Andrew Davis crosses the finish line in second place on Saturday. Davis finished with a time of 35:45, one of the best times ever for an athlete his age.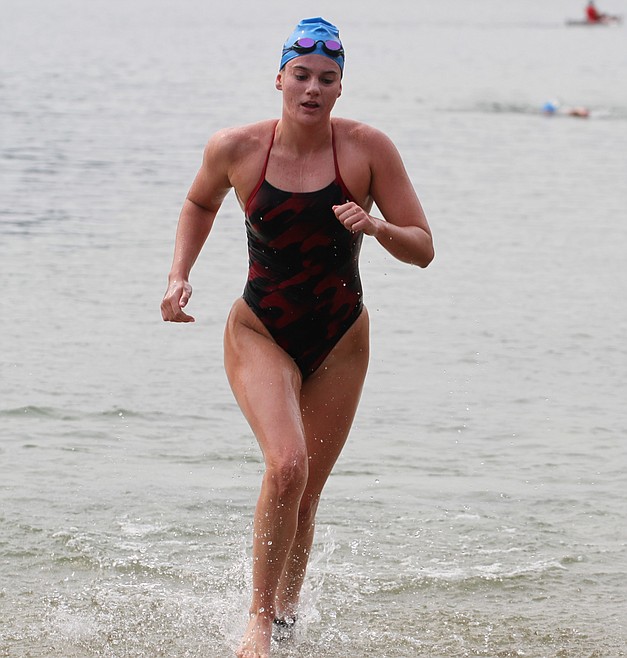 Leila Symington of Phoenix, Ariz. crosses the finish line with a time of 37:02. Symington was the second overall female on Saturday.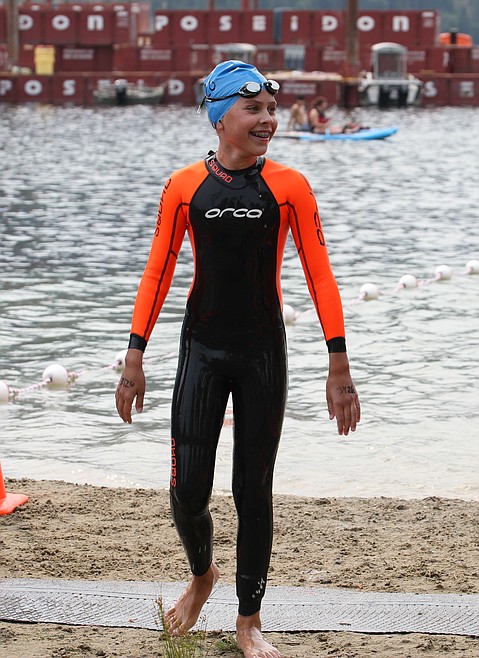 Sandpoint's Bodi Demmons smiles after reaching the finish line.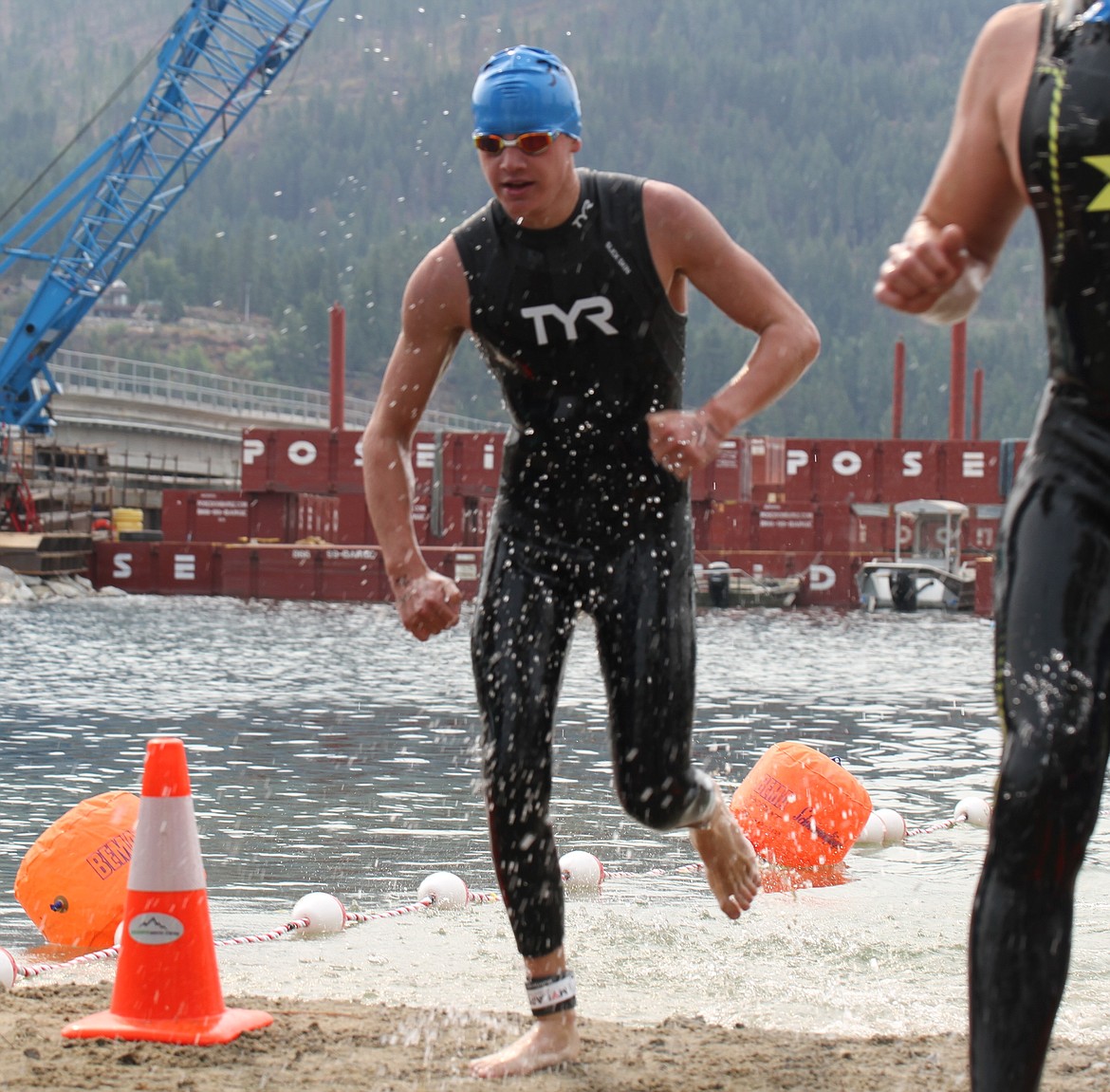 Sandpoint's Lou Foust crosses the finish line on Saturday. Foust, at just 13 years old, finished 17th overall with a time of 40:59.
Previous
Next
by
MAX OSWALD
Sports Reporter
|
August 6, 2023 1:00 AM
SANDPOINT – It was perfect weather for the 28th annual Long Bridge Swim on Saturday – low 70s, overcast, and little to no wind made the grueling 1.76-mile swim a bit more bearable this year.
A total of 628 swimmers from close to home and as far away as South Africa, Poland, Canada, and at least a dozen U.S. states, including some as far as Virginia and West Virginia, braved the waters.
Finishing in first place overall was Matthew Mantz of Spokane, Wash. The Mead High School graduate and current Valparaiso University men's swimmer finished with a time of 35:38. The 19-year-old is now the back-to-back Long Bridge Swim champion having won the race last year as well.
Not too far behind him was Andrew Davis who finished in second place. Davis had one of the highest all-time finishes for a 14-year-old with a time of 35:45, a 16-minute improvement from his time last year. In third was decorated veteran Adam Arzner who has won tons of events in the greater Coeur d'Alene and Spokane areas. Arzner posted a time of 36:14 at 36-years-old, well above anyone else in his age category.
The first female finisher was Pema Anain; she finished fifth overall with a time of 36:41. The second female to cross the finish line was 16-year-old Lelia Symington with a time of 37:02, good enough for seventh overall. Symington hails from Arizona and swims for the Phoenix Swim Club.
Locally, Ava de Leeuw was the top Sandpoint Shark to finish on Saturday; she finished 14th overall (fourth overall female) with a time of 40:29. At just 13-years-old, Sandpoint's Lou Foust finished in 17th place with a time just under 41 minutes (40:59). McCoy Jensen, Ryleigh Bamer, Bodi Demons and Mia Driggs all finished in the top 75 with times under 50 minutes.
The youngest swimmer to finish this year was 9-year-old Eve Beatty. The oldest finisher was 82-year-old Jim Fry.
Swim director Jim Zuberbuehler said it takes the entire community to put on an event of this size. The swim committee meets three to four times a year starting in March and has 10 department chairs responsible for transportation, safety, logistics, registration, food, insurance, etc.
"This event has such a great culture," Zuberbuehler said. "This swim is entirely run by volunteers and everyone gets along. We raise about $25,000 to $30,000 a year which goes entirely to teaching free youth swim lessons in the area."
Since the swim's inception, fundraising has helped over 9,000 students receive swim lessons in Bonner and Boundary counties. Starting this month, swim lessons will be offered in Priest River at the Mudhole recreation area for the first time.
"It's been a couple years now that we have been trying to make swim lessons happen in West Bonner County and are finally able to do so," Zuberbuehler said. "We're really excited to be able to continue to help other communities in our area."
The Long Bridge Swim serves over 1,000 students each year through its water safety and swim lessons program, with a goal of having no child get past third grade without learning how to swim, Zuberbuehler said. The Long Bridge Swim will scholarship any families who cannot afford lessons for their child(ren).
Originally, the swim was conceived as an opportunity to safely swim across the lake and have fun doing so, rather than as a race. Since the first swim, every effort has been made to support swimmers who might be challenged in some way: amputees, deaf and blind swimmers, people with MS, polio and down syndrome, paraplegics, and swimmers as young as 5 and as old as 90. Everyone has the opportunity to participate.
Recent Headlines
---