Action-packed Sandpoint PRCA Rodeo sees sellout crowds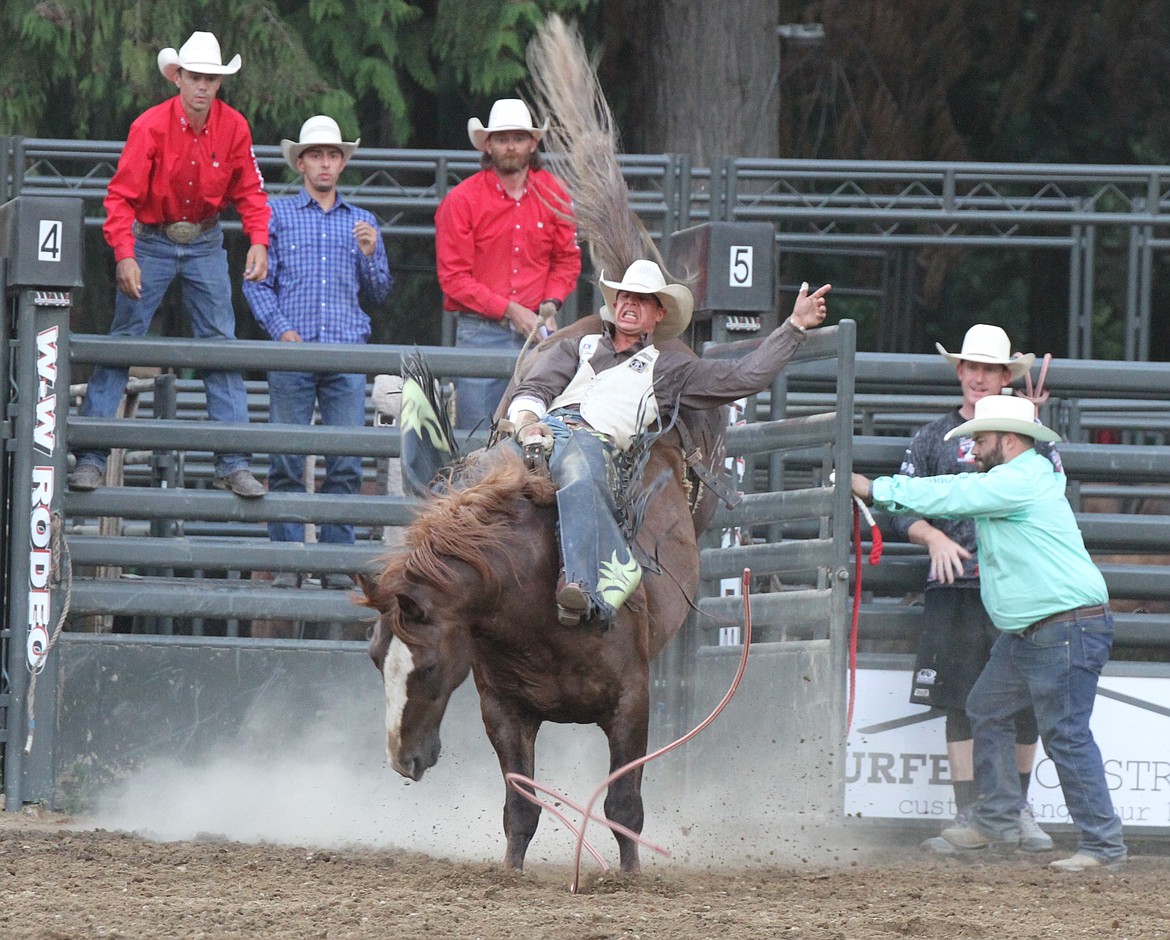 Clay Stone of Blackfoot, Idaho starts off the 2023 Sandpoint Rodeo with an 80-point bareback riding performance, good enough for first place.
Photo by Max Oswald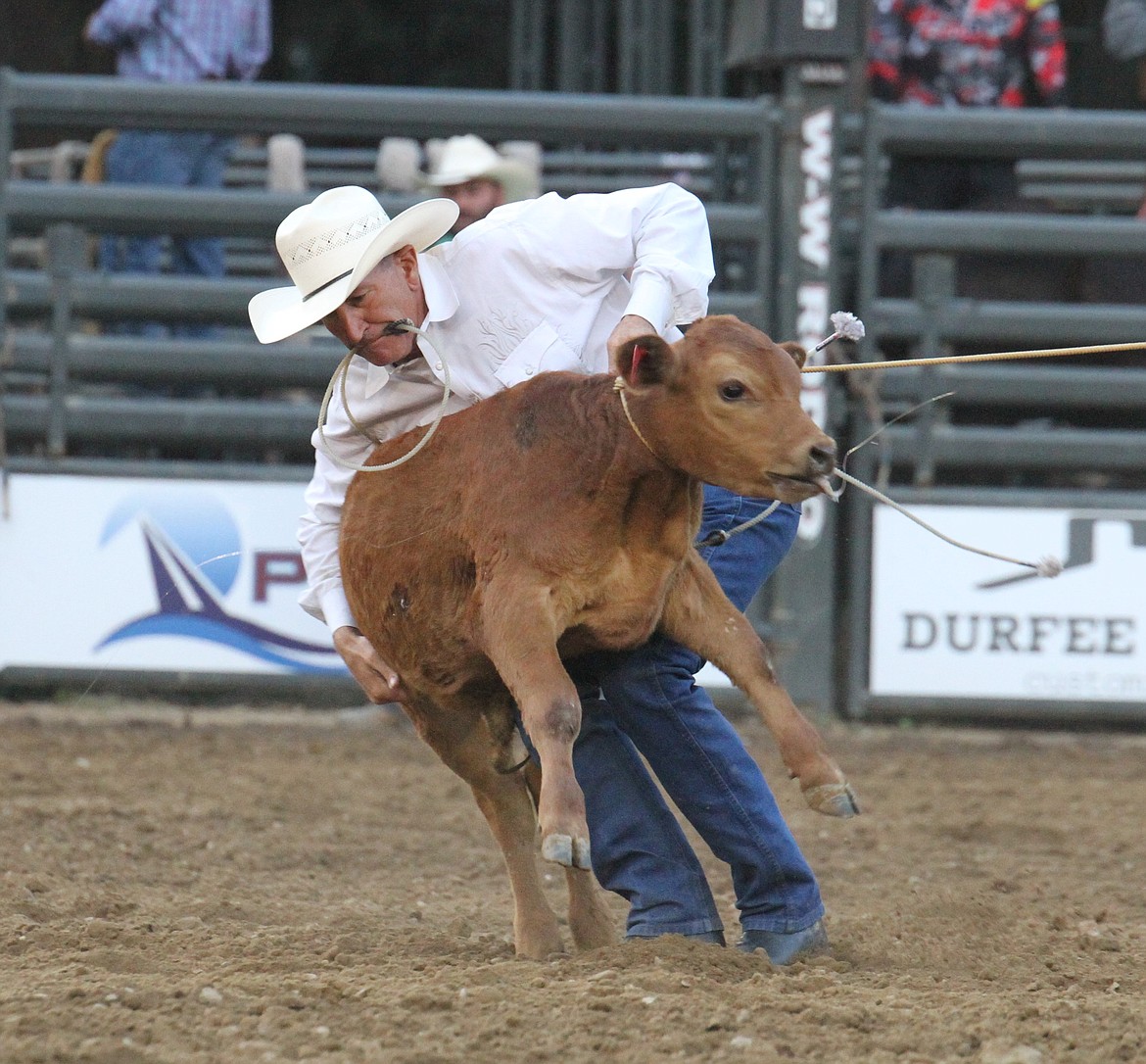 A cowboy gets ready to take down a calf in the tie-down roping competition.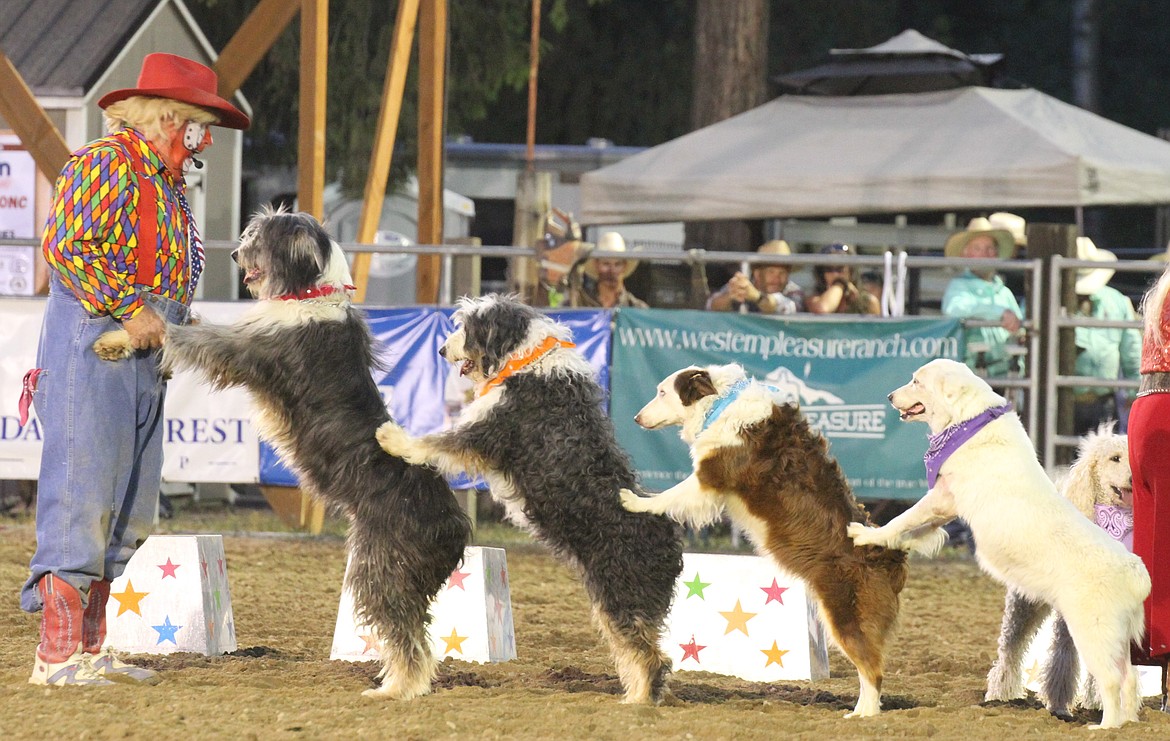 Rodeo clown Bert Davis and the Muttley Crew start to perform a trick where all 10 rescue dogs balance their front paws on each other's backs.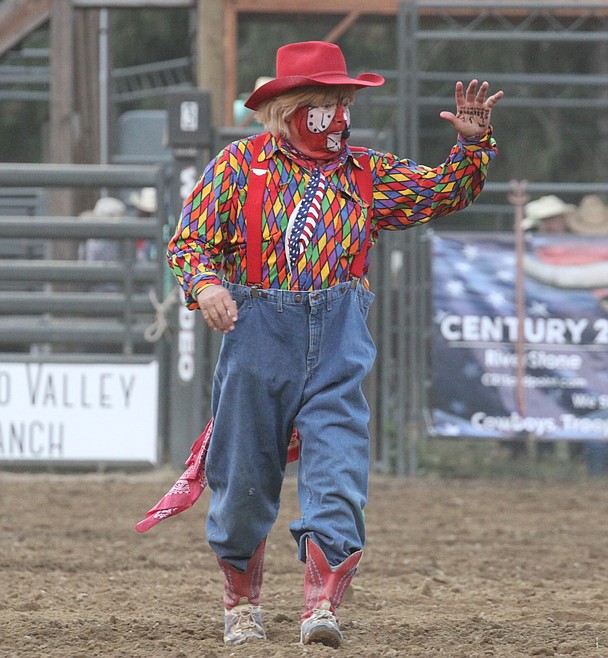 Bert Davis, world renowned rodeo clown, waves to the audience on Friday.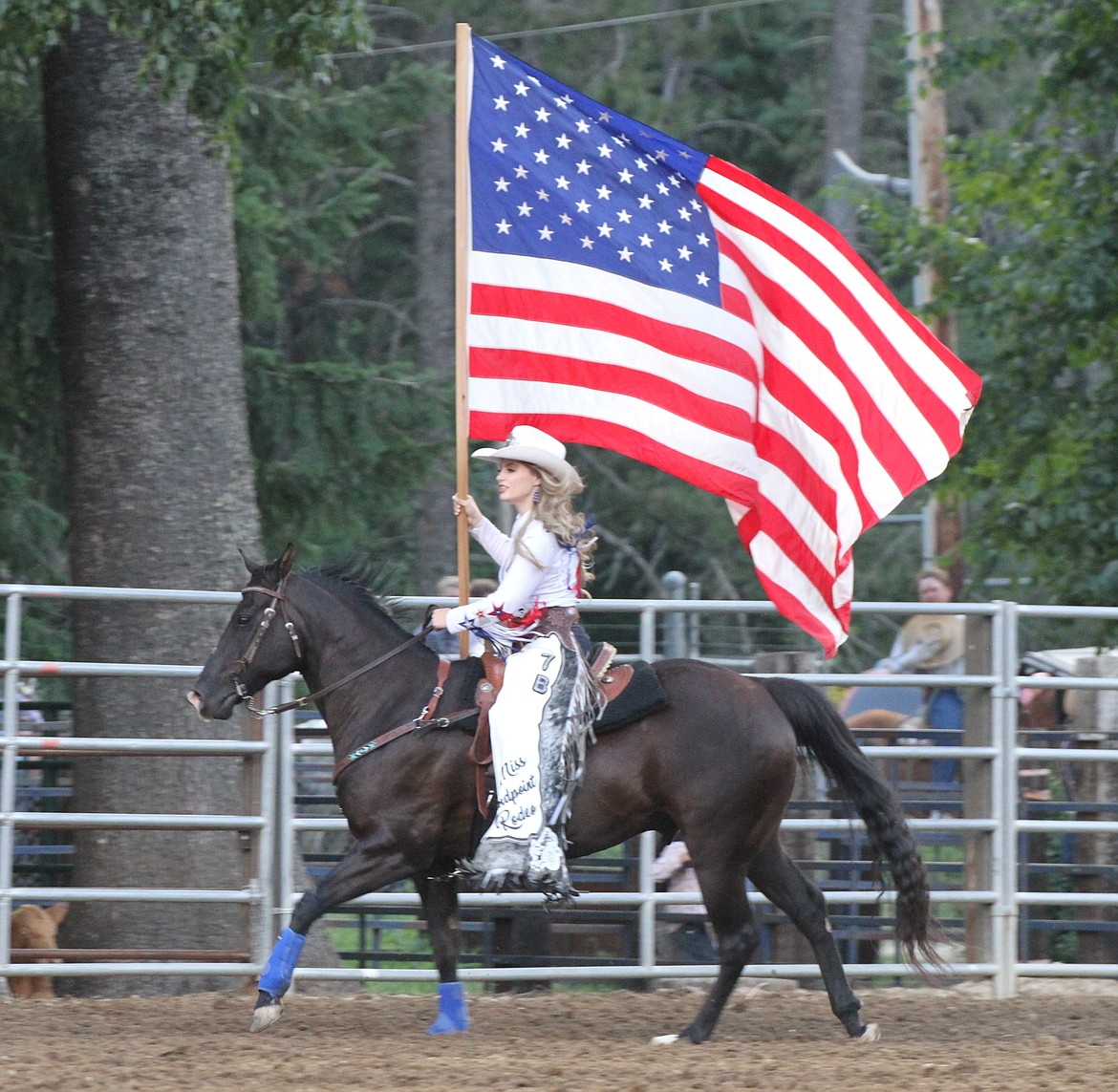 Miss Sandpoint Rodeo, Maddie Gunter, carries the American flag around the arena during the opening ceremonies.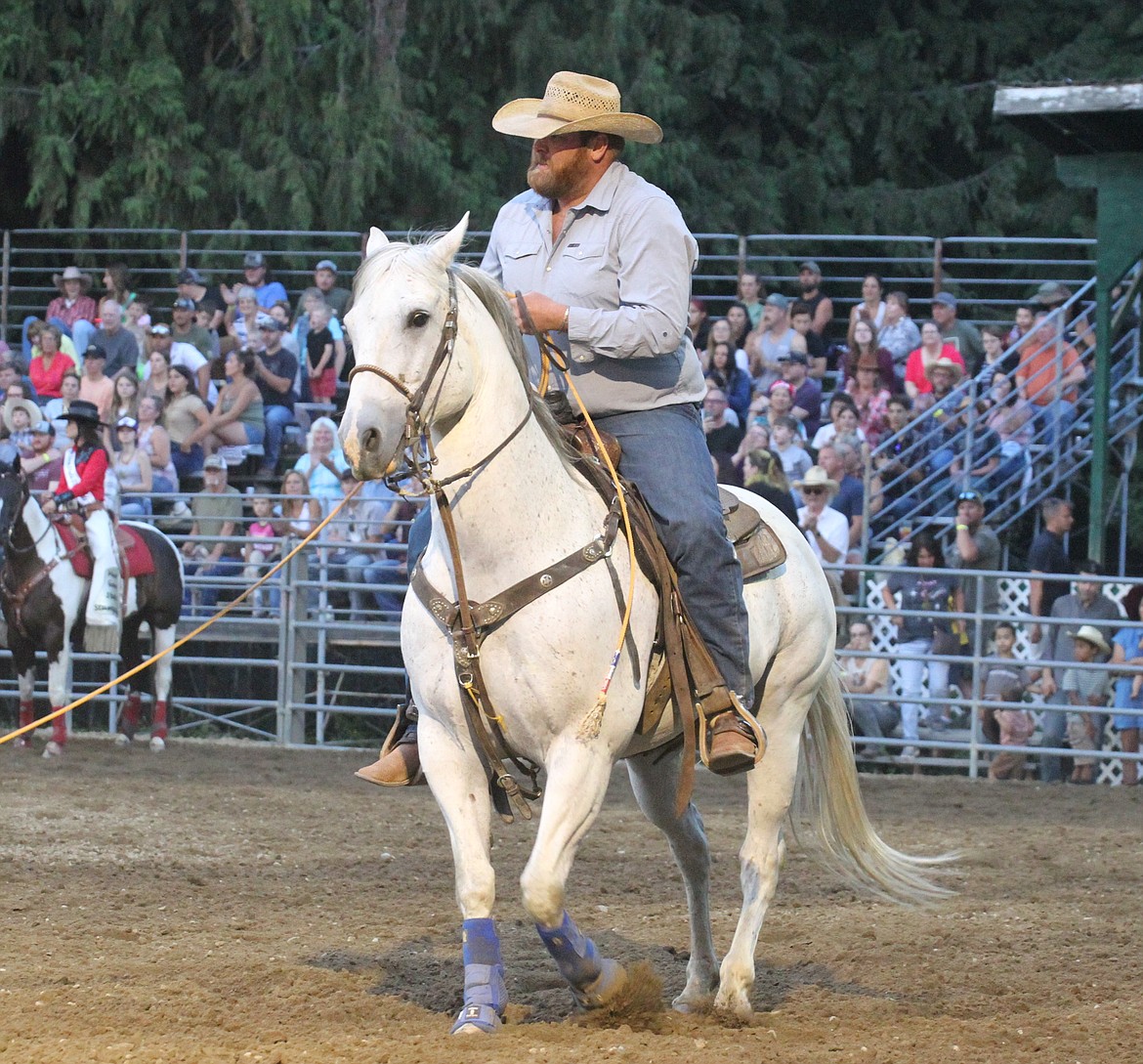 A cowboy watches on after him and his partner successfully take down a calf in the team roping competition.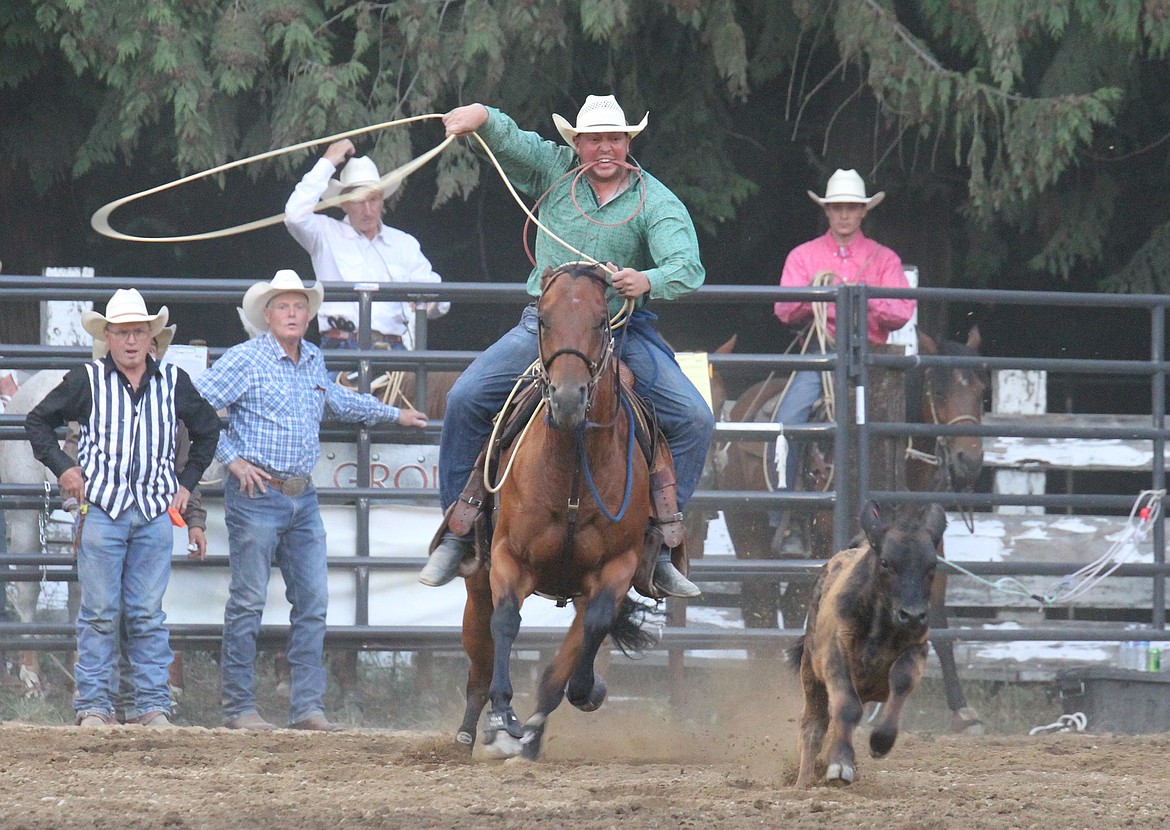 A cowboy gets ready to rope a calf in the tie-down roping competition.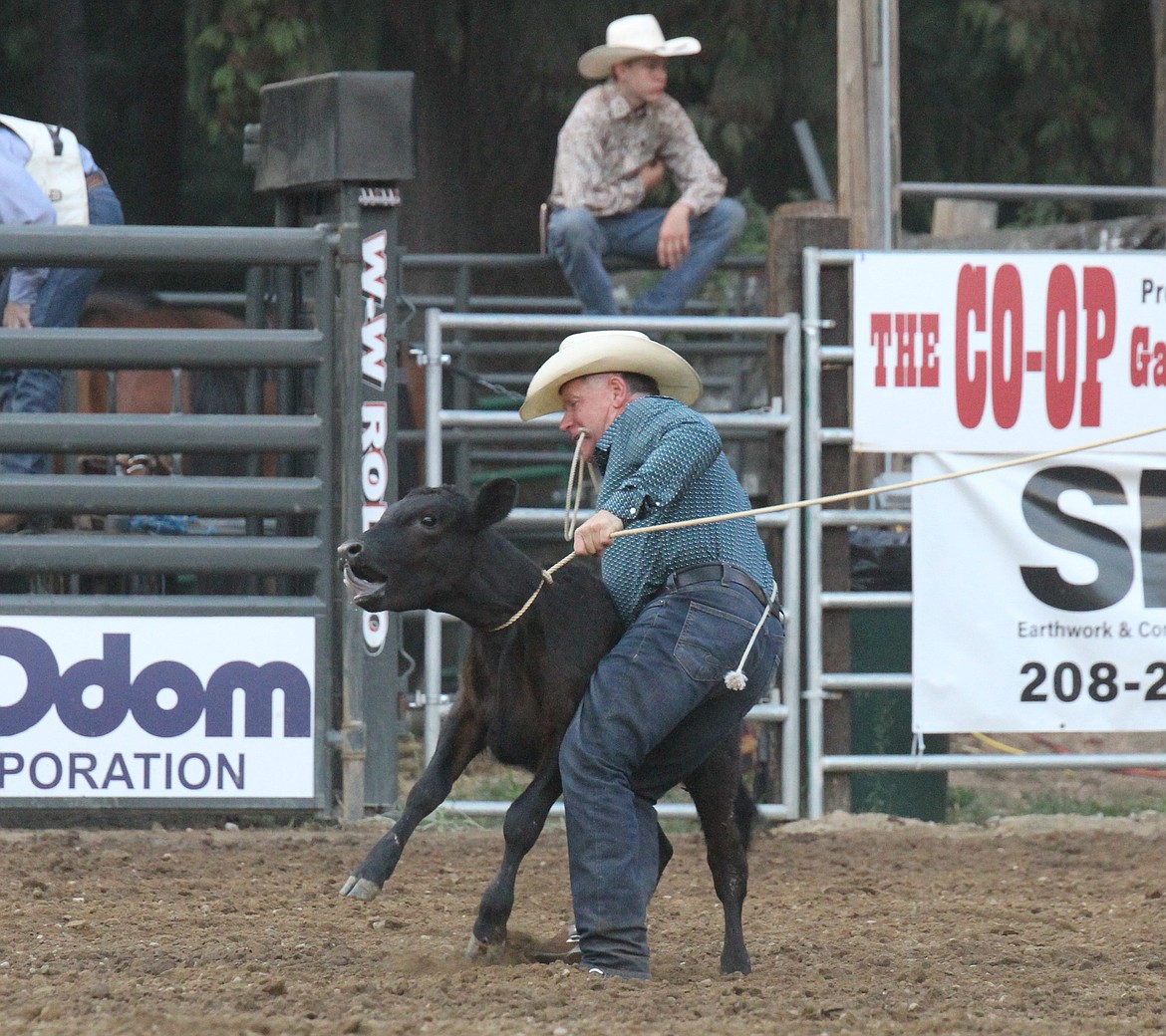 A cowboy gets ready to take down a calf in the tie-down roping competition.
Previous
Next
by
MAX OSWALD
Sports Reporter
|
August 8, 2023 1:00 AM
SANDPOINT — Lines stretched for what seemed to be a mile to get into the Sandpoint Rodeo on Friday and Saturday night. Fans were not disappointed as the action-packed rodeo featured riders and ropers from all over the country who put on some of their best performances of the season.
On Friday, the rodeo kicked off with some impressive bareback riding performances. In fact, the first rider, Clay Stone of Blackfoot received 80 points from the judges, good enough to take home gold. In steer wrestling, it took Will Powell of St. Ignatius, Mont., just 5.1 seconds to complete a takedown. He was named the all-around cowboy for his tie-down roping and steer wrestling performances. Powell also had an impressive performance at the Newport Rodeo earlier this summer as well.
Fans also took notice of some great roping performances. In tie-down roping, it took Caleb McMillan of Soap Lake, Wash., less than 10 seconds to tie down his calf. McMillian is currently ranked as the 27th all-around cowboy in the nation. In team roping, Cameron Irwin and Colley Nichols placed first for taking down their calf in just 5.6 seconds.
In saddle bronc riding, Joe Harper of Paradise Valley, Nev., and Tate Owens of Colbert, Wash., split the first-place prize money both finishing with 81 total points. Riggen Hughes of Kempner, Texas, took home the entire $6,416 purse in bull riding at just 21 years old. Hughes was the only rider to complete a qualifying ride.
Rounding out the rodeo with barrel racing, Abigail Knight of Carlo, Mont., finished first with a time of 17.41 seconds, just five one hundredths of a second faster than second place.
When the competitors needed a break, Bert Davis the "Coppertown rodeo clown," helped to entertain rodeo-goers. Davis and his 10 rescue dogs, the "Muttley Crew," performed a variety of tricks for the audience. Bert has performed for rodeos in five Canadian provinces, Australia, and 45 different U.S states. He is a 43-year member of the PRCA and has worked with 12 different rodeo associations. His act with the Muttley Crew was a semi-finalist on America's Got Talent, recognized in a documentary by National Geographic, and has appeared in numerous telecasts around the world.
In a Facebook post after the rodeo's conclusion, Sandpoint Rodeo officials thanked spectators, volunteers, flag carriers, rodeo committee members, vendors, the office staff and all the contestants and contract personnel. It was also announced that Miss Sandpoint Rodeo, Maddie Gunter, would be passing on the royalty to Maya Lowrey, who was named Miss Sandpoint Rodeo 2024.
Recent Headlines
---