Meyer wins Superintendent of the Year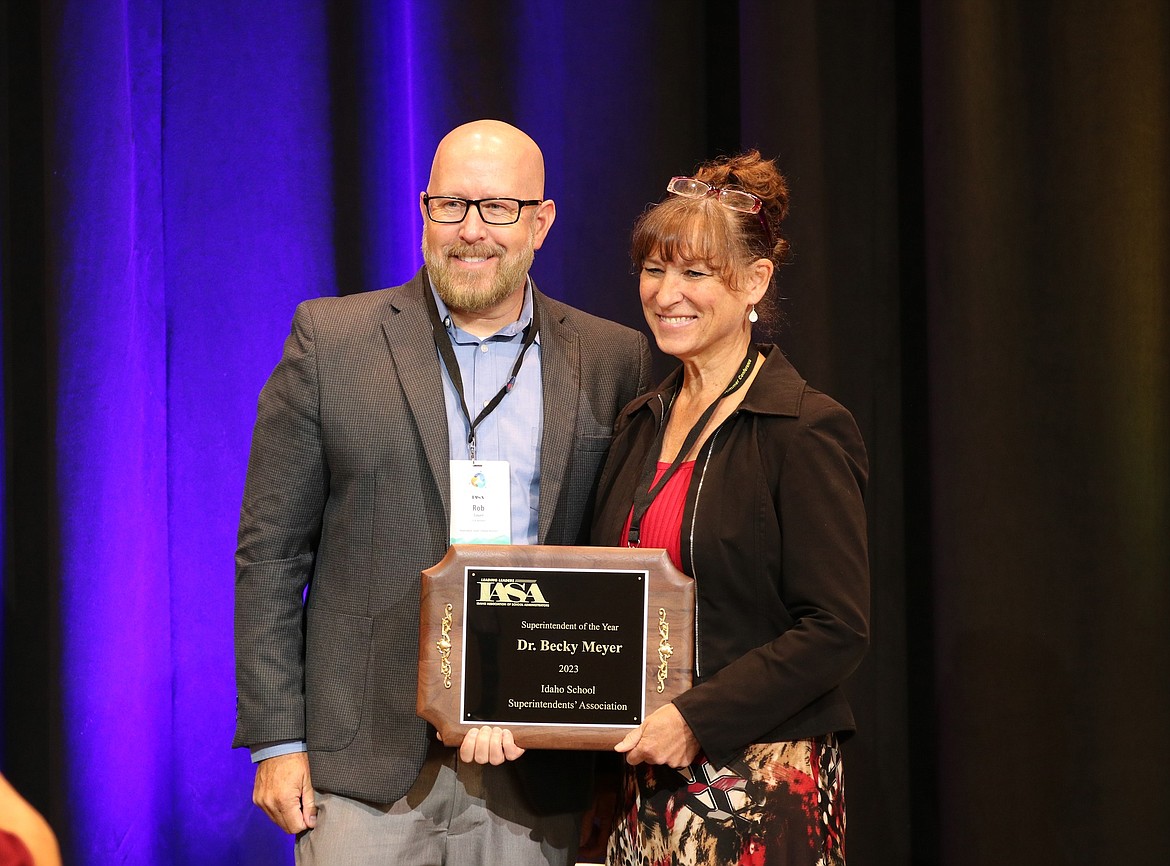 Rob Sauer, Idaho's 2021 Superintendent of the Year, presents Meyer with her award
by
EVIE SEABERG
Staff Writer
|
August 8, 2023 1:00 AM
SANDPOINT — A little over a year into her role as Lake Pend Oreille School District superintendent, Dr. Becky Meyer has been named Superintendent of the Year by the Idaho Association of School Administrators.
The IASA hosts an annual summer leadership conference where they showcase speakers, host workshops and recognize leaders in education for exceptional work. This year, Meyer's accomplishments stood out.
"A lot of great folks were nominated." said Ron Sauer, superintendent of Homedale School District, in announcing Meyer's selection. "But Dr. Meyer has been a leader of Idaho education for many years, on a variety of levels. Her application was amazing! She is a great choice by the administration, and represents us well … this award is well-deserved!"
Meyer has been present in the community since early in her career, beginning as a counselor with LPOSD in 1994 and making her way up to her current position as superintendent. Now she holds the title of Superintendent of the Year across all of Idaho.
"In her first year as Superintendent of LPOSD, Dr. Meyer spearheaded numerous initiatives, including the development of a comprehensive five-year Strategic Plan driven by community input," LPOSD officials said in a press release.
"She also established a robust District Safety Task Force, implementing controlled access technology and other safety measures across LPOSD, ensuring the utmost security for students and staff."
Meyer is also focusing on providing Career and Technical Education opportunities to students in the region. She hopes to equip students with trade skills prior to graduating high school by preparing them in CTE programs.
"(Students) can graduate industry-ready, benefitting both our students and the local tradespeople who often face labor shortages," the press release said.
However, Meyer says she can't take all the credit for the accomplishments for which she is being recognized.
"This really is never about one person," she said. "The award is really a reflection of the school district and everyone that works within it. An award like this recognizes that our district is high functioning and we're all working together for the betterment of each and every student."
Upon receiving her award, Meyer had the opportunity to explain some of the strengths within her district through a leadership model she calls the "Floating Boat Theory." She describes an illustration of a boat that is powered by individual strengths paired with high expectations. Focusing on these positive strengths helps the district "float their boat high," as opposed to focusing on the negatives — the sharks in the water.
"We rise up to the higher level and have high expectations," Meyer said. "We bring people on our boat with us up to that level for our district — I think that's what makes our district so successful."
Meyer's colleagues said Meyer well deserves the honor and appreciate her contributions to the district, including Casey McLaughlin, LPOSD director of secondary education.
"We are incredibly fortunate to have someone of Dr. Meyer's caliber leading our district, pouring her expertise and dedication into our schools," McLaughlin said. "LPOSD congratulates Dr. Meyer on this well-deserved honor and anticipates even greater achievements under her guidance."
Recent Headlines
---