Local Girl Scouts travel to Europe
by
EVIE SEABERG
Staff Writer
|
August 10, 2023 1:00 AM
SANDPOINT — Three years of cookie sales, car washes and Krispy Kreme fundraisers along with a donation from the local Lions Club all added up to a trip to Europe for five Bonner County Girl Scouts in Troop 1806.
Over the past three years, Allison Hewitt, Halo Beckman, Hayden Jones, Isabella Smith and Jaya Rosenau all worked to sell over 15,000 boxes of Girl Scout cookies to save up for their trip.
During their two weeks abroad they traveled to Adelboden and Lucerne in Switzerland, and Venice, Florence, Rome, Vatican City, Cici, Pisa, Pompei and the Island of Capri in Italy.
The adventure was inspired when the troop participated in an annual Girl Scout event called "World Thinking Day." This event encourages troops from around the world to study a specific country and present it to other troops, said CarrieAnn Hewitt, co-leader of the troop and mom to Allison. Troop 1806 chose to present on Switzerland in winter 2020, right before COVID-19 hit. As the day to present drew near, the girls found out the event was postponed and then canceled.
In the meantime, the girls decided to start planning a trip to Switzerland three years out, with the hope that traveling would be possible by then. Hewitt said she found an organization called Education First Tours that specializes in orchestrating educational trips for students around the world.
The trip began in Adelboden, where the girls visited Our Chalet, one of five world centers for Girl Scouts. Our Chalet, the first Girl Scout center to open, was founded in 1932 in the Bernese Alps. The center has been welcoming Girl Scouts from around the world ever since, with the exception of a time when it was used as a military training center in World War II and during COVID-19. While they were there, the girls got to know scouts from different troops across the globe. Throughout the rest of their European journey, the troop traveled alongside other girls from California, Virginia and Massachusetts.
Hewitt said it was inspiring to see them singing songs on the bus and exchanging contact information. She said a few of them even have plans to visit each other to reconnect.
"This trip was a roller coaster of emotions and full of experiences that I will never forget," Isabella Smith said. "I met amazing people and connected with girls in a way that many don't get to experience."
Other activities included taking a gondola up into the alps to see the Matterhorn in Lucerne, Switzerland, a fresco workshop with a local artist in Florence, Italy, and a pasta dinner the girls made from scratch in Rome, Italy.
"It was all very stunning, especially Capri," Allison Hewitt said.
She commented on the vibrant colored architecture that she wasn't used to seeing in North Idaho.
Allison said her favorite memory was getting to enjoy a fondue meal in Lucerne, Switzerland, where musicians performed traditional folk music and played Swiss instruments. One of the girls, Halo Beckman, even participated in a yodeling contest on stage. All of them commented on how learning about different cultures alongside each other was an invaluable experience.
"Girl Scout trip of 2023 will forever be a core memory for all of us," said Jaya Rosenau.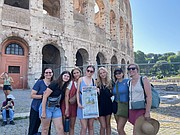 Recent Headlines
---