Music conservatory showcases youth orchestra
by
PATTY HUTCHENS / Contributing Writer
|
August 10, 2023 1:00 AM
Summer. It's a time free from homework and the structure of school days. It's also a time that allows students the opportunity to pursue some of their greatest passions. For many, that is music. The Music Conservatory of Sandpoint has been a home away from home for many students this summer, allowing them to delve into their artistic side.
Located in downtown Sandpoint, the Music Conservatory has empowered approximately 5,000 students over the last 14 years to enhance their musical and creative skills.
In addition to their early childhood classes, Little Mozarts, which took place in June, the conservatory also held two, two-week sessions during its diverse Summer Academy, allowing older students to enrich their passion for music and the performing arts. The first session included piano, percussion, ukulele, marimba, musical theater, and flute and culminated with a performance July 21 in Little Carnegie Hall.
The second session began July 31 and includes choir, an instrument art factory, and orchestra. For the orchestra, students auditioned and were placed accordingly, either into the beginner, intermediate or advanced sections.
A total of 94 students took part in six weeks of summer programs, including 40 students playing in the Summer Academy's full-instrument youth orchestra, working the first week with instructor Sylvia Ranette. In the second week, the students are being led by guest conductor Shira Samuels-Shragg.
"Shira comes highly recommended by James Lowe, the conductor for the Spokane Symphony," said Music Conservatory founder and executive director Karin Wedemeyer, who added that Samuels-Shragg has taken part in the Spokane Symphony's conductor workshop.
This month, Samuels-Shragg will assume her new position as assistant conductor for the Spokane Symphony Orchestra while maintaining her current assistant conductor post with the Plano, Texas Symphony Orchestra, where she also leads the Plano Symphony Orchestra in their education concerts for more than 17,000 students. Her experience includes being an assistant conductor for Carnegie Hall's National Youth Orchestra of the USA in 2022. In May 2022, she graduated with her Master of Music in orchestral conducting from the Julliard School.
Because many of the students in Sandpoint do not have the opportunity to be part of a large orchestra, instead performing with small groups such as a string quartet, this promises to be an enriching and unique experience.
Their session will end Friday with the choir and orchestra performing at 5 p.m. in the Panida Theater in downtown Sandpoint. There will be an additional performance Sunday at 2:30 p.m. in Little Carnegie Hall.
Wedemeyer shared that the students in the Instrument Art Factory are in the process of painting two pianos ready to go outside for all passersby to play — a fun Sandpoint tradition.
The performances are free, but as the Music Conservatory of Sandpoint is a nonprofit organization, donations are always welcome.
"The Summer Academy is grant-supported," said Kathi Samuels, president of the Music Conservatory of Sandpoint's Board of Directors. "We want to thank our wonderful sponsors: Idaho Commission on the Arts, Idaho Community Foundation, Innovia, and Find Your Light. We could not offer this type of outreach without their support."
The Music Conservatory does offer scholarships and tuition assistance. Their several areas of music and performing arts, which have 22 instructors, include string, theater, voice, piano, orchestra, and contemporary music. Among the programs they offer are Music Matters! After School Initiative, Early Childhood — Little Mozarts and an honors track.
Registration is now open for Music Matters!, the Music Conservatory's afterschool program that includes orchestra, choir, musical theater, young performers theater, advanced handbells, and percussion for various ages and abilities. Students enrolled in this program also have free access to the conservatory's instrument library. "We look forward to seeing new faces," said Wedemeyer.
Information: Music Conservatory of Sandpoint: online, sandpointconservatory.org; email, msc@sandpointconservatory.org; or by phone, 208-265-4444.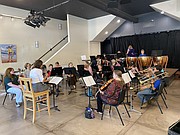 Recent Headlines
---