Show celebrates quilting's beauty, diversity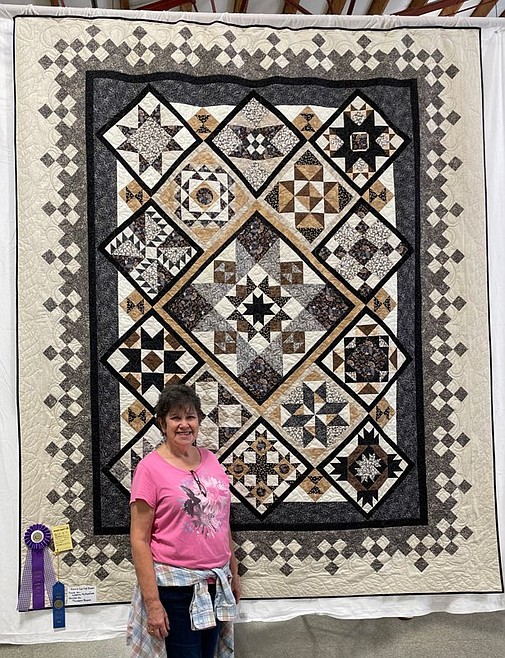 Lori McPherson poses next to one of her award-winning quilts. She was named this year's featured quilter at the PPQG Quilt show.
(Courtesy Photo)
by
LAUREN REICHENBACH
Staff Writer
|
August 11, 2023 1:00 AM
Loretta McPherson has been sewing for 70 years; however, it wasn't until she retired that her quilting journey began.
Now, over 15 years later, she has been named the featured quilter at this year's Panhandle Piecemakers Quilt Guild Quilt Show.
McPherson first felt the pull to begin quilting when she visited a local variety store after her retirement. There was something about the endless patterns and color combinations that pulled her in and she said she's been quilting ever since.
McPherson originally set a goal for herself: one bed quilt for each family member, including spouses and grandchildren – and now great-grandchildren. She has long since passed that goal. Each quilt was designed with a specific person in mind and now many of McPherson's family members have multiple quilts, and some are asking for even more.
McPherson has since branched out from only quilting for her family. During the COVID-19 pandemic, she designed a pattern and enlisted the help of multiple others to create over 325 scrub hats for local healthcare workers.
Additionally, she and her crew began making baby quilts for the hospital's newborns, which has gradually turned into a community project for the Sandpoint Panhandle Piecemakers Quilt Guild. So far, the guild has contributed over 200 quilts for newborns as well as cancer patients.
McPherson said she greatly enjoys the challenges of mastering new techniques and tries to put a twist to most patterns, giving them her own personal touch.
In addition to being named the Featured Quilter at this year's show, one of McPherson's recent quilts won Best of Show at the 2022 Bonner County Fair.
"We are so happy to have her as our featured quilter at this year's quilt show," said avid quilter Renee Shattuck.
You can admire McPherson's work as well as many of the other guild members' quilts at the PPQG Quilt Show this Friday from 10 a.m.-6 p.m. and Saturday from 10 a.m.-4 p.m. at the Heartwood Center in Sandpoint.
Recent Headlines
---