Vandalism closes Bonner Park West restrooms
by
LAUREN REICHENBACH
Staff Writer
|
August 11, 2023 1:00 AM
PRIEST RIVER — The bathrooms at Bonner Park West are closed — and will be so indefinitely — due to multiple instances of vandalism, Bonner County Commissioner Luke Omodt said at Tuesday's commissioner meeting.
"As a teacher, we would have knuckleheads cause all sorts of problems and havoc in bathrooms at times and it's ridiculous," he said Tuesday during his commissioner report. "Bonner Park West has had this happen."
Omodt said that in addition to multiple complaints of people defecating on the walls of the facility, urinal stalls have now been ripped out of the walls of the men's bathroom. That necessitated the restrooms being closed until repairs are made — which might take a while, according to Omodt.
"This county does not have the ability of the federal government to just print money," he said. "We have limited staff and limited resources."
Due to those limited resources, Bonner County Recreation Manager Pete Hughes said there is no timeline for when the bathrooms will reopen — or if they will reopen before the end of the season.
"Please treat our facilities with the respect they deserve and know that we aren't shutting [the bathrooms] down out of spite, we're shutting them down because of budgetary reality," Omodt said.
Commissioner Steve Bradshaw agreed, saying that because the county has limited police officers and deputies, many of the watchfulness must come from other residents.
"These things belong to you," he told the audience. "They belong to the people in Bonner County. So if you see someone tearing up your stuff, get a license plate number, a picture, whatever. Our sheriff's department and our police department will follow through with that. We have to police ourselves on a lot of things; that's part of living out in the country."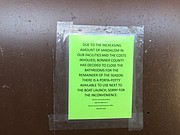 Recent Headlines
---