Sledfest music line up announced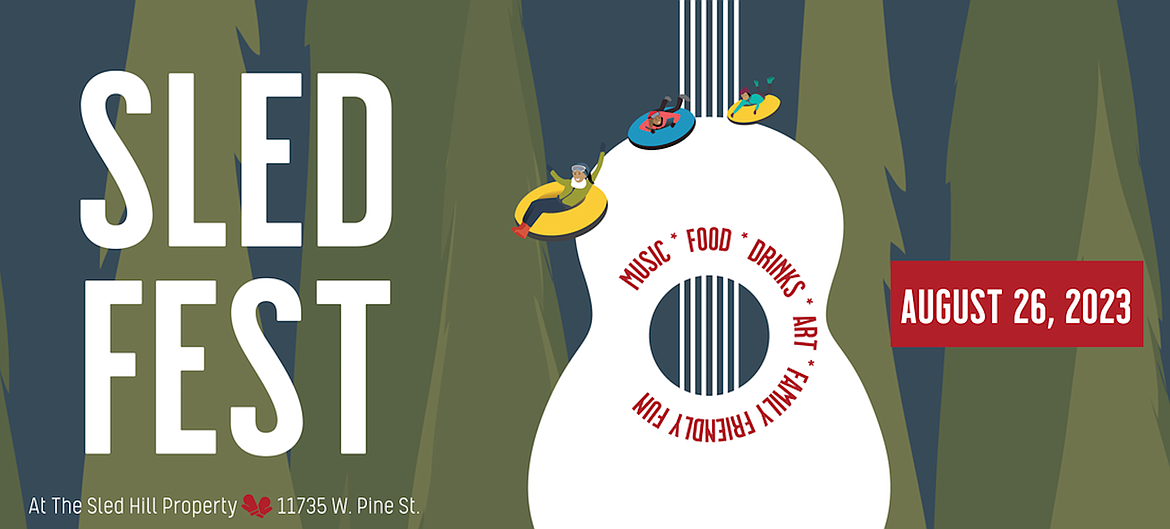 |
August 12, 2023 1:00 AM
SANDPOINT —  Music, dancing and unforgettable memories. What's not to like about Kaniksu Land Trust's highly anticipated SledFest?
Taking place on the last Saturday in August, SledFest is a summer music festival that celebrates winter fun. It is an event to bring the community together to preserve the Pine Street Sled Hill, the historic skiing and sledding hill that locals have played on since the 1940s.
SledFest promises to be an event like no other, offering an exceptional lineup of live music performances from the Pacific Northwest and beyond that will keep event-goers dancing into the night. 
Performers include local favorite, Harold's IGA, plus the regionally acclaimed Kaitlyn Weins, Thrown Out Bones and Dammit Lauren. More bands will be announced later, including the headlining act. Mattox Farms productions is curating a great line-up of musicians.
"When you see the lineup of musicians coming to SledFest, you know it's going to be a really fun day," Katie Cox, KLT executive director, said. 
Only ADA parking will be available on site. Other drivers may park at Sandpoint High School, 410 S. Division Ave., to take advantage of a free bus shuttle service provided by Lake Pend Oreille School District. Buses will run from 9:30 a.m. until everyone is back to their cars at the end of the evening. 
Attendees are encouraged to walk or bike. Those who do, will receive a stainless pint as a thank you for using an eco-friendly transportation option.
Ticketing for SledFest is managed with support from The Festival at Sandpoint.
"Our goal is to make the event accessible to everyone while also raising funds to save the sled hill. The ticket prices include a donation component, with additional fees covering Idaho State Sales Tax and ticketing platform costs," Cox said.
General adult admission is $50 (plus fees), qualifying as a tax-deductible donation thanks to KLT's Partner Sponsor Program. The youth ticket for ages 3-18 is $12 and children under 3 enter free. KLT is also offering a "community ticket" option so that everyone can join in the fun. 
"We know budgets may be tight, and we don't want anyone to miss out on this celebration," Cox said. "That's why we've introduced the community ticket, priced at just $5 per person, to ensure that everyone can be part of the SledFest experience and still contribute toward the cause."
Cox said the land trust appreciates the support of the Avista Foundation, which is helping cover the costs of those tickets. 
Throughout the day, attendees will have the opportunity to bid on one-of-a-kind art sleds generously created by local artists with 100% of the proceeds benefiting the campaign to Save the Sled Hill. The public is invited to the art reveal of all 20 sleds at Pend d'Oreille Winery on Thursday, Aug. 17 at 4 p.m. The winery will also host a "sip and shop" benefiting KLT. The sleds will be open to silent auction at that time and the bidding will continue until just before the last performance at SledFest.
Kaniksu Folk School will host an old-time mercantile, featuring a diverse assortment of locally made crafts and products. Proceeds will go toward saving the sled hill. Craft demonstrations, including a blacksmith station, will be available for all to enjoy. 
SledFest will include three of Sandpoint's finest mobile food vendors: Mandala Pizza, Jupiter Jane and Burger Dock. All accept cash or credit card. 
Eichardt's will trade drink tokens for full bar and nonalcoholic beverages. Tokens will be available for purchase at the registration center.
SledFest takes place Saturday, Aug. 26, from 10 a.m. to 9 p.m. at the Pine Street Sled Hill property, 11735 W. Pine St.
Information: kaniksu.org/sledfest
Recent Headlines
---