West Bonner superintendent's plan to relocate students met with opposition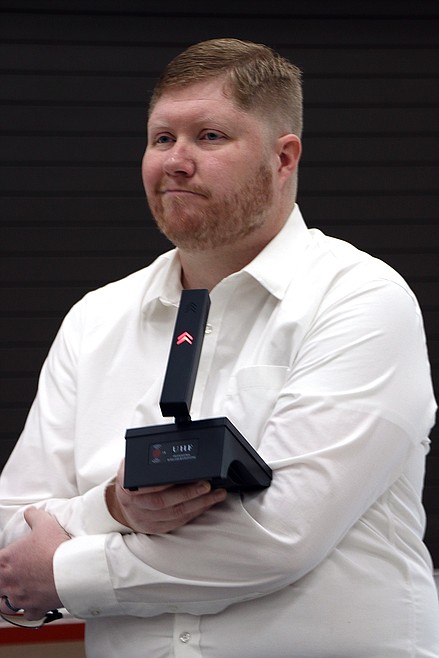 by
DARREN SVAN / Idaho Education News
|
August 13, 2023 1:00 AM
PRIEST RIVER — West Bonner superintendent Branden Durst's plan to relocate 170 seventh and eighth graders to the high school was met by passionate calls to "pump the brakes, just slow down and don't put it on the school board's agenda."
Near the end of Monday's two and a half hour meeting — while two women disagreed and argued about the current divisiveness in the Priest River community — a police officer stepped in and asked Durst to wrap it up.
"You've been talking to people about the junior high for weeks. Transparency is huge. We learned about this three days ago. The only people you're being transparent with are at that table or at your church. We're in the dark. It's driving us crazy," someone in the audience expressed.
About 115 people attended the meeting to learn more about Durst's plans for Priest River Junior High School. Because of an aging boiler that could fail during the winter and other structural deficiencies, Durst wants to shut down the school and use portables to relocate junior high students to the high school for two to three years while repairs are completed.
That plan was not well-received by his community, with a vast majority voicing opposition.
"Represent us as a community and take it off the school board agenda," someone pleaded. The school board has scheduled a special meeting Wednesday, Aug. 9, at 6 p.m., and Durst's plan is listed on that agenda. The board will meet again on Wednesday, Aug. 16, but an agenda hasn't been posted.
Durst told the audience that he will convey their concerns to the board. "I will make sure that I provide them with the feedback that I have heard here tonight."
But many expressed distrust.
"A lot of people don't trust you and a lot of people don't trust the board. You can earn that. There's potential. I am terrified that you and the board have already decided, and this … is going to be another shotgun decision," someone in the audience protested.
"Just slow the freaking roll. There are so many fires to put out and it's like you guys are creating more fires," she said.
Durst pushed back on a recent rumor. "There is no intention to sell the junior high school," Durst said, dispelling a belief that he planned to sell the building so a charter school could relocate there.
This is about "what's in the district's best interest and how to best serve students utilizing that facility," he told the audience. "That's the honest truth."
Durst's proposal involves moving students into temporary buildings before school starts in 27 days while repairs are made. The closure is needed because in his opinion contractors, who would be working around children, may have trouble with background checks; the noise level could be disruptive; and if nothing is done, and the boiler fails during the winter, students would be displaced at an inopportune time.
He got an earful.
Parents do not want their seventh and eighth grade daughters mixing with the upperclassmen, because that puts them at risk. One parent was concerned about the risk of seventh grade girls being taken advantage of and getting pregnant.
This is not about the building — it's about protecting "my daughter," she told him.
Durst said not everyone is opposed to his idea. That opinion is expressed while attending a lot of meetings that aren't publicized, he said, which caused the audience to pepper him with questions about who he's meeting with and when.
It kicked off a back-and-forth discussion regarding the identity of Durst's "some people." Do they live in the district? Do their children attend school here? How many people?
"There are people who don't agree on the levy situation but they have agreed what we need to do at the junior high," he said. "Whether or not they have kids in the school, they are still property taxpayers."
"When I was down in Boise, I spoke to several superintendents who shared a single building between junior and high school. It's about having the right protocols in place to keep them apart. There are dozens of districts that operate in that way."
Patrons countered with ideas that Durst felt were legitimate possibilities: to avoid class disruptions, have the contractor replace the boiler on Fridays, Saturdays and Sundays, and also do it in shift work; ask voters to approve a levy or bond specifically for that building; find historical building grant money to offset costs; fix it in the summertime; or wait until after the facilities review is done.
"That's a good suggestion," he said.
"So let's say there was a bond for November and it didn't pass. You'd have the chance to do it again in May. I'll tell you this … the reality is this district is going to have to do something in May, because we're living off of borrowed dollars. And if there's not something done, you will not have a functioning school district next school year," Durst said.
He also asked anyone in the audience to take turns talking about what they like about the building. The following comments were presented throughout the meeting.
I like the idea of the kids having a building to be in.
The transition from elementary to the junior high is important.
That building is one of the most valuable places to be — fix the darn thing.
It's a great place for our community as a whole. It's a huge piece of nostalgia for our community and a mainstay for a lot of activities.
The architecture will never be replaced — it needs to be preserved.
Durst estimates that fixing the building could cost a couple of million dollars because there would be a requirement — in addition to purchasing the needed equipment — to bring it up to code, including ADA compliance.
"How do we best leverage the assets we have?" he asked.
"Just slow down. When we have a problem, we'll fix it," someone said.
Recent Headlines
---