Snowbird Frames opens in Sandpoint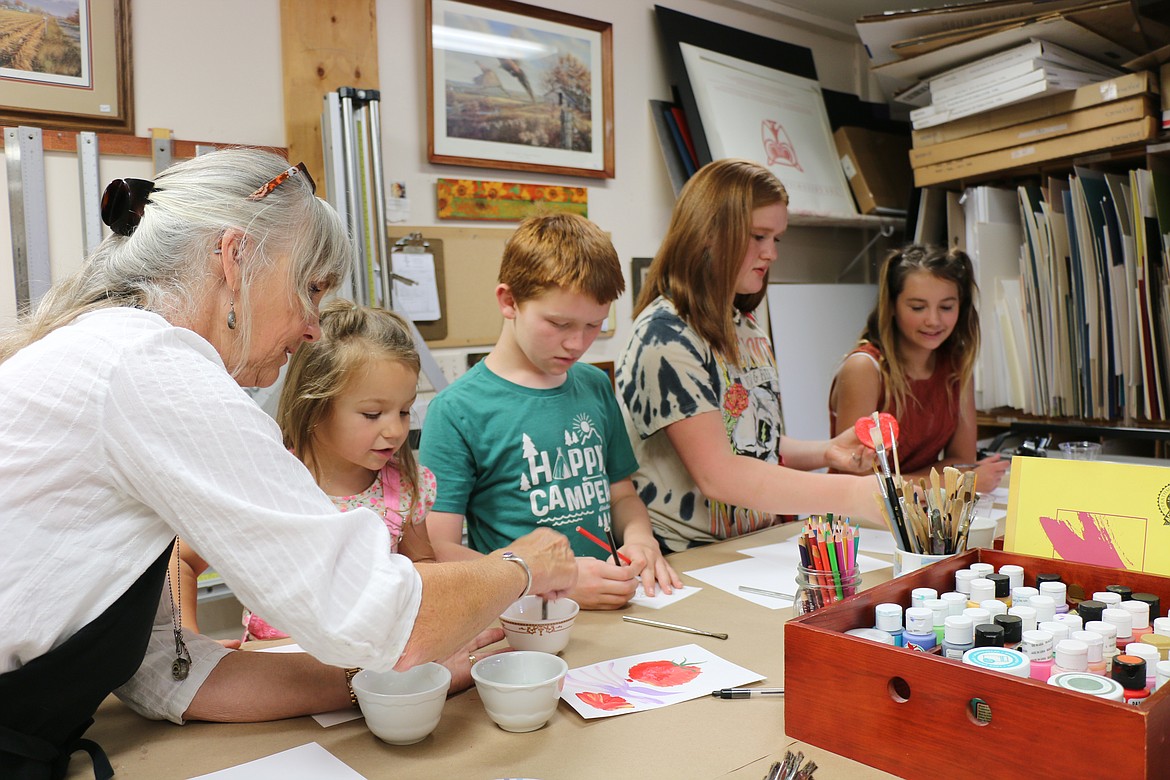 Theresa Stevens helps young visitors to her new business, Snowbird Frames create artwork of their own at her recent grand opening. The store is located at 819 U.S. 2, Suite 101, in the Pioneer Square building.
(Photo by CAROLINE LOBSINGER)
by
CAROLINE LOBSINGER
Staff Writer
|
August 15, 2023 1:00 AM
SANDPOINT — From one-of-a-kind art to a special photo, the right frame can make the piece shine.
And that's just what Snowbird Frames aims to do.
The new frame shop, owned by Theresa Stevens, recently opened in the Pioneer Building, 819 U.S. 2.
Customers bring in everything from puzzles to postcards to prints and paintings. She also sees poetry, antique photos, flags, inkblotters, jewelry, art and drawings, cartoons, and certificates.
Snowbird Frames offers custom mats and frames, prints and paintings, and a wide variety of frames in stock. That gives customers the ability to have a custom piece based on their budget, Stevens said.
"I always look forward to the jingle of the bell on the front door," she added.
Stevens decided to open the shop, now in its fourth month, after two years of training under Andy Vigor of Andy's Frameshop.
She's always loved art and wanted to pursue a business that allowed her to follow that passion — and celebrate the artwork that others love and create as well.
She wanted to make having custom-framed art affordable. That way, in addition to custom-designed frames, she is constantly on the hunt for frames of all shapes, looks, and sizes. That allows her to create the look for customers that they want — and that fits their pocketbook.
Stevens said she loves to visit with clients, to learn about their piece, what kind of look they are going for, and why the artwork is important to them.
"Visiting with customers is the highlight of the day," she said.
The daughter of Frank and Claire Travers, Stevens grew up in the Kootenai and Sandpoint areas. She married a local logger, Ken Stevens, and was a caregiver for 20 years with Certified Family Homes.
Stevens, who wanted to showcase the region's many artists, has created a featured art wall at Snowbird Frames. Each month, a local artist is featured as a way to showcase their pieces, with the artwork often available for purchase.
Among the artists featured have been Linda Davis, Diana Tilbert, and Elise Creed. This month, the featured artist is Connie Scherr.
Snowbird Frames is open Wednesday, Thursday and Friday, 10 a.m. to 5 p.m.
Information: Snowbird Frames, 819 U.S. 2, Suite 101; phone, 208-255-8628; Facebook, bit.ly/3KDtEYU
Recent Headlines
---