Fires force evacuations, destroy buildings, hamper air quality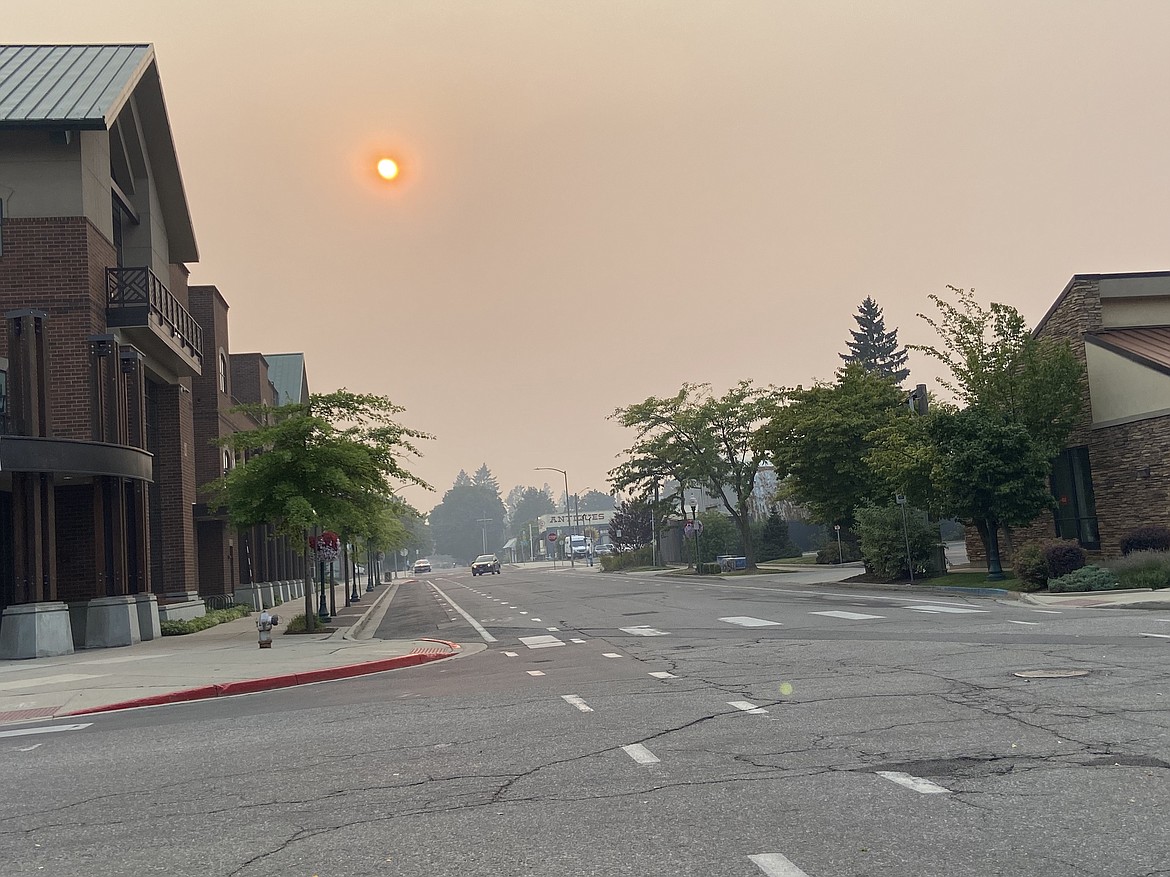 Smoke from the region's wildfires filled the skies, bringing air quality to hazardous levels Saturday. On Saturday, the air quality index in the greater Sandpoint reached as high as 415.
(Photo by CAROLINE LOBSINGER)
by
CAROLINE LOBSINGER
Staff Writer
|
August 20, 2023 1:00 AM
Smoke from the region's wildfires filled the skies, bringing air quality to hazardous levels Saturday.
However, there was good news as the Buckskin 2 Fire south of Clark Fork more than doubled in containment, prompting Bonner County Sheriff's Office to lift a "Ready" evacuation notice in the area.
Buckskin 2 Fire
Hard work has kept the Buckskin 2 Fire from growing for several days, said Brian Hicks, a Type 3 incident commander with the Idaho Panhandle National Forests.
"There has been no growth on the fire in several days," Hicks said in a daily update Saturday. "Fire behavior within the interior has become minimal, with some backing, flanking, and occasional tree torching."
The fire, located eight miles south of Clark Fork, has burned an estimated 242 acres and is now 55% contained.
"As the winds continue to test the fire lines through the weekend, firefighters will remain focused on gridding and monitoring for any possible new spot fires over the line," Hicks said.
INPF officials said fire and heavy equipment crews are increasing the depth while extinguishing any hotspots near existing firelines. Also, structure protection assessments in the Twin Creek and Rearden Road areas. The fire remains 1.8 miles from the nearest structure.
A Stage 1 "Ready" evacuation notice in the area of Twin Creek and Rearden roads has been lifted, Bonner County officials said Saturday.
There are 171 personnel assigned to the fire with eight engines, four hand crews and assorted heavy equipment.
Oregon Road Fire
North of Spokane, the Oregon Road Fire has burned more than 8,200 acres of forest and cropland, and is zero percent contained. Like the Gray Fire, the fire south of Newport, Wash., has prompted multiple evacuations. (For information on the Gray Fire, see inside.)
The fire as reported about 4 p.m. Friday and is located about 4 miles northeast of Elk, Wash.
The fires prompted the closure of Blanchard-Elk Road to allow for its use to evacuate Washington state residents, Bonner County Sheriff's Office officials said Saturday.
Fire crews focused Saturday on protecting structures with bulldozers being used to build a containment line around the fire, according to Watch Duty, a fire tracking app.
An evacuation center has been set up at Riverside High School in Chatteroy, Wash.
Spokane County Fire District officials said sustained winds of 19 mph combined with a heavy fuel load contributed to the rapid spread of the fire.
Ridge Creek Fire
While crews and heavy equipment operators have made substantial progress in building and reinforcing containment lines on the Ridge Creek Fire, winds brought by red flag warning conditions pushed the fire to just over 4,000 acres, according to InciWeb, an online fire information website.
A substantial fleet of aircraft available to support ground operations on the fire. Area residents can expect to see both fixed-wing aircraft and helicopters working, particularly on the northeast area of the fire, officials said.
A community meeting will be held at 3 p.m. Sunday at the Athol Community Center, 30355 Third St. in Athol. The meeting will also be live-streamed on the Idaho Panhandle NF Facebook Page: facebook.com/USFSIPNF
The Kootenai County Office of Emergency Management has issued a notice for residents in the Bunco area, changing their Ready, Set, Go Status to "Set."
Under "Ready" status, residents are advised to have a plan to evacuate if necessary. "Set" status asks residents to begin putting their plan into place. Under "Go" status, residents are told to leave immediately due to an imminent threat.
Weather was expected to moderate Saturday, giving fire crews and aviation resources greater opportunity to engage the fire, said officials with the Eastern Area Type II Silver Team, which is overseeing fire operations.
A total of 521 personnel were assigned to the fire as of Saturday, as well as 20 engines, 12 fire crews, and six pieces of heavy equipment.
"Despite challenging conditions over the last few days, crews were able to hold and strengthen firelines on the Ridge Creek Fire, particularly along the southern and western flanks of the fire," officials said.
Crews are expected to use firing operations, particularly at night, to improve and widen containment lines by burning away shrub and surface layer fuels.
Fire reports
• The Mercy Fire was reported Saturday afternoon on Oh Mercy Lane briefly prompted the evacuation of residents in the area. As of Saturday afternoon, Watch Duty reports the fire has burned an estimated 3 acres.
• The Jeru Fire was reported Saturday afternoon, according to Watch Duty. It has burned less than 1 acre.
Information: inciweb.nwcg.gov
Recent Headlines
---