Fires, smoke continue to affect region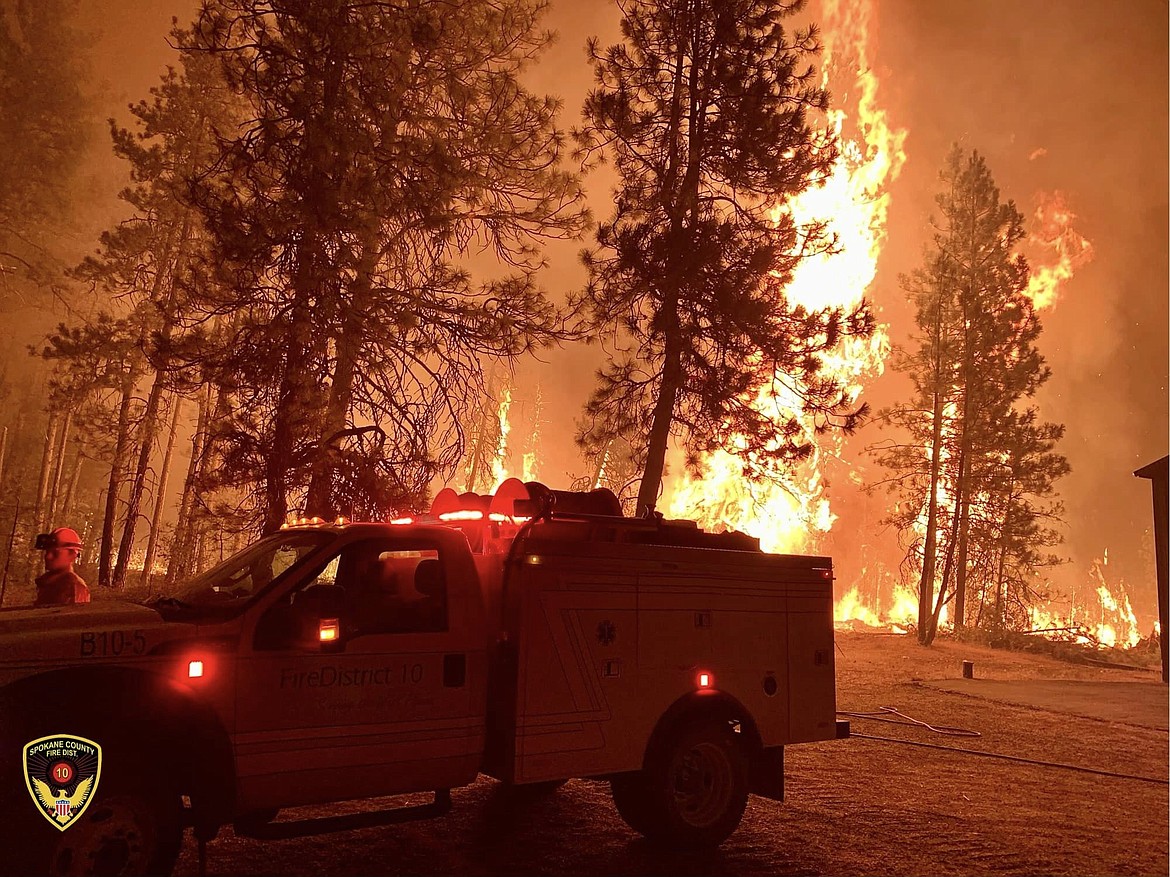 Flames engulf vegetation in this photo from the Gray Fire near Medical Lake in Spokane County.
Photo via the Spokane Fire District 10 Facebook page
by
MAUREEN DOLAN
Hagadone News Network
|
August 22, 2023 1:00 AM
Smoke from the region's wildfires continued to affect air quality Monday as firefighting response teams carried on battling multiple blazes throughout North Idaho and Eastern Washington.
The Idaho Department of Environmental Quality placed all five of Idaho's northern counties under an air quality advisory through Wednesday morning.
"Our best chances for significant rain will be Tuesday as remnants from Tropical Storm Hilary track through," said a Monday update from Idaho DEQ. "Warmer than normal temperatures return late this week. Overall, Air Quality is expected to improve as rains briefly decrease fire activity and winds push Canadian smoke out. GOOD Air Quality should return by Wednesday."
Air quality in the Coeur d'Alene area is expected Tuesday to be unhealthy for sensitive groups, which means people with heart or lung disease, children and older adults may be negatively affected, and they should reduce prolonged or heavy outdoor exertion. Per the DEQ, the general public is not likely to be affected when air quality is in the unhealthy range.
Shoshone County residents should fare better Tuesday as the air quality there is forecast to be moderate, which means it is acceptable, although unusually sensitive people could still experience negative effects from some pollutants.
Ridge Creek Fire
The Ridge Creek Fire grew slightly to 4,110 acres, according to an update sent out Monday afternoon, by the incident management team.
The fire started Aug. 3 and is burning approximately 3.5 miles east of the north tip of Hayden Lake, along the Hayden Creek Road (Forest Service Road 437) from the Ridge Creek drainage to South Chilco Mountain. The cause was determined to be human and is under investigation. Containment is at 19%
The number of personnel working on Ridge Creek is 587, with 25 engines, six heavy equipment items and 15 crews.
As of Monday afternoon, the south and southwest flanks of the fire were well-anchored with reinforced containment lines.
"Additional firelines are being constructed northward from FSR 406 (Hayden Lake Divide) to contain the fire's northeast flank," said the Monday update.
Bucksin 2 Fire
Crews continue to add to containment of the Buckskin 2 Fire, Idaho Panhandle National Forests officials said Monday.
"There has been no growth on the fire in several days and fire behavior is just a smoldering interior," IPNF Type 3 Commander Brian Hicks said in a daily update on the fire.
The fire has stalled at 242 acres and is now 65% contained. There are 110 personnel assigned to the fire, including eight engines, two district firefighting modules and four hand crews, and assorted heavy equipment.
A fireline has been completed around the fire's perimeter and containment is expected to increase as mop-up continues to reinforce the line.
While a Stage 1 "Ready" evacuation notice in the area of Twin Creek and Rearden roads has been lifted, officials urged those driving in the area to drive with caution.
"There is still ample fire traffic in the area, as firefighters will continue to patrol of direct handline and dozer line," Hicks said.
Gray Fire and Oregon Road Fire
Each of these fires started Friday in different areas of Spokane County, and since then, they have scorched over 20,000 acres.
The Gray Fire began near Gray Road in Medical Lake and quickly spread to the east and southeast through Medical Lake and across I-90. The town of Medical Lake and multiple surrounding areas were evacuated. Sections of I-90 remain closed due to the fire.
The fire was estimated Monday to involve 10,014 acres and to be 10% contained. It has destroyed an estimated 185 structures and is blamed for one fatality.
Spokane County Emergency Management officials reduced the evacuation levels Monday for a portion of the area, but many residents remain under Level 3 evacuation orders.
"As fire activity moderates with limited fire growth expected today, firefighters are able to make increased progress strengthening containment lines and mopping up along the perimeter," said a Monday update from the Gray Fire's incident management team.
The Oregon Road Fire started near E. Oregon Road, in Elk, Wash., which is north of Spokane, about 16 miles south of Newport, Wash. and 15 miles west of Blanchard, Idaho.
The fire was estimated Monday to involve 10,142 acres with zero containment. It has destroyed more than 80 structures and is blamed for one fatality.

Level 3 evacuations remain in effect for multiple surrounding communities.
For the most up-to-date evacuation information and maps for the Spokane County fires, visit www.facebook.com/GEGEmergencyMgt.
To donate to wildfire relief and recovery efforts
STCU announced Monday that its Here for Good foundation at Innovia is able to accept donations that will go directly to wildfire relief and recovery efforts throughout the region.
The credit union has seeded the effort with a $50,000 donation, and Washington Trust Bank, Premera Blue Cross and the Innovia Foundation have joined STCU in each committing $50,000 to support local wildlife relief efforts.
The proceeds will be administered through local nonprofit organizations to support rebuild and recovery efforts in local communities.
To make a tax-deductible donation, visit innovia.org/stcu-here-for-good-foundation.
Recent Headlines
---