Ridge Creek Fire: rain supports crews, clears air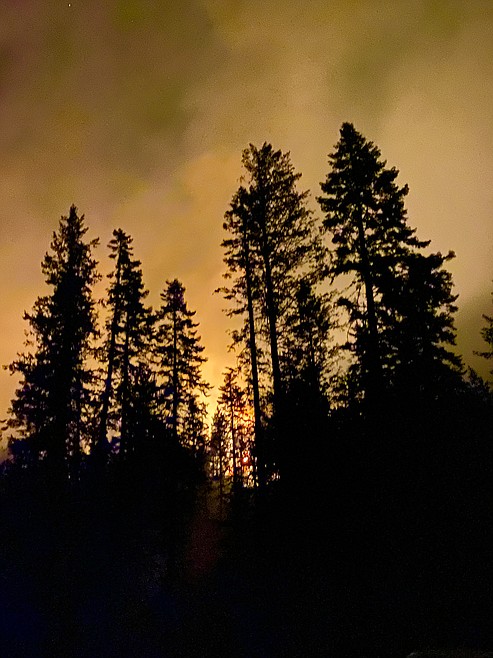 Air quality improves with Tuesday's rain, but the Ridge Creek Fire rages on.
Photo courtesy of the Southern Area Incident Management Gold Team
by
JOSA SNOW
Hagadone News Network
|
August 23, 2023 1:00 AM
Firefighters took advantage of the rain to boost containment of the region's fires.
Ridge Creek Fire Status
Tuesday's precipitation gave firefighters a chance to improve containment lines on the Ridge Creek Fire, Tuesday. Minimal fire activity was expected to progress through the day and evening.
The containment and fire size changed a bit from Monday, due to improved mapping, according to an update from the Southern Area Incident Management Gold Team, which has assumed control of the fire.
Air support wasn't available due to weather Tuesday, but ground crews made progress in digging containment lines along the Forest Service Roads.
The Forest Service expanded area closures Monday, and violating the order is punishable by up to $10,000.
Firefighters held containment along the southern edge of the fire Monday. With improved containment on the south end, resources were shifted to the east and north end Tuesday.
The Kootenai County Office of Emergency Management evacuation status remains the same for the Bunco (SET or Level 2) and Hayden Lake (READY or Level 1) areas.
The fire is believed to be caused by human activity, but is still be investigated.
Officials estimate the fire has burned about 4,293 acres and is 15% contained. There are 560 personnel assigned to the fire with 15 pieces of heavy equipment, 23 engines and 17 crews.
Buckskin 2 Fire
There hasn't been any growth on the Buckskin 2 Fire for several days with fire behavior on the interior smoldering, Brian Hicks, Type 3 incident commander with the Idaho Panhandle National Forests, said.
A fireline has been completed around the fire's perimeter with crews working to improve the direct line of the fire's west flank. A forest closure remains in effect in areas around active operations, Hicks said.
Located eight miles south of Clark Fork, the fire has burned an estimated 242 acres. There are 93 personnel assigned to the fire with one engine, several pieces of heavy equipment, three hand crews and two firefighter modules.
Air Quality
Air quality predictions for the week come with cloudy messages.
"Air quality is improving," said Dan Smith, regional airshed coordinator with the Idaho Department of Environmental Quality. "Having said that, we're in this weird place."
While rain Tuesday cleared some of the smoke, that isn't expected to last. Winds are currently southwest, but if those shift on Thursday, as they're expected to, the result could be more bad air, Smith said.
"If we start getting northwest winds we can expect the smoke from those British Columbia fires to make it down here," Smith said.
Air quality advisories were in effect Sunday and Monday for people in sensitive groups, so those with preexisting conditions like cardiovascular issues or lung sensitivities.
For today and Thursday the air quality alerts will be lifted, but they could return as the fires in Canada continue to burn.
"BC didn't get the same humidity," Smith said. "Even though everything got wet around here, it's still summer."
And it's still the middle of fire season. While the uncharacteristic tropical storm was helpful for a few days, it isn't the end of fire season.
"We got a little reprieve and that's about it," Smith said. "The little piddly amount of rain that we had is going to suppress the fires. It's not going to put them out. We're not out of the woods yet. You can expect spikes as bits of fire or things smoke up. Locally the fires may hit dry timber and smoke up pretty bad."
Wednesday should bring drier, breezy, sunny conditions, the incident meteorologist said in Tuesday's update on the fire. The extended forecast predicted gradual warming in the area.
The weather and air quality improvements have led the DEQ to lift the bans on burn piles in the panhandle where residents can burn fire pits. They still cannot burn fires or campfires in the forest areas or fire areas until further notice.
North Idaho's five counties — Bonner, Boundary, Kootenai, Shoshone and Benewah, remain within the Stage II Fire Restrictions area.
"Within our local fires, there are pockets of heavy fuels in there, that the outer part might be good and wet, but the inner part is dry," Smith said.
Those pockets could lead to thick smoke in the air with the rain before the fire is extinguished.
Road Closures
The U.S. Forest Service closed trails and roads in the Ridge Creek Fire area, and expanded Closures Monday, to protect first responders and firefighters and to limit traffic near the fire.
The closure includes Forest Service land in the area north of Forest Service Road 206, west of FSR 209 and FSR 385, and south of FSR 332.
Also included is Forest Service land surrounding and north of the Yellowbanks Creek area and west of FSR 1535.
All Forest Service Roads in that area will also be closed, including: FSRs 332, 385, 392, 428A, 437, 1507, 1511, 1530, 1552, 1587. FSR 206 north of the junction with FSR 406. FSR 406 north of the junction with FSR 206. Bunco Road/FSR 332 from National Forest boundary on the east to the junction of FSR 385. FSR 385 from junction with Bunco Road/FSR 332 south to the junction of FSR 209 and FSR 794. Trails: Forest Service Trails 69, 78, 234, 577, and 802.
The closures will be in effect until Sept. 30 unless they're rescinded before then.
For a digital version go to www.fs.usda.gov/alerts/ipnf/alerts-notices.
A violation of the above prohibitions is punishable as a Class B misdemeanor by a fine of not more than $5,000 for individuals and $10,000 for organizations, or by imprisonment for not more than six months, or both.
Recent Headlines
---