The Travelin' McCourys travel to Sandpoint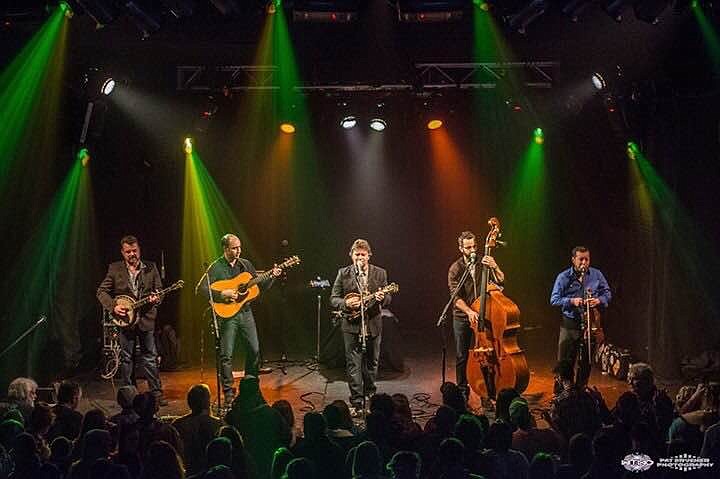 Courtesy photo from The Travelin' McCourys website
by
EVIE SEABERG
Staff Writer
|
August 24, 2023 1:00 AM
The Travelin' McCourys, a Grammy — winning bluegrass band from Tennessee, is visiting Sandpoint Friday for a performance at the Panida Theater.
The band's musical career took root when the McCoury brothers, Rob and Ronnie, started playing music with their father, Del McCoury. After many successful years with the Del McCoury band, new ideas about starting something fresh with the next generation were born.
"Several years ago, my father encouraged us to get our own band going," Rob McCoury said. "At the time, the Del McCoury Band was doing close to 100 shows per year."
Del McCoury, along with his band, is well known in the music industry for his influence on bluegrass music. He was once described as the "patriarch of bluegrass" by Rolling Stone magazine.
"He still tours a lot but wanted to back off a little," Rob said. "It was the perfect chance for us to tour as much as we want and build our own career outside of the Del McCoury Band."
As they unveiled their own unique sound and continued playing shows, the band eventually established themselves as The Travelin McCourys in 2009. Since then, they have been featured in Rolling Stones Magazine, performed at the Grand Ole Opry, and traveled the country performing at their own shows and at notable music festivals, including Delfest, a bluegrass festival founded by the McCourys' father.
With Rob on the banjo, Ronnie on the mandolin, Jason Carter on the fiddle, Alan Bartram on the bass, and Cody Kilby on guitar, the musicians discovered a recipe for award winning music.
The band has received many awards throughout their career, with each member being recognized individually for their talent on their instrument at least once by the International Bluegrass Music Association. In 2019, the band won a "best bluegrass album" Grammy for their eponymous debut album.
"You really never know how that process is going to shake out," Rob said. "Sometimes you get a big surprise, as we did. No one can ever take that away from you. We have won a few (Grammy awards) as the Del McCoury Band, but this was really special to win one as The Travelin' McCourys."
The Grammys marked a milestone in their career and unlocked new opportunities for the group.
"When you win an award like that, I think more people pay attention to what you're doing," he said. "And it helps you get better gigs, I'm sure."
The group has continued traveling ever since, only taking lengthy breaks around Christmas and New Year's. However, Rob said they are usually home a few days a week and rarely have to leave their homes in Nashville for more than a week or two at a time.
Many of the band's most popular songs are Bluegrass covers of songs from various genres, including their cover of Passenger's "Let Her Go", which has been streamed over 2,814,049 times on Spotify. They have also recorded original songs, including "The Shaker," "Crowhop," "Days I Wish I Had," "Freedom Blues" and "Travelin'."
Rob said the band is always "blown away" by the beauty in Idaho, and they are eagerly awaiting their performance in Sandpoint. The live show will begin at 7:30 p.m. Friday, with doors opening at 6:30 p.m.
Information and tickets: panida.org
Recent Headlines
---