Festival at Sandpoint honors volunteers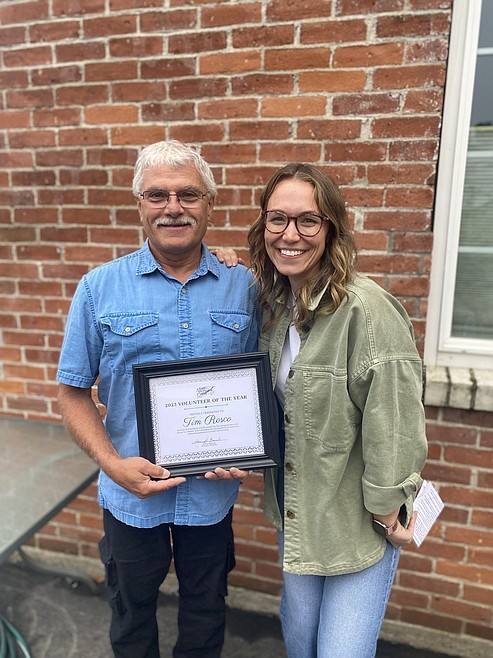 Festival at Sandpoint's Ali Baranski, right, honors Tim Rosco as the organization's 2023 Volunteer of the Year.
(Courtesy photo)
|
August 25, 2023 1:00 AM
The Festival at Sandpoint celebrated its 2023 volunteers at a special appreciation event Tuesday, and named Tim Rosco as the 2023 Volunteer of the Year.
Rosco has volunteered for the Festival at Sandpoint since 2009, for a total of 15 years with the nonprofit organization. Rosco is the front gate co-chair alongside Kelly Whitman and helps oversee and manage one of the largest departments, with upward of 60 volunteers working each night.
"Tim has dealt with several changes over the years, including navigating a new ticketing platform in 2022 and a new volunteer management software this year, where he took the lead in scheduling all of the front gate volunteers every night," Ali Baranski, Festival at Sandpoint executive director, said.
The front gate is not only one of the largest and most important departments of the venue but it is also the guests first introduction to the Festival at Sandpoint experience.
"While overseeing and training hundreds of volunteers and managing five different gates, Tim always remains positive, respectful and is dedicated to giving not only guests a great experience, but also his fellow volunteers and Festival staff," Baranski said.
Festival at Sandpoint thanked Rosco for his tireless efforts, thoughtfulness, dependability and selflessness throughout the years.
"With it being our second year, selecting one volunteer to honor as volunteer of the year, which is no easy task," Baranski said. "This year we took into consideration the nominations from all of our 2023 volunteers and there were were a lot of contenders, a lot of years dedicated, and time given back to this organization, and we felt so lucky and honored to consider so many standouts."
During the Festival at Sandpoint's 2023 summer concert series, over 600 volunteers donated over 10,000 hours of their time over the course of eight days.
These hours do not even begin to include the hours spent preparing for the annual event that are put in by 14 volunteer chairpersons who run entire departments of the venue operations and are experts in their areas, Baranski said.
Festival officials thanked the volunteers and supervisors for their support and generosity.
The Festival at Sandpoint's 2023 volunteer chairpersons included: chair rental chair, Jennifer Carter; Festival Street chair, Adia Burton; first aid chair, Sharon Bistodeau; front gate co-chairs, Kelly Whitman and Tim Rosco; green team chair, Jon Knepper; information chair, Jim Hughes; IT chair, Justin Landis; merchandise chair, Mary Ann Hamilton; security chair, Jay Dudley; Taste of the Stars chair, Melinda Offer; transportation chair, Frank Cafferty; and volunteer gate co-chairs, Caroline Hawkins and Connie Rosco.
For information on volunteering, go online to festivalatsandpoint.com/opportunities.
The Festival at Sandpoint is a non-profit organization that hosts an annual summer performance series in Sandpoint, that features a variety of genres, including rock, jazz, country, folk, indie, and more. The Festival at Sandpoint's 41st annual 2024 Summer Performance Series will take place July 25 through Aug. 4, 2024, at War Memorial Field, an intimate venue on the shores of Lake Pend Oreille.
Information: festivalatsandpoint.com
Recent Headlines
---