Jacob's Ladder sports legendary name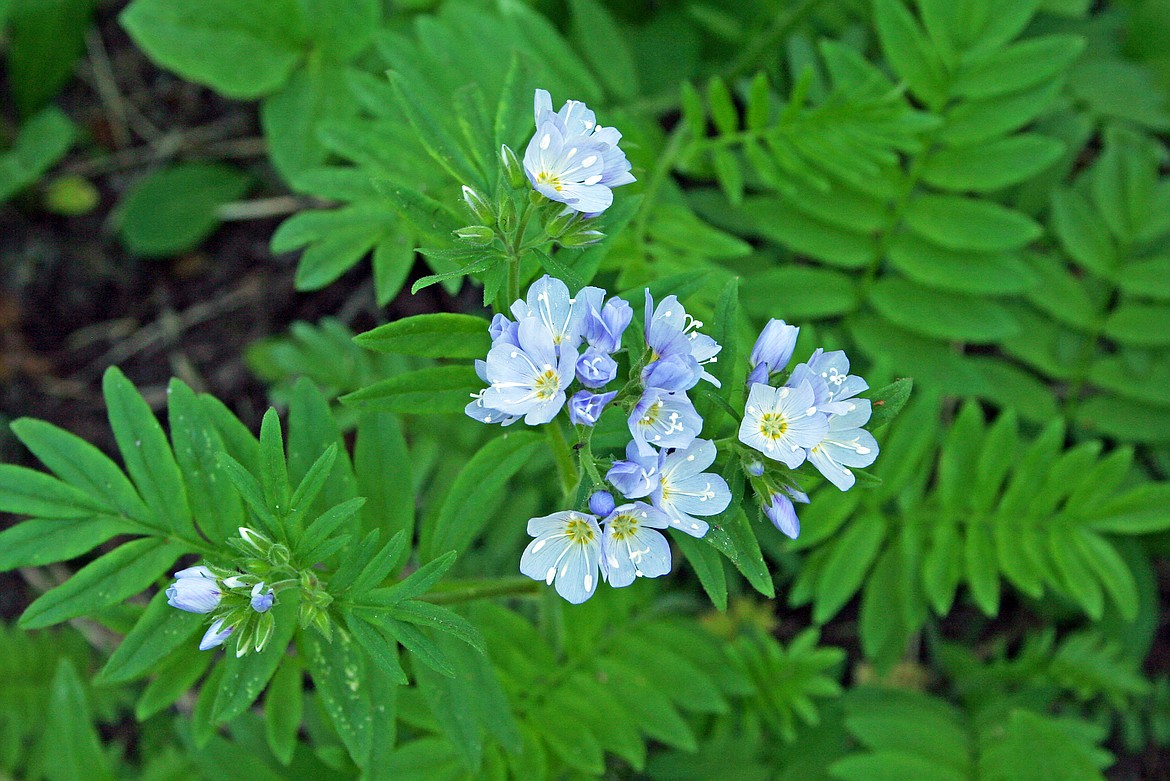 Jacob's Ladder blossoms attract bees, butterflies, and moths and make an attractive addition to a pollinator garden.
(Photo courtesy KINNIKINNICK NATIVE PLANT SOCIETY)
A low-growing, hardy perennial, Jacob's Ladder (Polemonium pulcherrimum), sports a legendary name. The genus name, Polemonium, derives from "polemos," which means "war" in Greek. According to Roman soldier, statesman, and naturalist, Pliny the Elder (AD 23-79), the plant was named "polemonia" in honor of two kings who went to war, each claiming to have first discovered its medicinal value.
The common name Jacob's Ladder is equally historic. Inspired by the opposite arrangement of leaflets along a central stem somewhat resembling a ladder and the sky-blue flowers, an early botanist with a fertile imagination was reminded of the ladder reaching toward heaven seen in the biblical Jacob's dream.
Jacob's Ladder is common in North America west of the Rocky Mountains, from Alaska and the Yukon to the desert Southwest. It is found in a variety of mountain habitats and is especially showy on alpine talus slopes and in rock crevices.
A summer bloomer, this member of the Phlox family varies from six to 18 inches in height and spread. Leaves are mainly basal and can be hairy, especially when young. The rich green, opposite leaflets are egg-shaped to rounded. When the foliage is crushed, its skunk-like smell gives rise to another common name, skunk-leaved polemonium.
Four to five bell-shaped flowers appear in clusters on short stalks above the leaves in early summer. Like many Phlox family members, color can vary from deep purple-blue to nearly white, but always with a yellow center. Flowers have five petals, five stamens with white anthers that stand out, and a three-part style that reaches beyond the stamens. When fertilized, a brown, three-chambered capsule develops with seeds.
While Jacob's Ladder is no longer used as a medicinal plant, it is astringent and can induce sweating. Harvested in summer and dried for later use, it was thought to be a remedy for fevers, inflammation, headaches, and epilepsy, among other ailments.
In the garden, Jacob's Ladder prefers cool sun to light shade. It needs some moisture throughout the growing season but doesn't like soggy ground. It's best on slopes, in rock gardens, and in areas with good drainage. It is somewhat drought-tolerant after it is well-established, and it is deer-resistant. Jacob's Ladder blossoms attract bees, butterflies, and moths and make an attractive addition to a pollinator garden.
Pictures and a description of Jacob's Ladder are found on page 162 of "Landscaping with Native Plants in the Idaho Panhandle", a KNPS publication available at local bookstores and the Bonner County History Museum. Additional native plants can be viewed at the North Idaho Native Plant Arboretum, 611 S. Ella Ave., in Sandpoint.
Native Plant Notes are created by the Kinnikinnick Native Plant Society. To learn more about KNPS and the North Idaho Native Plant Arboretum, visit nativeplantsociety.org.
Recent Headlines
---