Tomatoes are finally ripe: Ways to enjoy them!
I recently noted that while tomatoes were rampant on supermarkets' produce counters, they were not ripe here in our area, and when that time came, I would provide some recipes suitable to their wonderfulness (my own word).
With tomato season in full splendor, all one has to do is head out to the garden or hit the farmers' markets for luscious, ripe tomatoes of every ilk — grape, cherry, sensuous yellow pear, classic round red varieties, and big, beat-up-looking but delicious old heirlooms in red, yellow, and even burgundy.
Don't let the cracks and spots deter you from enjoying the big beauties; as with apples, those weather spots prove that these priceless orbs are field-grown locally and contain elegant flavors and textures within their weathered facade.
Our illustration features some of the heirlooms in a fabulous Mediterranean salad that's to die for! Here's the recipe.
Heirloom Tomato Salad
8 1/2-inch-thick slices crusty bread
4 large garlic cloves, finely minced
3 tablespoons plus 1/3 cup extra-virgin olive oil
1 cup currant or grape tomatoes OR halved cherry or pear tomatoes
1/2 cup chopped green onions with tops
10 medium heirloom tomatoes of assorted colors and varieties, cored, trimmed where necessary, and sliced medium-thin
1 small red onion, sliced paper thin
3 celery stalks, sliced thinly, diagonally
1 1/2 cups coarsely crumbled blue cheese
Mix minced garlic into the olive oil; measure out 3 tablespoons and set aside. Combine the remaining 1/3 cup oil with the currant/
grape tomatoes or halved small tomatoes and the green onions in a medium bowl.
Toss to coat, and season with salt and pepper. Set aside.
Overlap large tomato slices onto a large platter in a pleasing design, alternating colors. Scatter the red onion and celery slices evenly over all. Sprinkle lightly with salt and pepper.
Spoon the mixture of small tomatoes, oil, and green onion over the top of the tomato slices; sprinkle with crumbled blue cheese. Lightly toast bread slices until golden in a wide-slice toaster or on a boiler pan in the oven.
Brush the 3 tablespoons of oil/garlic over one side of each slice, cut on the diagonal, and arrange around the edges of the platter.
Serve as an accompaniment to a simple entree, such as sauteed shrimp or chicken strips, or as a salad course.
Small tomatoes of any variety, whole or halved, join with olives and feta as a topping for sauteed chicken breasts in this delectable dish. Serve with grilled zucchini and oven-baked small potatoes for a great Greek-style dinner.
Sauteed Chicken with Tomatoes and Olives
6 skinless boneless chicken breast halves, trimmed and pounded to 1/3-inch thickness
1/2 cup plus 2 tablespoons olive oil
1/3 cup fresh lemon juice
8 teaspoons chopped fresh cilantro and sweet marjoram or basil
2 garlic cloves, finely minced
Topping:
30 pitted Kalamata olives, sliced lengthwise into slivers
About 16 grape or tiny red or yellow tomatoes, stemmed, quartered
1/2 cup crumbled feta cheese
Place chicken breasts in a large glass baking dish. Mix 1/2 cup olive oil, lemon juice, 6 teaspoons of the herbs, and garlic in a small bowl.
Season with salt and pepper; remove 3 tablespoons to set aside for the tomatoes. Pour the remaining dressing over the chicken, turning to cover.
Refrigerate for at least three hours, turning occasionally.
Shortly before dinner time, toss olives, tomatoes, feta, the remaining 2 teaspoons of herbs, and the reserved dressing in a medium bowl, leaving at room temperature.
Heat the remaining 2 tablespoons of oil in a heavy, large skillet over medium-high heat; drain the chicken and place in the pan to sauté until cooked through, about 3 minutes per side.
Transfer to a platter, season to taste with salt and pepper, and spoon the tomato-olive-feta mixture evenly over top. Heavenly!
Our final recipe can also serve as a main dish.
Baked Tomato Salad w/Gorgonzola
(for two)
4 large fresh basil leaves
1 small garlic clove, minced
1 1/2 tablespoons extra-virgin olive oil
1 1/2 teaspoons balsamic vinegar
3 large ripe plum tomatoes, halved lengthwise (Roma are best, 3/4 pound total)
1/2 cup crumbled Gorgonzola cheese
10 leaves mixed Belgian endive, radicchio, Napa cabbage, shredded crosswise
Salt and pepper, to taste
Preheat the oven to 400 degrees. Finely chop basil leaves and stir together with garlic, oil, vinegar, and salt and pepper to taste in a large bowl. Add tomatoes and toss to coat.
Arrange the tomatoes, cut-side up, on a 9-inch pie plate and sprinkle with the cheese. Bake in the middle of the oven until the cheese is melted, about 5 minutes. Turn off the oven and leave the tomatoes in a dish while preparing the salad.
Thinly slice the remaining basil leaves and add them to the reserved dressing.
Add salad greens, salt and pepper, and toss well. Arrange on individual plates or a large serving platter.
Divide the tomatoes atop the salad and serve immediately with crusty bread to mop up the good juices.
Ready for some dessert? You can't go wrong with either of these delicious treats.
Huckleberry or Blackberry Dessert
3 C berries
2 tablespoons cornstarch
3/4 C sugar (half brown)
1/2 teaspoon salt
2/3 C water
1 tablespoon butter
1 tablespoon lemon zest
1/2 pint whipping cream, whipped with 1 T sugar
Mix 2 cups of berries with cornstarch, salt, and sugar in a medium saucepan. Add 2/3 cup water; mix well. Bring to a boil, stirring constantly, and cook until thickened. Remove from heat, allow to cool slightly, and stir in butter. Cool 15 minutes longer, then fold in the remaining fresh berries.
Cool for one hour at room temperature, then chill. At serving time, whip cream, stirring in lemon zest. Dollop fruit into dessert bowls and top with whipped cream, or stir fruit into the cream and serve. One would never think of serving melon with whipped cream, but coconut milk is a different matter.
Try this exotic combination!
Honeydew Melon in Coconut Milk
1 13- to 14-ounce can unsweetened coconut milk, well stirred 
3 tablespoons sugar
1 1/2 teaspoons fresh lime juice, or to taste
1 large honeydew melon (5 pounds), chilled
Stir together coconut milk, sugar and lime juice in a small metal bowl until sugar is dissolved, then quick-chill in a larger bowl of ice and cold water, stirring occasionally, about 6 minutes. Halve and seed melon, and scoop into balls (or dice). Divide among 8 serving dishes then pour coconut milk over top. Serve immediately. 
Garnish with lime slices, and pass the nutmeg grater for those who might like it.
(Editor's note: For many years, Valle Novak has written gardening and cooking columns for the Daily Bee. "Weekend Gardener" and "Country Chef" became renowned for their humor, information, and common-sense advice on how to do everything from planting to cooking. She left behind many columns to delight her many fans. This is one such column, originally published on Sept. 21, 2008.)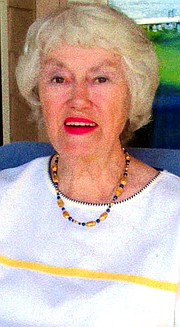 Recent Headlines
---