Congressional candidate visits Sandpoint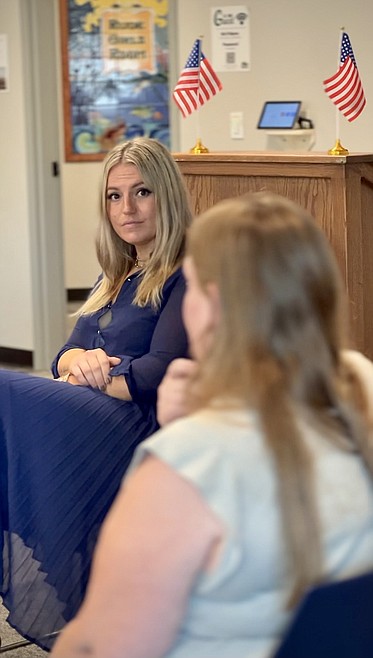 U.S. Congressional candidate Kaylee Peterson listens to a question from a voter at her Republican town hall held Wednesday, August 16 at the Sandpoint library.
Photo courtesy KAYLEE PETERSON CAMPAIGN
by
MAX OSWALD
Sports Reporter
|
August 29, 2023 1:00 AM
SANDPOINT — Kaylee Peterson, who is running against Russ Fulcher for Idaho's first congressional district seat, hosted a "Republican Town Hall" Aug. 16 at the Sandpoint library where she encouraged those on all sides of the political spectrum to ask her the hard questions.
Peterson is the first political candidate to visit Sandpoint during the 2024 election cycle, and she said she will be back plenty of times before the final ballots are cast. Last year, Peterson only had five months to run her campaign, but this year she is out in front, having already traveled over 8,000 miles throughout the district. She has made stops for her 'Republican Town Hall Tour' in Bonner, Kootenai, Latah, Lewis, Shoshone, Washington, and Payette counties.
Peterson, who is running for the Democratic nomination, said she is an alternative for those who have been forgotten by Idaho's career politicians, particularly Russ Fulcher. She has continually encouraged potential voters to look past the "R" or "D" behind a candidate's name and start focusing on real issues and solutions that matter to everyday Idahoans.
"What I've learned in Idaho is that every single person I talk to who uses the word, Republican, defines it differently," Peterson said. "I know that if I were to go out and say 'Republicans did this or the Republicans did that'... what I'm really saying to 80 percent of my constituents is that they're the enemy, when that is not the case at all. It's usually elite and wealthy individuals at the top of the political spectrum that are creating an echo chamber and trying to define what Republican means in the state of Idaho."
Peterson said she remembers when they tried to close the wall on the Republican primary, and Branden Durst came out and said, "you don't want a member from a rival football team playing for your team."
"Who is Branden Durst to say that my 86-year-old Republican grandfather is not Republican enough? You know, there's not one way that everyone defines the party," Peterson said.
Beyond the terms Republican or Democrat, Peterson did answer some hard-hitting questions last Wednesday. Peterson answered questions relating to the state of Idaho's education system, drug felonies, unions, taxes such as Idaho's grocery tax, foreign policy issues such as the Russo-Ukrainian war, farming and price-gouging in Idaho, the fact that Bonner and Boundary counties no longer have labor and delivery departments, and more.
Peterson said she is concerned about the state's education system, adding she has heard from high school students about schools in poor physical condition, which saddens her. Peterson said students have told her about dangerous pipes and heaters in need of repair, tarps hanging from school ceilings, crumbling walls, and having to learn in hallways and teachers lounges.
"I've been in local politics for a year and five months, and I know this. Russ Fulcher has been in Idaho politics for 30 years making money off the taxpayers and special interests. Where is he?," Peterson said.
In relation to an issue that hits close to home, Peterson said that hearing the news about Bonner and Boundary County hospitals closing their labor and delivery departments is devastating.
"I've never once met a Republican who has said they wish Russ Fulcher should know what is happening in my doctor's office," Peterson said. "I'm thankful that we have neighboring states like Washington and Oregon with leaders who are trying to step up and cover what Russ Fulcher, Jim Risch, and Mike Crapo, and our local representatives are failing to cover."
Peterson said she is running because America is at a crossroads. She believes politics is broken and its institutions of government are divided and dysfunctional. Peterson believes it is important to act now and change direction in order to preserve the country's freedoms, voting rights and democracy. She said she will be a voice for reason, collaboration, bipartisanship and principled compromise.
Peterson is expected to visit Coeur d'Alene again to address more voters in the near future.
"Kaylee's campaign is all about meeting Idahoans where they are at. To us, that means driving up and down the district meeting with folks on both sides of the aisle who deserve to be heard… Kaylee is a sixth-generation Idahoan who believes in better, and she's doing the necessary work to make that a reality," Bijan Nekoie, a Peterson campaign staffer said.
In the 2022 congressional race, Peterson received 26.2% of the vote, about 45 points behind incumbent Russ Fulcher.
Information: kayleeforcongress.com
Recent Headlines
---