LPOIC works to improve Kokanee spawning habitats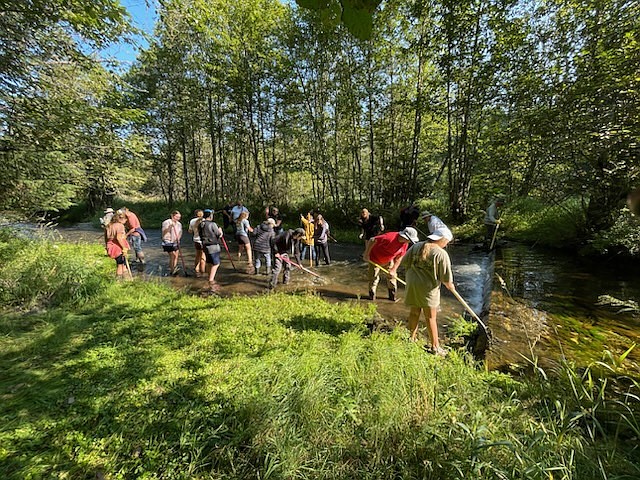 Volunteers worked tirelessly Saturday morning to clear Sullivan Springs.
Courtesy photo
by
LAUREN REICHENBACH
Staff Writer
|
August 31, 2023 1:00 AM
The Lake Pend Oreille Idaho Club has volunteered to help Idaho Fish and Game for over a decade with projects to improve the Kokanee spawning habitat at and around Sullivan Springs, located on the southeastern side of Lake Pend Oreille.
Volunteers from both LPOIC as well as the Sandpoint Church of Latter-day Saints youth group were out in the water again last weekend to clear debris from the springs.
"With garden rakes in hand and braving cold spring water, volunteers raked the gravel to clear sediment from spawning beds along a quarter-mile stretch of the tributary of Granite Creek that flows into Lake Pend Oreille," said LPOIC member Christine Sandahl.
Crews were boated across the lake at roughly 8:30 a.m. Saturday, and they worked diligently until 11:30 a.m., when they stopped for lunch. Sandahl said the team they had this year was full of hard workers, which made the day very successful.
"Many hands make light work," she said. "Rakes knocked loose sediment and water plants from the spawning area, leaving it ready for Kokanee to spawn in late October. Maintaining Sullivan Springs for Kokanee spawning is just one of the ways the IDFG helps support the population of Kokanee. Too much sediment decreases their spawning success."
Idaho Fish and Game have been working to maintain Sullivan Springs since 2014 to continuously improve Kokanee spawning habitats around the lake. Kokanee are the main source of food for the native bull and rainbow trout in Lake Pend Oreille, Sandahl said, which makes maintaining their numbers in the lake essential.
"Because the fishery is spring fed — not spring as in season — there isn't a flooding season to help move around the sediment," said Idaho Fish and Game public information specialist Connor Liess. "Without intervention, the spring channel would become compacted and not ideal for spawning habitat."
Liess said Fish and Game is thankful for their partnership with Avista Utilities, who sponsors the work at Sullivan Springs.
"The [LDS] youth group plans to make this event one of their yearly community service projects," Sandahl added. "It is great to have teenagers involved with IDFG and the LPOIC. Young and old enjoyed the physical work and the great conversation we made on our way down stream."
Recent Headlines
---