Local fire crews set sights on Seattle stairclimb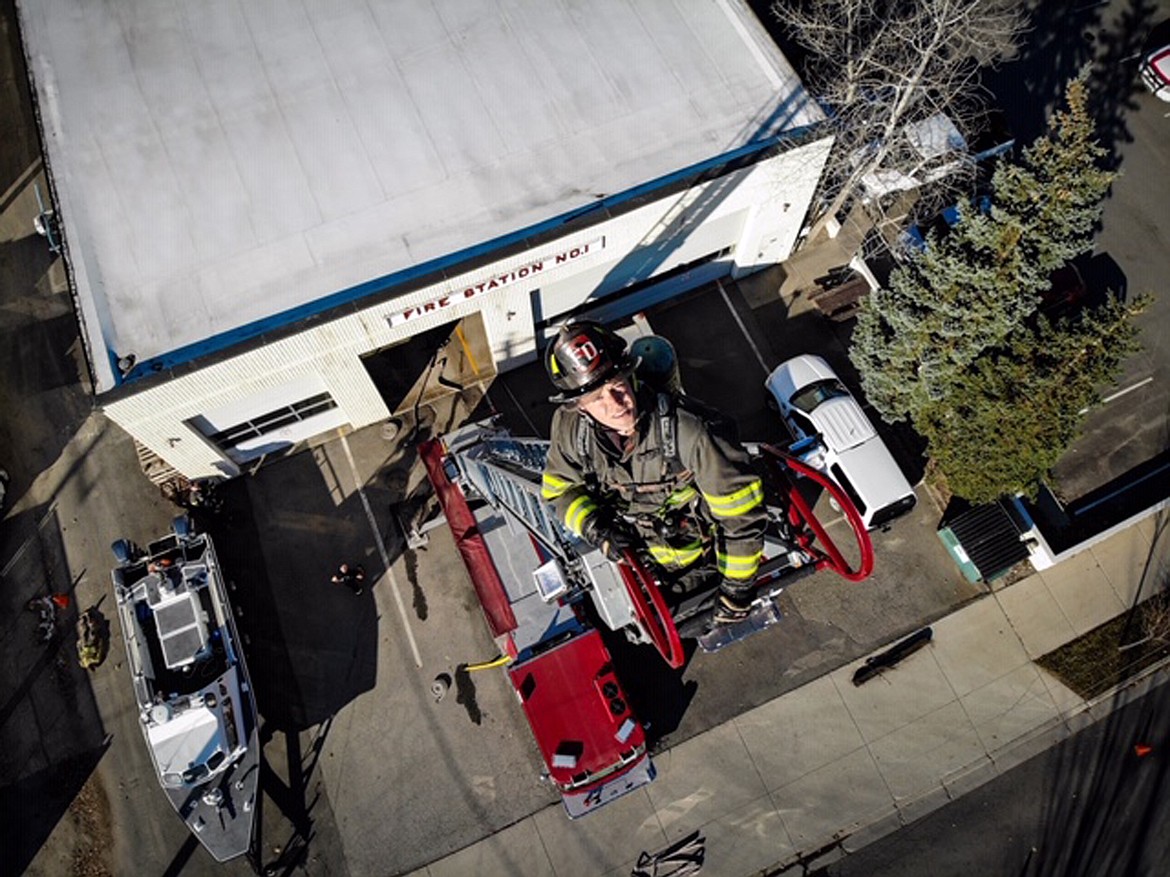 Selkirk Fire Rescue and EMS firefighters will be taking part in next month's annual Scott Firefighter Stairclimb in Seattle. Ten firefighters from Selkirk and Northside are taking part in the event which raises money for the Leukemia and Lymphoma Society.
(Photo courtesy GWEN LE TUTOUR/SELKIRK FIRE)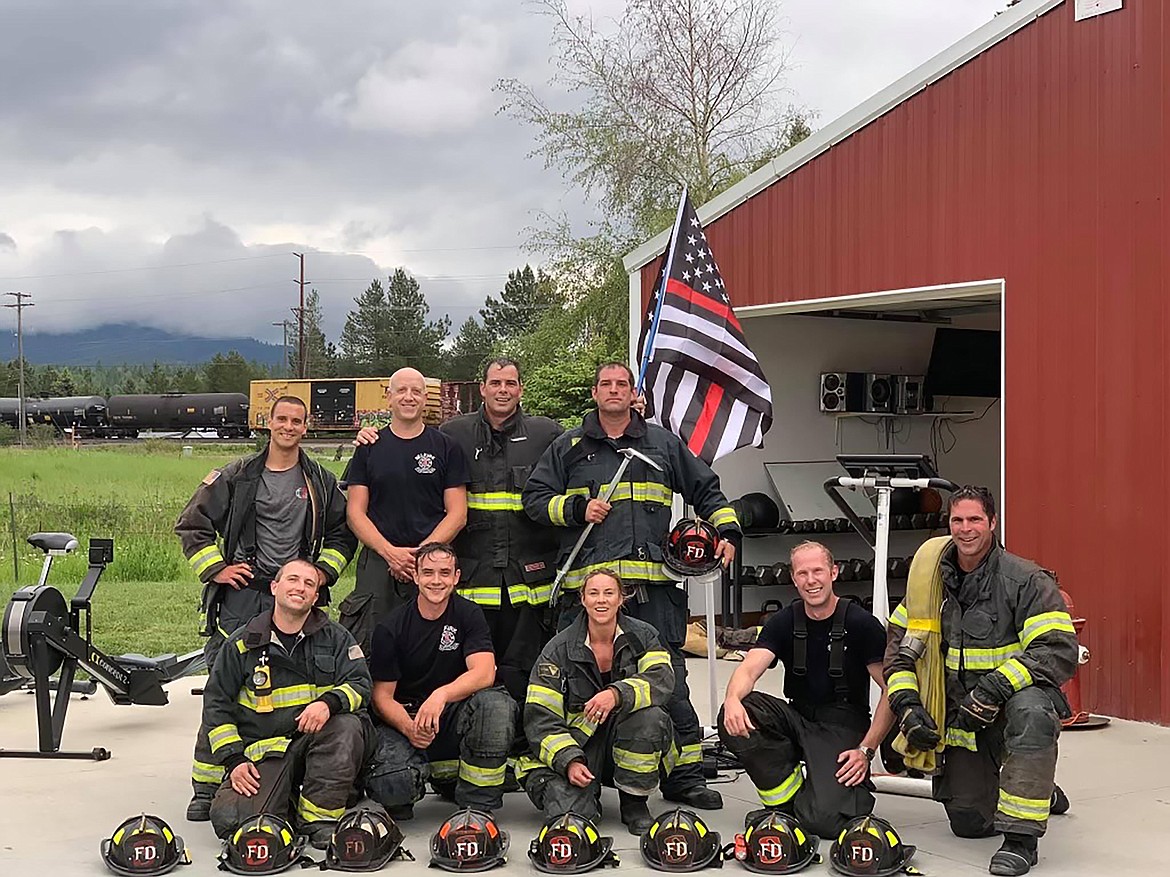 Members of Selkirk Fire's stairclimbing team pose for a photo.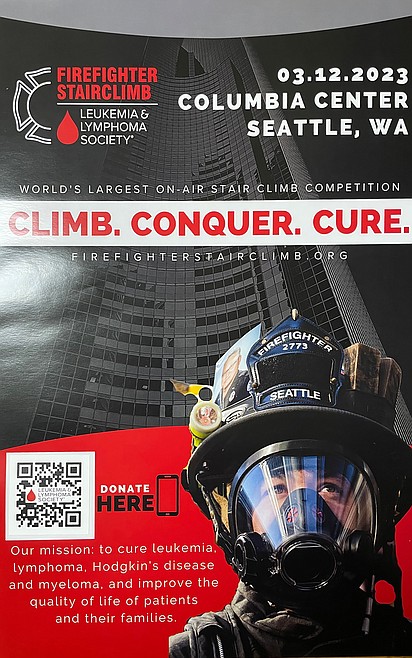 Members of the Northside and Selkirk fire departments will be taking part in the Scott Firefighter Stairclimb will be held March 12.
Previous
Next
SANDPOINT — Climb as fast as you can.
Conquer Seattle's Columbia Center.
Cure leukemia and other blood cancers.
In a nutshell, everything you need to know about Selkirk Fire, Rescue and EMS firefighters and their participation in the annual Scott Firefighter Stairclimb is right there in its slogan: Climb. Conquer. Cure.
To help raise funds to participate in the annual fundraiser for the Leukemia and Lymphoma Society as part of an effort to cure blood cancers, members of the Selkirk and Northside fire departments will be working out on stairclimbers at several area grocery stores this weekend. The teams will be at Super 1 Foods in Sandpoint and Walmart in Ponderay from 11 a.m. to 4 p.m.
The Selkirk team is made up of Tenielle Toussaint, Allo Pucci, Clint Frank, Solan Wolf, Nick Krom, Blake Beard, Tyler Antilla, Tim Coles, Jeff Littlefield, Aubrey Stevens and Amos Crossingham.
The Northside team is comprised of Conor Robinson, Lucas Bloxom, Wes Weeks and Tanner Wright.
"The two departments work hand in hand on all large-scale emergency calls, so it is great to see both departments in Seattle raising money for leukemia and lymphoma," Clint Frank, a member of the Selkirk team, said. "Also the fact that we have 16 climbers from the area participating is a solid turnout for a smaller community."
Frank said it speaks volumes to the amount of training and PT that local crews put in to be ready for a climb of this magnitude — and more importantly 911 calls for service.
"On Feb. 11, teammates will be climbing a stairclimb machine on air to get ready for Seattle climb," Frank said. "We would love to see the support of the community."
This year's Scott Firefighter Stairclimb will be held on March 12.
Each year, local firefighters wearing more than 60 pounds of turnout gear join firefighters from around the world to take on the 69 flights of stairs, 1,356 steps and 788 feet of elevation of the Seattle building.
The annual stairclimb raises funds for the Leukemia and Lymphoma Society in an effort to find a cure for those battling blood cancer.
"It's become kind of a thing in the fire department and everyone kind of wants to get on the team and be a part of the fundraising cause," Frank said. "It really keeps the guys accountable year-round because it is a brutal climb."
To raise funds, team members will be taking to stairclimbing machines at both Walmart and Super 1 in full gear and are inviting the community to come down, talk to the firefighters about their mission and donate a little money to help fight blood cancer.
"Folks can come down to the event, talk to the firefighters, learn about how they've been preparing," Frank said.
In March 2019, the event featured more than 2,000 firefighters from around the world who raised a record $2.9 million for LLS.
In the past, a Selkirk firefighter, Gwen Le Tutor, has made it into the top 25, with Frank not too far behind, making it just outside of the top 50 firefighters. Overall, the Selkirk team has finished in the top 25 out of about 110-120 teams taking part in the event.
In addition to the weight and other physical challenges, the firefighters are also on air with their self-contained breathing apparatus as they make their way to the acclaimed observation deck at the top of the tower. The Scott Firefighter Stairclimb is the world's largest on-air stair-climbing competition, according to the event website. The money raised through sponsorships, individual and department fundraising, and entry fees directly supports the mission of LLS. Each participant is required to raise a minimum of $300, and the event has raised more than $20 million over the years.
While the event is fun and serves as a motivation to stay in shape, Frank said what it comes down to, though, is the stairclimb is always about one thing — raising money for the Leukemia and Lymphoma Society to find a cure for blood cancer.
Completing the climb is a physical challenge, but it is also symbolic of the strenuous journey that all cancer patients endure, according to the event website. As firefighters race to the top of the tower, they keep in mind that every step forward is representative of moving toward finding a cure for those battling blood cancer.
Donations can also be made online through Selkirk's team page at http://bit.ly/2ttx4sX. The link to the donation page can also be found on Selkirk's website at selkirkfire.com.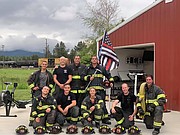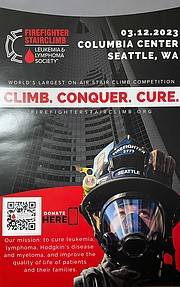 Recent Headlines
---