ISP: Fentanyl toll 'scary'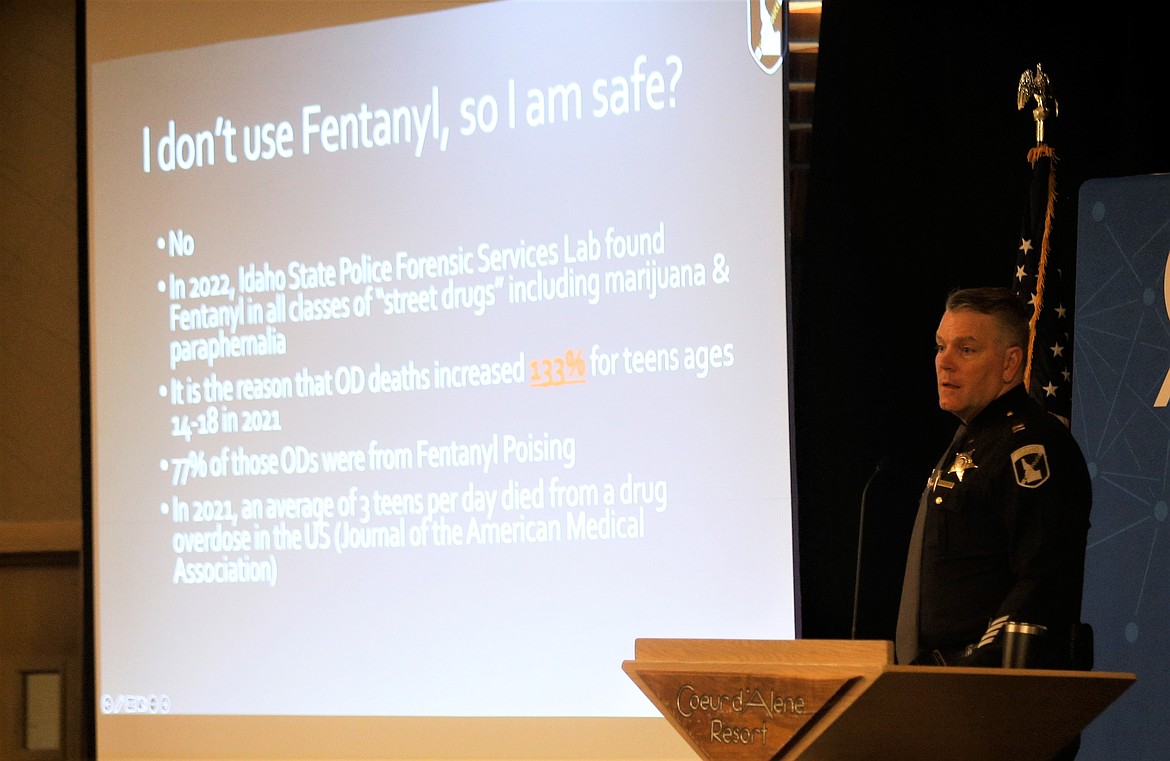 Idaho State Police Capt. John Kempf speaks before the Coeur d'Alene Regional Chamber at The Coeur d'Alene Resort on Tuesday.
BILL BULEY/Press
by
BILL BULEY
Hagadone News Network
|
February 15, 2023 1:00 AM
COEUR d'ALENE — Idaho State Police troopers are seizing between 1,000 to 2,000 fentanyl pills each week.
"That's just traffic stops," said ISP District 1 Capt. John Kempf.
Last week, in Idaho Falls, a traffic stop turned up 40,000 fentanyl-laced pills.
Such stops are all too common.
"We see them almost every day," Kempf said Tuesday morning at the Coeur d'Alene Regional Chamber's Upbeat Breakfast.
When Kempf said there have been 550 fentanyl overdoses and 20 deaths in Idaho since Jan. 1, the crowd gasped.
"That's how pervasive this problem is," he said to about 100 people at The Coeur d'Alene Resort.
Fentanyl is a synthetic opioid that's far more powerful than morphine.
The pills can resemble prescription narcotics like Oxycontin, but are counterfeit and often lethal.
In North Idaho in 2022, there were at least 42 overdose deaths, with 24 directly related to fentanyl, Kempf said.
"This is something that has a direct effect on all of us and our community," he said.
He said North Idaho began seeing a huge uptick in the amount of fentanyl available on the streets in 2013 and saw a corresponding spike in overdose deaths.
Kempf said they have seen more than a 100% increase in overdoses in the 14-18 age group.
Fentanyl poisoning is a leading cause of death in the 18 to 45 age group, "which is just unbelievable," Kempf said.
He said there were about 110,000 overdose deaths in the U.S. in 2021, and that number is expected to rise in 2022 when totals are finalized.
A 16-year-old Lake City High student died from a fentanyl overdose over Thanksgiving break.
Kempf said twice as many people are lost to drug overdoses than to car crashes, and three times as many than to homicides.
"It's scary," Kempf said.
He said one of the insidious things about fentanyl is that it is manufactured in the jungles of Mexico, with no oversight, resulting in about one in five pills having a fatal dose.
It is smuggled across the border and has gotten cheaper. It can be had for as little as $1.50 a pill.
Most who die of fentanyl obtained it through sources found on social media, Kempf said.
Teens from Washington drive to Tucson, Ariz., to pick up fentanyl pills at the border.
He said local law enforcement is doing all it can, including a drug enforcement agency task force and education outreach, such as the Fentanyl Education Project.
But now it's an uphill battle.
"We'll do anything we can to get in front of people to talk about this," Kempf said.
Brandi Clark is the manager of the Idaho Law Enforcement Diversion with the Idaho Department of Health and Welfare. She briefly outlined the program, which provides resources to addicts who want to stop using drugs.
When asked why people use drugs, her answer was simple.
"To feel good or to not feel bad," she said.
It starts with parties and fun and can quickly escalate "to the point where you feel like you need that drug."
She said the law enforcement diversion program is at least part of the answer in Kootenai County.
"We want to reach those people who are struggling with overdoses," she said.
Recent Headlines
---