Film fest aids coral reef restoration trip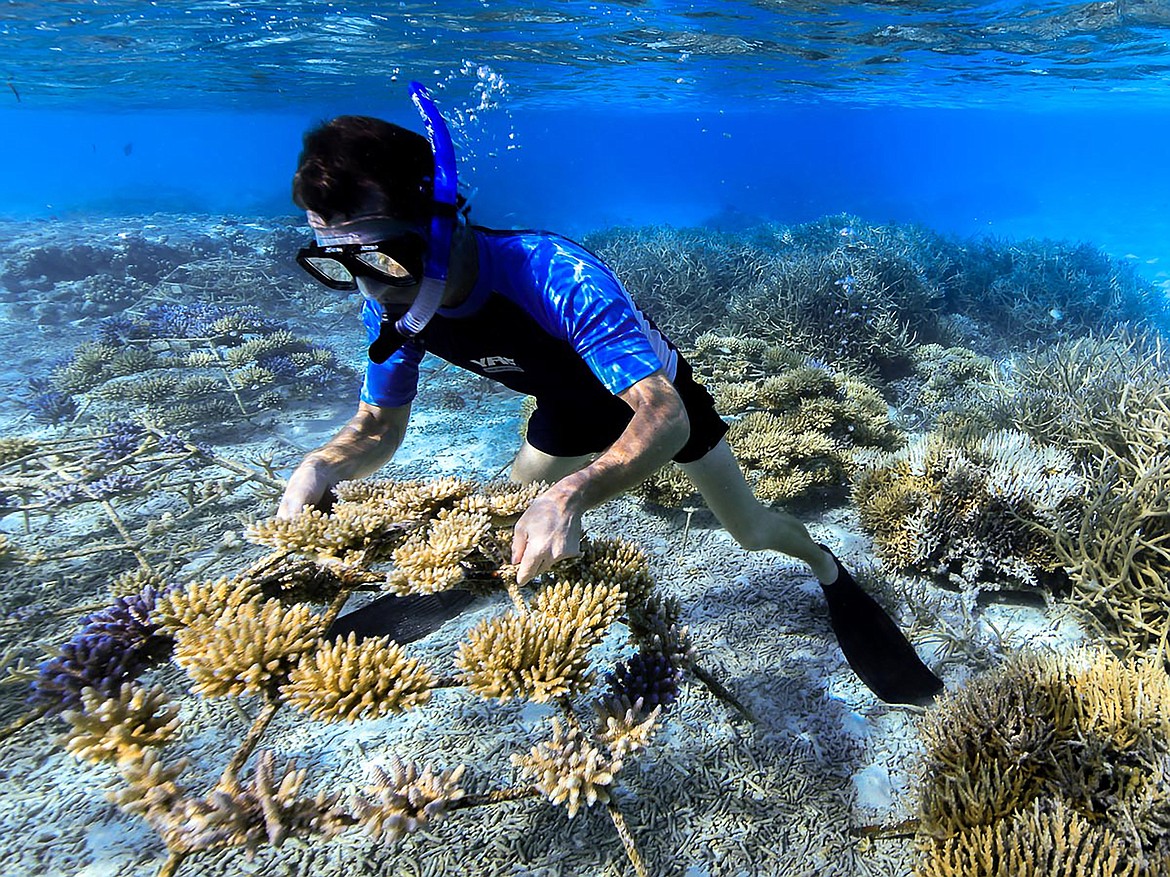 This summer, a group of 20 local students will head to the Dominican Republic with teacher, botanist, and environmentalist John Hastings for coral reef mitigation. Some funding will be raised at the International Wildlife Film Festival on February 24 at 7 p.m. at the Heartwood Center.
(Courtesy photo)
The oceans provide 70 percent of our oxygen. Oxygen gives us life. Therefore, it's crucial that life in the ocean is conserved. And one of those extremely important conservation efforts is the reconstruction and preservation of coral reefs.
This summer, retired teacher, environmentalist, and botanist John Hastings will lead a group of local students to the Dominican Republic to work on a reef restoration project. For Hastings, this fulfills a dream that started five years ago in his Advanced Placement environmental science class at Sandpoint High School.
After watching a film called "Chasing Coral" the class was motivated to do something hands-on, and a trip was planned. Hastings traveled with other teachers to lay the groundwork, but then the pandemic hit, and that trip was canceled.
As COVID restrictions eased, Hastings traveled last summer with a group of 10 Sandpoint area students to Belize. While they had the opportunity to snorkel on the world's second largest barrier reef, no actual restoration work was completed. They were, however, able to enjoy working with local sustainable farmers to plant indigenous fruit trees and learn about the country's culture and natural history.
However, the call to go to the Dominican Republic to work on the coral reef continued to ring in Hasting's ear. This summer's eight-day trip will include 20 students.
"We will be working with local non-government organizations on reef restoration and mangrove reforestation projects," Hastings said. "We will be building reef structures, cleaning existing reef structures (by snorkel or scuba), attaching new coral fragments to reef structures, installing oyster beds, and removing ocean debris."
In order to fund the trip, Hastings contacted the International Wildlife Film Festival out of Missoula. Being held on Friday, February 24 at 7 p.m. at the Heartwood Center, these eight films will feature bighorn sheep, wolverines, porcupines, monarch butterflies and among other titles, of course, coral reefs. Admission is by donation, but $20 is suggested. Tickets are available at All Seasons Garden Center and at the door, which opens at 6:15 p.m. Donations can also be dropped off at All Seasons Garden Center.
"When International Wildlife Film Festival learned we were hosting the films as a fundraiser for our service trip to the DR, they waived all tour fees because they liked what we were doing," Hastings said.
Hastings encouraged filmgoers to come early as there will be "fantastic silent auction items" including landscape services, Lake Pend Oreille sailing, custom painted "reef" cornhole boards, gift certificates, gift baskets and more.
"One of the things I like most about this service trip is that these are very small organizations we will be working with," Hastings said regarding this summer's trip. "They really need the help. I am in almost daily contact with them, and they are so excited to get a group like ours to come and help them with their mission. Additionally, we will be bringing our snorkeling gear with us, and then donating to them when we leave so they can continue to work with other groups including local schools,"
He also said that this trip, although primarily about working the coral reefs, will immerse the students in Dominican culture. They'll take dance classes, cooking classes and tour a sustainable agriculture farm and visit museums. "We'll do a bunch of fun stuff, too!"
Recent Headlines
---