Annual festival celebrates winter, community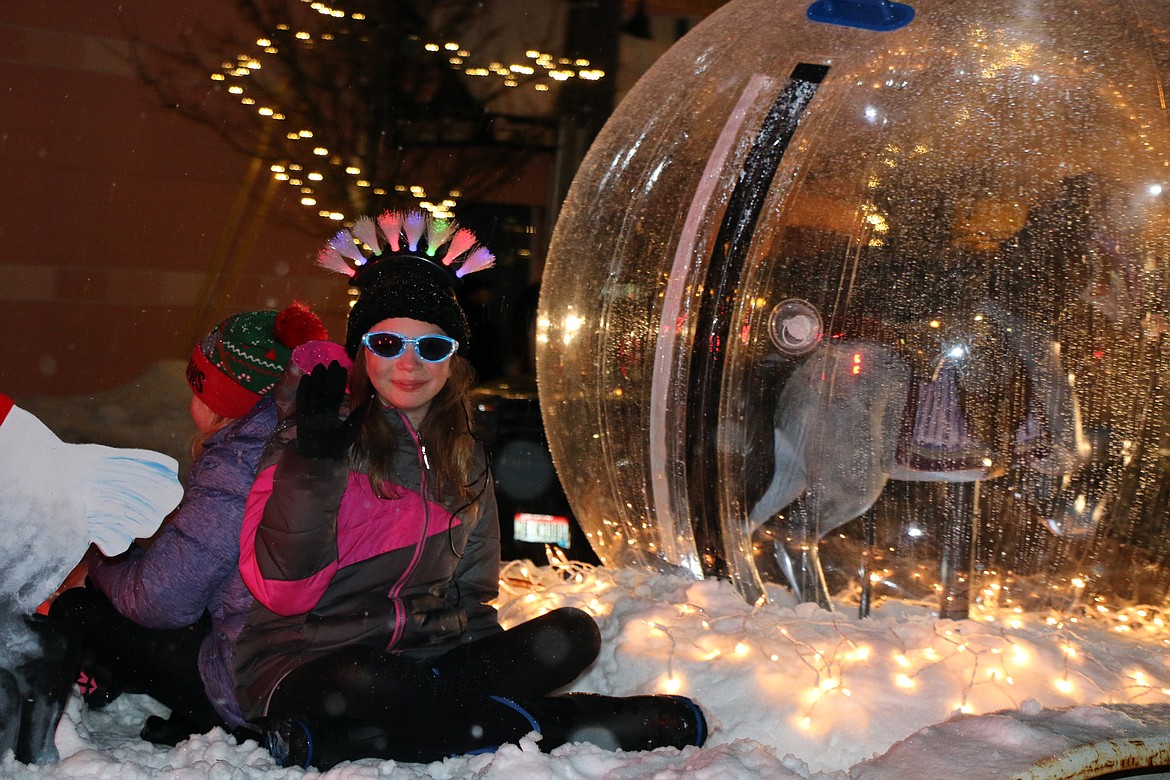 A youngster is decked out in her sparkling, well-lit best winter garb as she waits on the Carousel of Smiles float for the start of the 2019 Winter Carnival Parade.
(Photo by CAROLINE LOBSINGER)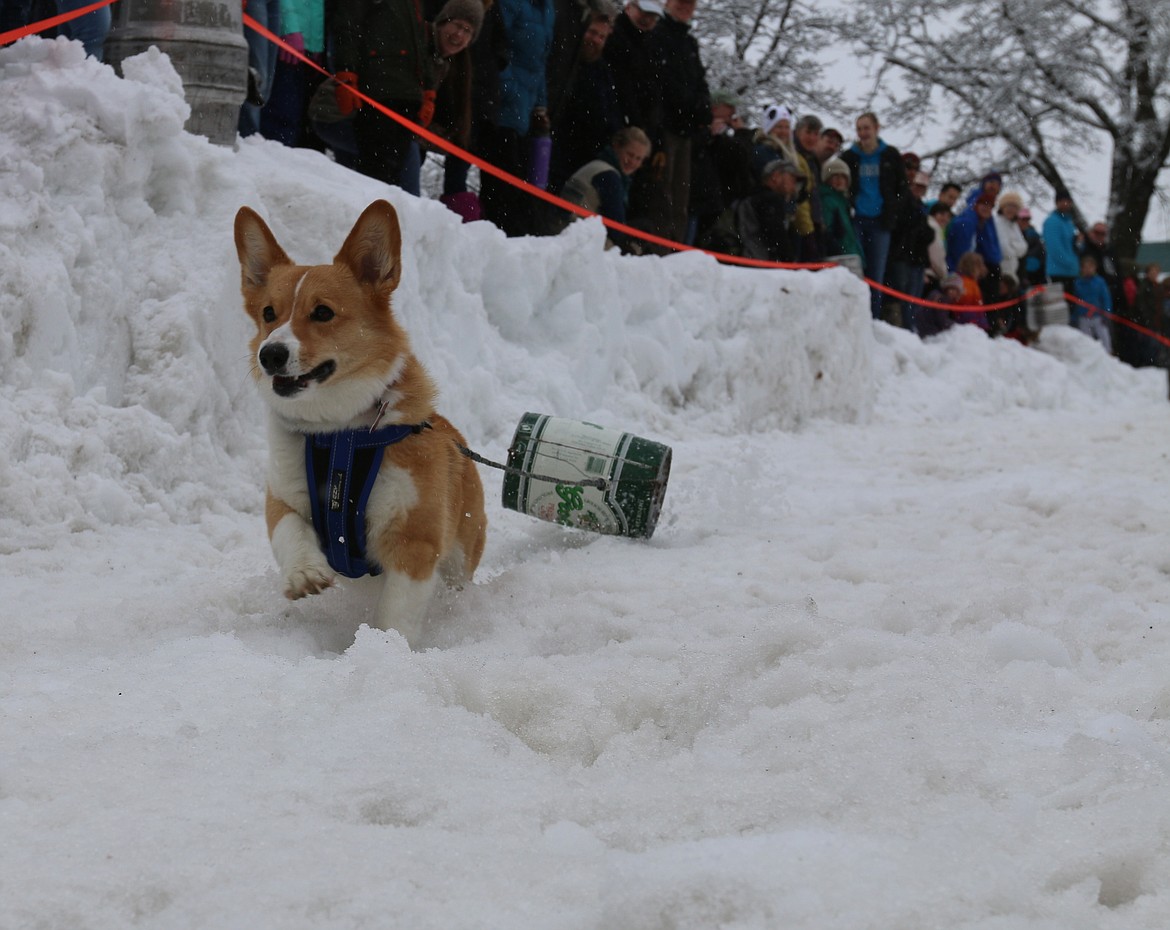 A contestant charges down the track during a past K9 Keg Pull, a fundraiser for the Better Together Animal Alliance, held during Sandpoint's annual Winter Carnival.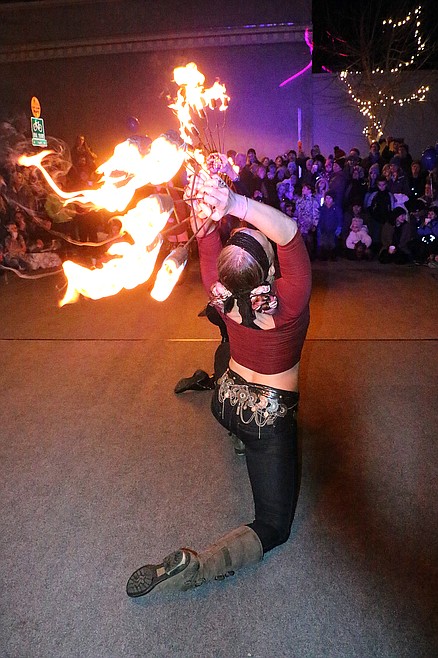 Fire dancers from Embody Studio perform at a past Winter Carnival block party. The event follows the fun, festive, and brightly-lit Winter Carnival parade through downtown Sandpoint.
Previous
Next
by
CAROLINE LOBSINGER
Staff Writer
|
February 17, 2023 1:00 AM
Lights! Winter! Magic!
It's time to get lit as the 50th annual Winter Carnival kicks off Friday, Feb. 17, with the Parade of Lights through downtown Sandpoint.
Sponsored by Ting, offers businesses, organizations, and individuals a chance to show off their local pride, creativity, and playful side," Gray said. This year's theme is Weird Wonderful Winter.
"We've got some folks who are dropping down the gauntlet and saying, 'We're going to have the best float ever,'" said Keely Gray of the Greater Sandpoint Chamber of Commerce.
The parade kicks off the two-week-long festival, which offers family fun and activities throughout Sandpoint and Schweitzer Mountain. Running Feb. 17-26, Winter Carnival features a variety of events, from the parade and block party to the fan-favorite Eichardt's K-9 Keg Pull on Feb. 26.
With it being the 50th year, Gray said the community and area businesses have gone out of their way to ensure there are plenty of events and lots of fun every day.
So far, there are at least 10 entries for the parade, but more floats are always welcome. Those interested in taking part are welcome to sign up by contacting Gray at keely@sandpointchamber.com by 3:30 p.m. today.
Staging begins at 4:30 p.m. and parade participants leave the city parking lot at 5:30 p.m. The parade heads down Church to Second Avenue before turning left onto Main Street, heading down Third and back toward Church before it wraps up at the Jeff Jones Town Square.
"It's like two square blocks that we circle," Gray said. "So it's a teeny tiny little weird, wonderful parade."
Winter Carnival and the Parade of Lights are always fun and something chamber officials said they look forward to every year.
"We really love seeing the businesses come out and celebrate each other because that's what it's all about," Gray said.
Winter Carnival is a chance to promote both local businesses and all they do and the community.
"It's really it's something for our locals and our tourists to come together and celebrate our town," Gray said. "That's what we ultimately want to do with Winter Carnival — celebrate Sandpoint."
To help boost participation, Ting is challenging the community to join the fun. If the event is the biggest parade, the parade sponsor has pledged to donate to a nonprofit of the chamber's choosing, Gray said.
The parade stages at the Sandpoint city parking lot and there is no cost to participate and participants do not have to belong to the chamber. Everyone is welcome, from youth groups to schools to businesses, Gray said.
While there are a few rules — nothing can be thrown into the crowd due to safety reasons and no political floats are allowed.
Beyond that? The only stipulation is lights and plenty of them.
"It's a great way to promote your business and if they do not have to have a vehicle they can wrap themselves in lights and hold up their business sign and walk through the parade," Gray said.
It wouldn't be the first time and "it's pretty amazing," she said
Among those participating so far are Goodwill, AGE, Sugar Tooth, Ting, and Carousel Emporium.
Winners will be announced at the Winter Carnival block party, which will feature fire pits, a free hot chocolate bar generously donated by Hendricks Architecture, s'mores, music and entertainment courtesy of Pend d'Oreille Winery and much more, Gray said.
Another big event this weekend is the Winter One Acts, the culmination of Lake Pend Oreille Repertory Theater's student theater program. The program, funded through a grant from the Pend Oreille Arts Council and generous local donors, was held free of charge to students.
Led by LPO Rep's education director, Courtney Roberts, more than 70 students are involved in the series of fairy tale one-act plays. During the six-week program, the students did everything from learning lines to designing costumes to creating the props. Saturday, they will also be acting and directing, Gray said.
Recognizing the many obligations that many students have, Roberts designed a curriculum that fit into a weekly hour-long class, which was held at four different times. That gave students a chance to pick the class that best matched their schedule, Gray said.
The great part about the curriculum is that it adapts to those who are just starting as well as those who have been a part of the theater world for years. It offers something for those who want to act on the stage, or want to be a part of the action behind the scenes, from director to stage management and more.
"We have our core group that really is just continuing to hone those skills that they've already developed, stepping into leadership roles, understanding what it's like to be in charge of things," Gray said. "And then we also have a group of new young ones where this is just their first time going in and so they're gaining all sorts of confidence."
Performances will be held at 4 and 7 p.m. on Saturday at the Panida. A $10 donation is suggested, with all proceeds going to LPO Rep's education program.
Following the block party, The Hive will host a Winter Carnival concert with Stoney Holiday Band. Doors open at 7 p.m. and concert-goers must be 21 and older. Elsewhere, Scott Taylor and the Endless Switchbacks will perform their own Winter Carnival concert at Eichardt's; the legendary Diane Shuur will perform at the Panida Theater in a concerted presented by the Pend Oreille Arts Council; and the Music Conservatory of Sandpoint presents the Michael Palzewicz Trio.
On Saturday, Birds of Play and Heat Speak perform at the Heartwood Center, the 219 hosts the Desperate 8's, KOSH performs at the Pend d'Oreille Winery and the Music Conservatory of Sandpoint hosts two Residing Artists shows, the first at 3 p.m., and a second at 7 p.m.
At Schweitzer, the fun includes tubing, a village campfire, a hosted snowshoe hike, Nastar racing, and more. Downtown, the Cedar Street Bridge is offering winter spiced cider and snacks as well as children's activities.
However, the weekend's events are just the beginning, with daily events and activities planned both in the greater downtown area and at Schweitzer. Among the highlights are the Pierce Auto chili cook-off, and plenty of concerts before the Eichardt's K9 Keg Pull wraps up the 2023 Winter Carnival on Feb. 26.
For a full calendar of Winter Carnival events, and to download a parade registration form, go online to sandpointwintercarnival.com, or call the chamber at 208-263-2161 for more information.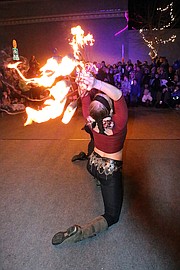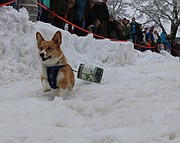 Recent Headlines
---