Winter Ridge gives back to community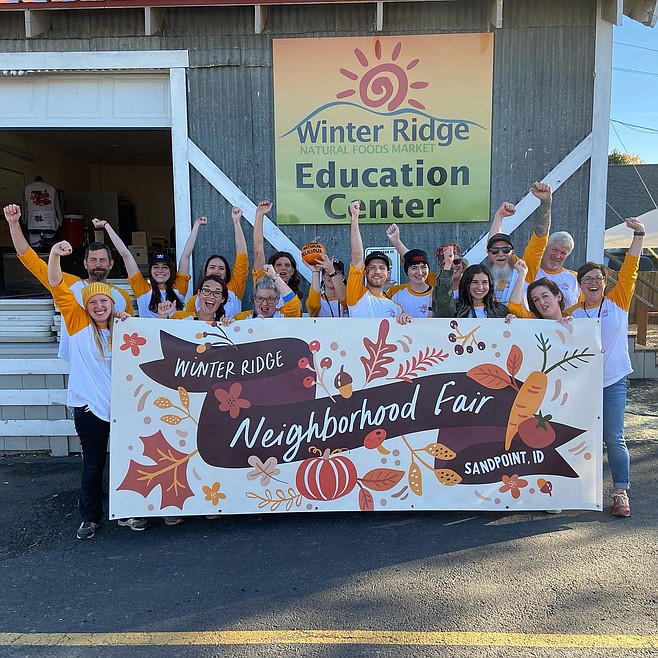 Winter Ridge Natural Foods employees and owner pose for a photo during the Neighborhood Fair Event in Sept. 2022
(Photo courtesy WINTER RIDGE NATURAL FOODS)
SANDPOINT — With a tradition of community support spanning more than 20 years, Winter Ridge Natural Foods aims to continue that practice with more than 50 organizations, events and fundraisers in 2023.
In 1997, Gregg Prummer and his family received news that his son had celiac disease, a bowel and intestine irritating immune reaction to gluten. Being a protein that is found in most foods, the family found it challenging to find gluten-free foods in the community.
Using his extensive knowledge in herbal and homeopathic medicine gained through private research, Prummer took charge of the situation by starting a health food store that would cater to not only his son but others in the community who faced similar challenges.
With the continuous primary goal of adding to the quality of life for the community's residents, the health food store has grown to include many different amenities, making it a staple in the community and giving the business a foothold to be able to give back.
Over the years, Winter Ridge has worked with various nonprofit organizations and events that not only align with the core values of Winter Ridge but have a positive impact on the community as a whole. There is no limit to that support, Prummer said. Covering a wide range of organizations that give back from community events such as the Festival of Trees to organizations that focus on providing aid such as Clark Fork Seniors. Furthering the support of the community, Winter Ridge is also a resource for local farmers, assisting with compost by organizing a pick-up.
"Our values range widely, but we are always looking to how we can continue to grow in the community," Prummer said "We don't always do the best job promoting what we support, as we tend to take a humble approach and not put the spotlight upon ourselves too much in this area, but we pride ourselves on being honest."
Since Winter Ridge began giving back to the community, it has donated or supported more than 71 organizations, within Bonner and Boundary counties.
"At Winter Ridge Natural Foods, we will always keep pushing for a better North Idaho and we will always do our part," Prummer said.
Beyond working on a case-by-case basis finding organizations and causes to support, Prummer said he has also found organizations that Winter Ridge can support on a monthly basis, such as working with Goodwill and the Sandpoint branch of Northwest Center on job coaching opportunities and the Sandpoint Soup Kitchen, providing various groceries.
Having come out the other side of the pandemic with lessons learned, Prummer said he is now thinking about the future of his store and the community.
"Idaho saw a huge increase in population during the first two years of the pandemic and that presented its own unique challenges. During the first few months of the pandemic, we realized that being an independent grocer had advantages," Prummer said. "We were able to be quite nimble and use all purveyors to our advantage to keep our shelves stocked. Buying predominantly foods grown in the U.S., we didn't suffer through issues with empty shelves as the larger chain stores did."
With that good fortune, Prummer said in 2023 the plan is to continue to support all organizations they have in the past, plus nearly 50 more including Long Bridge Swim, Pend Oreille Arts Council, The Panida Theater and the Better Together Animal Alliance.
Recent Headlines
---