BOCC reverses course on Zoom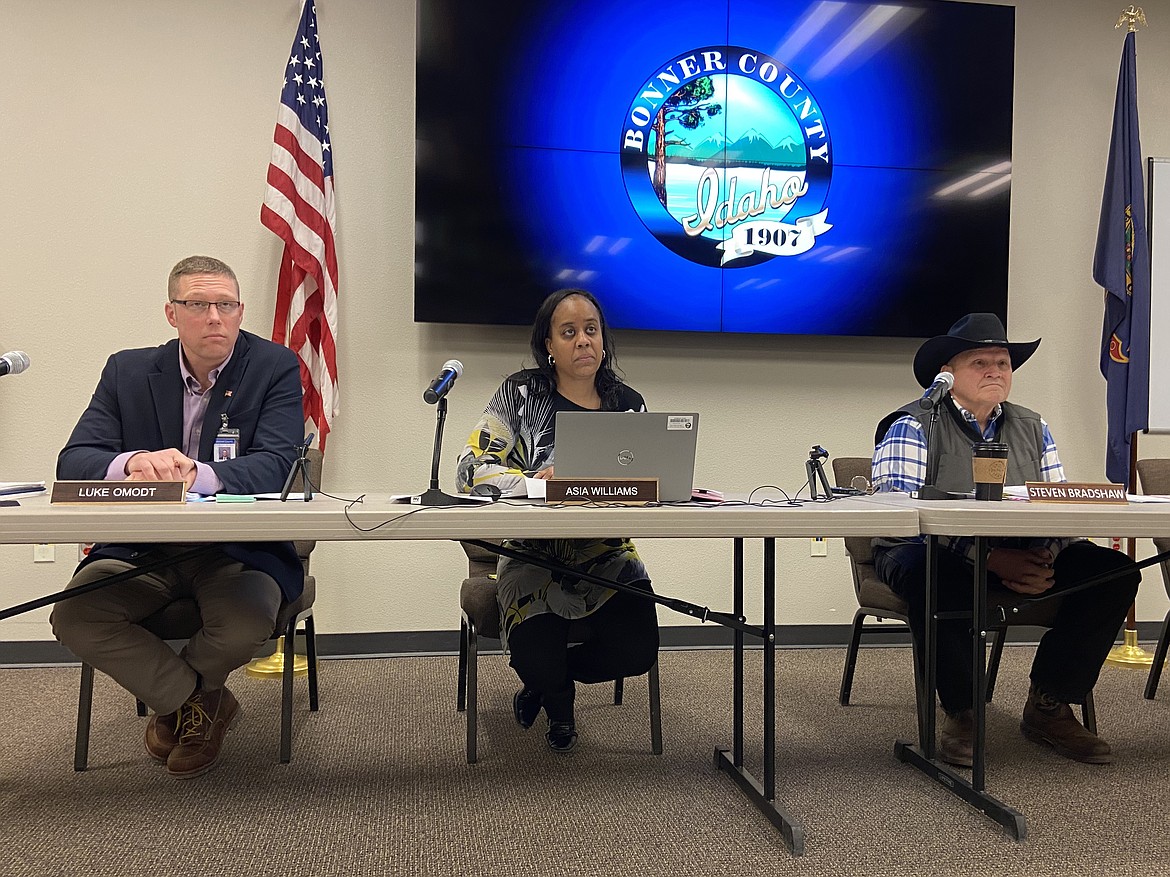 Bonner County commissioners listen as a member of the public asks the board to reverse course and reinstate Zoom meetings.
(Photo by CAROLINE LOBSINGER)
SANDPOINT — Zoom is on its way back into Bonner County meetings.
After a parade of constituents again called county commissioners to reinstate Zoom meetings, Commissioner Asia Williams again put a motion to add a disclaimer and resume broadcasting county meetings on the platform.
Unlike last week, this week the measure passed 2-1, with Williams and Commissioner Luke Omodt voting to resume the Zoom meetings. Board chairman Steve Bradshaw voted against the measure.
"Local government requires the participation of the people of the county," Williams said in calling for the county to resume Zoom meetings for the second week in a row. "And it is my request that we don't use the argument of there is a risk to justify removal because there is risk in everything that we do as a county. It's important that because there is a risk that we communicate that risk to the public, that we say what the issue that concerns us, and we do our best as elected officials to mitigate that risk. It's my belief that before we decrease our participation, we should have weighed the risk versus the benefit and our community and what we were trying to protect."
Omodt said after hearing from both sides, he opted to change his mind to reinstate access to county meetings via the platform.
"I have heard from a number of people on both sides of this issue, including my mother who said you should allow Zoom," Omodt said, prompting laughter from the 30 or so people attending the Tuesday morning meeting.
Then, turning serious, he said he was catching up on the Idaho Legislature and came across a comment from state Sen. Scott Herndon on social media. In the post, Herndon said he didn't have a problem with the Legislature using the platform, noting that it allowed the state body to hear from a large number of constituents.
"If it's good enough for the Legislature, I think it should be good enough for Bonner County," Omodt said, prompting scattered applause from the audience.
Williams said the platform offers residents who are physically unable, or who work, to be able to attend county meetings. As such, it provides a "reasonable accommodation" to those who fall under Americans with Disabilities Act protections. It also provides greater access for all county residents, increasing transparency and participation in the process.
The disclaimer states that Zoom is not intended to replace in-person attendance at meetings, that there may be technical difficulties that interfere with the audio, and that residents use Zoom at their own risk. Williams said the disclaimer mitigates the risk of potential lawsuits but allows county residents to actively participate in their government. It also benefits the county by increasing trust and transparency in the process, the District 2 commissioner said.
"I do agree that knowing that you can participate matters a lot to the community. And when we start closing the doors to the community, there's that distrust," she said, echoing comments made earlier in the meeting by a resident whose spouse has mobility issues.
In that comment, resident Shari Duvale told the board she came on behalf of someone who has mobility issues. Attending via Zoom makes all the difference in his ability to participate, she said.
"You're telling me it's legal to discriminate against the disabled and the handicapped, and limit their access to these meetings," she said. "Now he didn't speak up last week. He doesn't have to speak up every week, he just has to know that he has the right to. That makes a big difference to a lot of people."
The resolution to stop the Zoom meetings stemmed from a comment by a constituent who questioned a past meeting's validity because people on Zoom couldn't hear what was being said. The board also had to reschedule a meeting when a participant had technology issues and was unable to call in.
"It really is just a choice between elimination of all risk and the consequences that may come with that from the public," Wilson told the board.
In voting against a return to Zoom, Bradshaw said it wasn't because he disliked the platform. Instead, the possible risk of a lawsuit, regardless of how large or small, outweighs any benefit.
"Unfortunately if this was to become a litigation thing, it would not go before Legislature, it would go before the court," Bradshaw said, noting state officials would not be the ones facing a lawsuit.
"I am reluctant to make any decision that my legal has advised me not to," he added. "That's where I sit because I've seen what happens when we ignore that."
The vote followed a half-dozen or more residents calling on the county board to change their minds to again allow Zoom meetings. The residents noted Zoom meetings had overwhelming support, both last week and the Feb. 7 meeting during which the county voted to cease using the platform.
They criticized the potential for lawsuits as overblown and said ceasing the use of Zoom hurts those unable to attend because they are physically unable or have to work.
"The threat of lawsuits was a transparently ridiculous excuse to reduce constituent participation," resident George Gehring said.
Resident Jennifer Cramer agreed, saying the fact that so many people attended meetings via Zoom showed its value.
"The fact that people have been joining on Zoom shows its value and going dark with Zoom clearly increases the distrust of the taxpayers in Bonner County," Cramer said, noting the meetings are recorded. "So there's a record of what was said, you can't debate that record. Fear of lawsuits from someone mishearing something is simply an excuse."
Others called the decision an attempt to quash their First Amendment right to speak, with the board setting itself up as the arbiter of what people can and cannot say.
"If you want to take away Zoom, which is a platform for speech, and you want to regulate what you consider to be good speak or bad speak, you're going to be the arbiter of what people can and can't say," Rick Cramer said, noting he'd be among the first to sign a recall petition if they didn't change their minds. "That's our First Amendment right and you don't have the right to regulate speech."
Recent Headlines
---